Averages up £444
61% clearance rate
54 bulls average £4350
3 bulls make 9000gns or more with 23 making 4000gns or more
Whinfellpark Firstchoice made 9200gns and topped the British Limousin Cattle Society's Autumn Sale held at Stirling Agricultural Centre on Monday 17th October 2011.  The leading price followed hard on the heels of the pre-sale show Supreme Championship, a first for the herd, secured earlier in the day.
Born in April 2010, Firstchoice is by the 50,000gns herd sire Wilodge Cerberus and is out of the homebred cow Whinfellpark Vine, a Regal daughter.  In the show of bulls, judged by well known breeder and noted stockman, Dougie McBeath, Bannockburn, Stirling,  Whinfellpark Firstchoice had emerged as Junior Champion before taking the top prize from a strong Championship line-up of bulls.  Commenting, Dougie McBeath said:  "It was a really good commercial show with a lot of thick ended bulls.  The Champion is very much a present day type of Limousin bull, very clean and correct and good on his legs."  As well as the breeding, the Whinfellpark bull carried excellent all-round performance figures including an overall Beef Value of LM+38.  The combination in the pedigree of Cerberus, Cannon, and Regal, along with the figures, was attractive to the purchaser and local breeder Stuart Fotheringham who runs the Ballinloan herd of 100 pedigree cows at Dunkeld,Perthand Kinross.  "The bull has tremendous style and presence and I think he will compliment the Millgate Caesar heifers in the herd," said Mr Fotheringham
The Championship and sale top price marked an excellent three days for the Whinfellpark herd which was established in 2002 and now includes some 150 breeding females.  Stirling saw the herd secure the top price and sell six bulls in all at an average of close on 5000gns.  At the Society's sale on Saturday 15th October at Carlisle, the herd sold to a top price of 12,000gns and another average of 5000gns for a further six bulls.  All twelve bulls sold, and twenty four in the year at Society sales, have been sired by Wilodge Cerberus, the Wildoge Tonka son, who was purchased for the herd in October 2008.
Underpinned by a solid commercial demand, the Stirling sale saw fifty four bulls sell to an average of £4350, up by £444 on the year.   Along with a clearance rate of 61%, three bulls made 9000gns or more with twenty three in all making 4000gns or more.  Commenting after the sale, BLCS Chief Executive Iain Kerr said:  "Over the course of 72 hours at the Stirling and Carlisle sales, 148 Limousin bulls have sold to an average of £5350 which is a very solid performance for the breed at the autumn sales.  The bulls at Stirling with length, width and shape were again in demand and readily sold," he said.
Two bulls made 9000gns.  The first of these was the impressive Senior Champion, Beath Franco, from Mr J Thomson, Hilton of Beath Farm, Kelty, Fife.   January 2010 born, Beath Franco is by Goldies Crackerjack, a Goldies Terence son, who himself was purchased for 9000 gns at the Perth Sale in February 2009.  He is a heifer's calf being out of the dam Sarkley Carmen who was purchased at a Sarkley calf production sale at Carlisle.  The Thomson's pedigree herd consists of 18 breeding females whilst they also run 250 cross cows all put to the Limousin bull.  Purchasing the Senior Champion was WS Paterson, Golland, Kinross.
Also at 9000gns was Spittalton Flame, a Hargill Blaze son, from J Burnett & Sons,Upper Spittalton, Blair Drummond Stirling.  A first prize winner, this April 2010 born calf is out of the Middledale Shergar daughter Spittalton Vache.  A bull with plenty of shape, Spittalton Flame went north when selling to A Jack, Killcoy Mains, Killearnan, Muir of Ord, Ross-shire.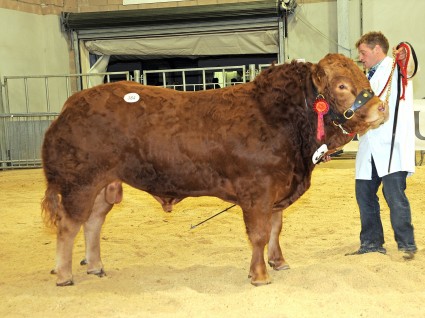 A further Hargill Blaze bull from the Burnetts, Spittalton Frewster, had earlier sold for 7500gns.    A March 2010 born calf, Frewster is out of the Dyfri Tanner sired cow Spittalton Beatrix.  The purchaser was Messrs TW Oliver who run the pedigree Cawfields herd at Cawfields Farm, Haltwhistle, Northumberland.  Hargill Blaze was purchased for 10,500gns at Carlisle in February 2008.  He is by the Mythe son, Marden Soroth, and out of the Haltcliffe Hercules granddaughter, Lumbylaw Starburst.
Farmleigh Fruitcake, a Southern Irish bred bull, also made 7500gns when selling for N&E Cruickshank, Cowford Farm, Cleghorn, Lanark.  This bull is by Sympa and is out of the Shire Milton sired Oakfield Angie.  March 2010 born, Farmleigh Fruitcake sold to S&M Bain & Co, Quholmslie, Stromness, Orkney.
Messrs J R MacGregor (Dyke) Ltd, Dyke Farm, Milton of Campsie,Glasgow enjoyed a good day in the show ring when they picked up both the Champion and Reserve in the Intermediate Section.  Both bulls then went on to sell for 7000gns.  The Intermediate Champion was the April 2010 born Dyke Fernando.  Entirely home bred, Fernando is by the Sympa son Dyke Bravado, and is out of Dyke Bonbon whose pedigree features Haltcliffe President and Ronick Senorita.    Also carrying a Beef Value of LM+37, Dyke Fernando was purchased by G MacFadzean & Son, Woodhead of Mailer,Perth, Perthshire.   A Dyke Bravado son, Dyke Envoy, topped the February Sale at Stirling earlier this year when making 8500gns.
The Reserve Intermediate Champion, Dyke Foreman, also made 7000gns when selling to Messrs MacTier & Son, Boghouse, Mochrum, Newton Stewart.  March 2010 born, Foreman is by the French bred AI sire Tehix and is out of the Ardbrack Taketime daughter Dyke Calypso.  The Dyke Herd has previously sold bulls up to 9,500gns for Dyke BenNevis, at Carlisle in November 2007.
At 6800gns was Ronick Flame from local breeders Mr R Dick, Mains of Throsk Farm,Stirling.  Ronick Flame is an AI calf by the 24,000gns Ampertaine Bravo, and is out of the Bailea Olympia sired Ronick Ulema.  April 2010 born and sold with a top 1% Beef Value of LM+40, Ronick Flame was purchased by JF&MB Teague, Buteland Farm, Templehouse, Balerno, Edinburgh.
B Williamson of Coldholme Farm, Fortrose, made 6200gns when selling his third prize bull Coldholme Fixer for 6200gns.  A son of the prolific AI sire Rocky, Coldholme Fixer is out of the Ronick Gains sired Dunalastair Totty.  Sold with a Beef Value of LM+34, the April 2010 born Coldholme Fixer was purchased by W & I Riddoch, Seggiecrook, Grange, Keith, Banffshire.
Hargill Blaze was again to the fore in a small show of females when two of his daughters placed Champion and Reserve for J Burnett & Sons,Upper Spittalton, Blair Drummond Stirling.  The Female Champion, Spittalton Flush, is out of the Dyfri Tanner sired Spittalton Bracken.  An April 2010 born heifer, she sold for 2000gns to W Paterson & Son,Upper Forgie, Aultmore, Keith, Moray.  The top price female on the day was Newhouse Black Fleur from Messrs RM Adam & Son, Newhouse of Glamis, Glamis, Forfar.  This August born heifer is by Tamarvalley Boscastle and is out of Newhouse Betty.  She was purchased for 2200gns by Messrs Evans, Llanddarog,Carmarthen.
AVERAGES:
54 Bulls          £4350  (+£444)
12 Females   £1561
Auctioneers: United Auctions