–      Joint Top Price 5,800gns
–      93 Lots Gross £212,521
–      89% Clearance Rate
Held on Friday 15th February 2013 on the evening prior to the British Limousin Cattle Society's Bull Sale at Carlisle, a Breeders' Sale of 105 head of Limousin females saw a joint top price of 5,800gns and an 89% clearance with 93 lots in all going under the hammer to gross £212,521. A further dynamic of the sale saw 8 lots heading to the leading Dutch Limousin company, Cowporation BV of Alblasserdam, GB Ridderkerk, Holland continuing their ongoing investment into British Limousin genetics.
Securing the joint leading price of 5,800gns were Dolcorsllwyn Greta from Mr G Vaughan, Machynlleth, Powys and Cracrop Fondant from Mr D Hyslop, Balluskie Farm, Barrhill, Girvan, Ayrshire  respectively. The October 2011-born maiden heifer Dolcorsllwyn Greta is sired by the French bull Attirant and is out of Dolcorsslwyn Enfys, an Objat daughter. Described as the widest heifer ever offered for sale from the herd, Dolcorsllwyn Greta was sold with a Beef Value of LM+29 to Toppesfield Hall Ltd, Yeldham Road, Toppesfield, Halstead, Essex. This was one of eleven purchases in all for the growing Toppesfield prefix of Will Ketley.
Sharing the 5,800gns top price was Cracrop Fondant who sold back to her original breeders Messrs DT & M Stobart, Gladsmuir, Broomfallen Road, Scotby, Carlisle. October 2010-born, Fondant is a Rocky daughter and is out of the Ryedale Paragon granddaughter Cracrop Bonus.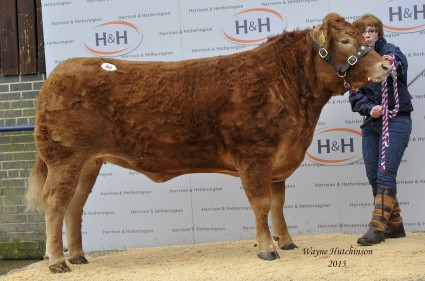 Breconside Farming Partnership, Breconside Farm, Moffat, Dumfriesshire took home the next best price at the 4,700gns mark for their Breconside prefix. This was in the shape of the rising twenty-two month-old heifer Homebyres Geraldine consigned by Messrs J Logan, Humebyres, Kelso. Geraldine is a daughter of the 18,000gns Kaprico Davelle and is out of the Balnacraig Supreme daughter, Homebyres Venner. She sold with a Beef Value of LM+27.
Heading to Messrs Boyling, Crabwell Farm, Parkgate Road, Chester, Cheshire as one of six purchases for their Crabwell Herd was Erne Facebook brought forward by Crawford Bros, Rathkeeland, Maguiresbridge, N Ireland. She is sired by their 2008 Royal Show Burke Trophy winner, Vigot, and is out of the Grahams Samson daughter, Curraghee Adorable. Another heading to the same buyers was the 4,000gns Erne Georgina from the same home, sired by Newlittlemount Ulsterman and out of Rathkeeland Daisy, a daughter of the noted show cow Curraghree Sensation.
The first of the eight lots heading to Cowporation in Holland was the 4,200gns Saunders Hannah brought out by A&W Watson, Slaggyford, Brampton, Cumbria. April 2012-born, Hannah is sired by Central Dart and is out of Saunders Butano. The Dutch Limousin company bought two further lots from Messrs Watson together with three Cloughhead heifers from Mr GL Hutton and two from Hudscales on behalf of A&W Cowx respectively.
The last catalogued lot, Barrons Genevieve, realised 4,200gns for Mr W Barron, Morrow Edge Farm, Burnhope, Co Durham. Born in May 2011, Genevieve is a daughter of the prolific Ampertaine Commander and is out of the Waindale Prime daughter, Barrons Tosca. Purchasers were EH Pennie & Son, Gwern Yr Ychain, Llandyssil, Montgomery, Powys for their Sarkley Herd having also snapped up the similarly bred Barrons Gbabe (Commander x Barrons Babe) who sold with a Beef Value of LM+30 for 4,000gns. The final Barrons heifer, Barrons Gold, also by Commander made 3,600gns to the Abercorn Herd of T Scott & Co, Gateside Farm, Linlithgow, W.Lothian who also purchased Homebyres Genista, a Kaprico Davelle daughter and out of the homebred Homebyres Buddleia for 4,000gns.
The final animal at 4,000gns was Norman Goldie from ES & E Norman, Little Orton Farm, Little Orton, Carlisle. Sired by their stock bull, Heathmount Trojan, and out of Norman Virginia, she sold with a Beef Value of LM+26 to WD & B Thompson, East Unthank Farm, Haltwhistle, Northumberland. 
Averages:
15 Cows & Heifers served and/or suckling         £2,628.53
4 Served Heifers                                                    £3,622.50
74 Maiden Heifers                                                   £2,143.28
Auctioneer: H&H