The year commenced with the BLCS Female Haltered and Unhaltered sale in Ballymena on Saturday 14th January seeing a 92% clearance rate, 24 out 26 heifers sold with averages up £245 on 2011.  Top price of 4,000gns went to Scotchtown Freda bred by Messrs L & R Allison, Limavady sired by Wilodge Vantastic. Second top price of the day was 3,200gns for Scotchtown Fiola also from the Scotchtown Herd sired by Ronick Hawk.
Then came the 13th February  BLCS Show & Sale at Dungannon where acting judge Mrs Mary Reynolds, Hampshire put Rahoney Fantastic up as Overall Supreme Champion who then attained top price of the day at 4,800gns and bred from the herd's stock bull Drummin Beau, a Mas Du Clo son. Another superb clearance at 97%, with a record averages achieved – 29 out of 30 bulls sold to average £3,135 for Bulls (+£403) and 9 out of 11 heifers sold at an average of £2,292 (+£789). Second top price of 4,700gns went to Ballynahone Fantastic sired by Wilodge Vantastic and bred by Mr R Henderson, Tobermore. Female trade saw a top price of 3,800gns for the Female Champion, Grenville Frances, brought forward by Mr G Clarke, Keady, sired by Wilodge Vantastic.
Northern Ireland breeders who had travelled over to the premier sale in Carlisle in February did exceptionally well with three of the bulls winning titles: Senior Champion, Reserve Intermediate Champion, Reserve Junior Champion and Overall Reserve Champion at the show and six of them making over the sale average of £8,243. This included Ampertaine Foreman 38,000gns, Ampertaine Fieldmarshall 14,000gns – with both bulls bred by J McKay, Kilrea. Culnagechan Fantastic sold for 13,000gns and Culnagechan Fieldmarshallmontgomery selling for 11,000gns both bred by D Hume, Randalstown. Carmorn Firstclass sold for 12,000gns bred by F McAuley, Toomebridge. Frewstown Forbootylicious brought forward by Derek Frew, Kells, Ballymena fetched 11,500 gns.
In March, the Club attended the Beef Expo in Dungannon and also held its 32nd AGM at Dungannon with guest speakers from Pfizer.  Derek Frew was duly elected as Club Chairman and took Chair for the first general meeting of 2012 along with newly-elected members of the Executive Committee:  Chris Murray, Joan Gilliland (Vice Chair) and Alastair Graham.
The Club were very thankful for Jim Quail, Derek Frew and Cahir McAuley for hosting young breeder stock judging evenings at their premises during the months of April and May where representatives were selected for the upcoming 2012 young breeder events to take place at Devon Show and the English Winter Fair, these talented young stars were Arthur Callaghan, Ruth and Andrew Hamill, Kim Nicholson and Lynsey Lawrence.
In May, it was time again for Carlisle and Derek Hume set a new record-breaking price for a Limousin bull sold from Northern Ireland when Culnagechan Falcon sold for 48,000gns. McKinney Bros fetched 15,000gns for Heathmount Frenchconnection and George Conway fetched 15,500gns for Parmor Filipo on his first visit to Carlisle.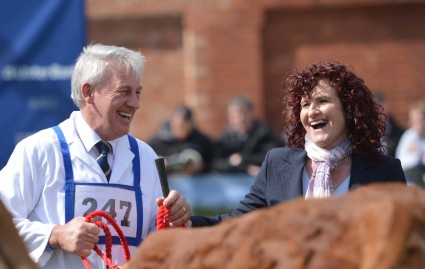 Next in the calendar was the Royal Ulster Agricultural Show at Balmoral, judged by Christine Williams, this show was to be the final one held at Balmoral Showgrounds in 2012 before its scheduled move in 2013 to Balmoral Park, Lisburn.  Milbrook Gingerspice bred by William Smith went on to win junior and overall breed title as well as interbreed title. Trueman Grazia bred by Henry Savage & Sons was placed Overall Reserve Champion and Reserve Junior Champion with Carmorn Gallardo, bred by C & F McAuley and owned by B O'Kane & Sons, taking Overall Male Champion.  The French-bred bull, Electeur, owned by Jim Quail, took Reserve Male Champion place and Frewstown Gifted took Reserve Junior Male Champion. The Limousin breed took Reserve Interbreed honours in Beef Pairs and Team of Three and also had a predominance in the commercial show ring with Lynsey Lawrence taking the commercial championship with her Limousin-cross heifer Red Hot Ruby.
A new event to the Club's calendar, the first ever Junior Championships was held on 28th July at Antrim Agricultural Show, judged by George Hutton of the Cloughhead Herd.  There was an excellent turnout of exhibitors with quality in both the bull and heifer championships.  William & James McKay's Ampertaine Goldcard won the junior bull championship and Henry Savage & Sons had another success for Trueman Grazia as winner of the junior heifer championship. The event was very well-attended with a good turnout of spectators from across Ireland and Northern Ireland.
During the months of May, June, July and August the 12 local agricultural shows took place during the summer months and again the Limousin breed did exceptionally well.  Mr R Crawford went on to gain the most points in the Show Team of the Year together with the title of the breeder to win the most championships during the 2012 season.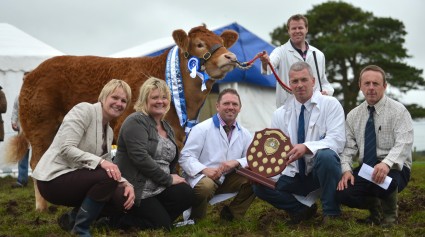 The All-Ireland Heifer & Bull Derby, judged by Mrs Vicky Smith, Devon was held in September by this year's hosts the Irish Limousin Cattle Society at Elphin Show, Roscommon.  This competition, now into its sixth year, had a revamp with the introduction of two additional classes.  The Bull Derby winner went to Berry Bros, Banbridge with Banville Gladiator and Reserve Bull spot went to Derek Frew, Antrim for Frewstown Gifted.  Coming through to take the Female Championship was Milbrook Gingerspice exhibited by William Smith, Co Meath. The Reserve Overall Female Champion went to H Savage & Sons, Newry for Trueman Grazia.
Following on was the Club's annual suckler calf show and sales held at Ballymena, Swatragh, Newtownhamilton, Hilltown and Enniskillen.  There was an excellent display of Limousin-cross young heifers and males at all the locations and thanks goes to the local marts and the judges at each of the venues for all their help. An overall top price of £2,900 was achieved at Swatragh to Vincent McMullan, Kilrea.
Next was another trip to the mainland show and sale at Carlisle and one of the top prices that was achieved by a local breeder was 20,000gns for Intermediate Champion Iveagh Gilkes, a Haltcliffe Underwriter son owned by Alastair Graham, Tandragree and bred by Stephen Magill, Newry.
The Autumn General Meeting was held in Dungannon 25th October and this was the venue for the results of the Club's Commercial Herd Competition for 2012.  Judged by Sam Milliken earlier in September, the results for the two categories were: Large herd, 1st Corries, Newtownards, 2nd James Alexander, Randalstown, 3rd Simon  Moore, Crumlin  : Small herd, 1st Vincent McMullan, Kilrea, 2nd Alexander Ross, Newtownards and 3rd William Martin, Broughshane. The Club would like to thank all the competitors and congratulate every one of the high standard of stock exhibited at all the participating farms.
Following this was the final BLCS sale held at Ballymena on the 7th November where there was a fair trade with 20 Bulls averaging £2,300 (-£285) and 14 females averaging £1,957 (+ £497). Judge for the show was John Allen, Strabane with the day's top price of 5,000gns going to Overall Champion Erne Gemma , sired by  Sauvignon  and  bred by Raymond Crawford, Maguiresbridge. Top price for a bull was 3,100gns going to Culnagechan General Lee sired by Rainbow Simon bred by Derek Hume, Randalstown with second top price of 3,000gns going to Eniver Gypsy sired by Ampertaine Brigadeer, bred  by Michael McKeefry, Garvagh.
Also in November, Limousins reigned supreme at Allams, N. Ireland's premier winter fair.  The Supreme Championship went to the Senior Limousin Steer, Del Boy, bred by Jack Smyth, Newtownstewart.
Bringing the curtain down on a terrific sale year, Trueman Grazia from Henry Savage & Sons, Altnamackin, Newry, Co. Down made 14,000gns and topped the British Limousin Cattle Society's Red Ladies Derby held at Borderway Mart, Carlisle on Friday 14th December 2012.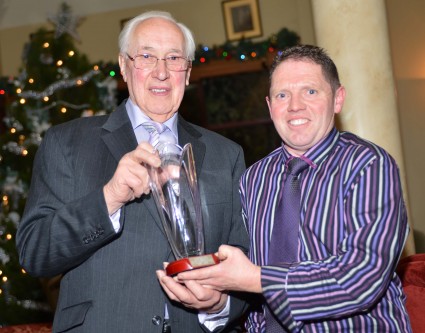 At the Annual Dinner Dance held at Corick House, Clogher we then had the results of the 2012 Pedigree Competition judged by James Hazard of Mereside Limousins together with other awards highlighting the achievements of Club members throughout the past 12 months.  This was also to be memorable night as our Club President; John Gordon, stepped down from office.  John had recently celebrated his 90th Birthday and after 32+ years of dedication and support to the NI Limousin Cattle Club, he decided it was time to retire.  The Executive Committee Members and Club members gave John a standing ovation as he received a memento from the Club for all his years' involvement and we wish John the very best in his "retirement" and hope to continue to hear and see him in years still to come.
Finally I would like to thank all judges and competitors, our regional breeders and our sponsors throughout the year, without whom we would not be able to achieve these great results.  A special thank-you to the Northern Ireland Limousin Cattle Club's Executive Committee and Secretary/Treasurer Heather Hume and in closing I would like to wish you all a prosperous 2013.
Derek Frew, Chairman