The catalogue of bulls offered at the forthcoming British Limousin Cattle Society May sale at Carlisle, on Saturday May 4th, offers pedigree and commercial bull buyers exciting mixes of performance and breeding lines.
218 bulls have been consigned by more than 80 Limousin breeders throughout the UK.  These represent great depth of breeding and exciting opportunities to select bulls suited to a vast range of cow type and farm system.
Of the performance recorded bulls entered, 107 (82%) have Beef Values in the Top 10% of the breed.  The Beef Value represents each animal's overall genetic merit for the growth and carcase traits.  This presents buyers with significant opportunities to secure a bull they can have confidence will deliver high calf growth and finishing results.  The diagram below illustrates where the genetic merit of these animals lies relative to the current average for the breed.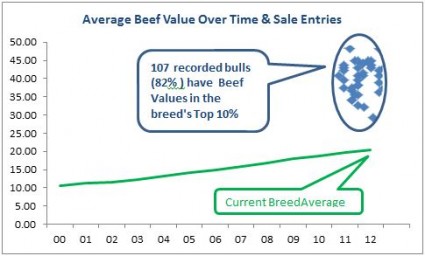 But this is only half the story.  For producers looking for bulls to also produce breeding females, the news is good.  The average Maternal Value of the 107 bulls referred to above is 0.62, placing them higher than the current breed average.  Whilst there will inevitably be variation within this, it indicates the wide range of bulls available that are suitable for finishing and self-replacing herds.  The diagram below illustrates within the green box the high proportion of recorded animals with Beef Values in the Top 10% and Maternal Values above breed average.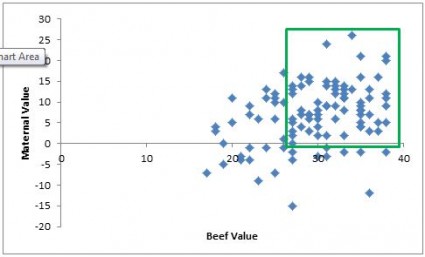 An animal's Maternal Value indicates its overall genetic merit for five maternal traits; 200 Day Milk, Age at 1st Calving, Maternal Calving Ease, Calving Interval and Longevity.  These are all traits that are passed on in equal measure by bulls as well as cows and they are of obvious importance when considering a bull that is destined to produce replacement heifers.
Coupled with the breeding and performance that is on offer, full herd and individual animal health status is published for all entries.  This offers producers assurance that the animals they source meet the health standard they require and a wide number of herds offer full BVD, Leptospirosis and Johnes accreditation.
Says Iain Kerr, BLCS Chief Executive; "The BLCS sales provide customers with cattle that combine the highest visual and genetic qualities with a known and assured health status.  Prior to sale all bulls are weighed to a minimum standard for age, and given a veterinary check for testicles, eyes, mouth, and general health.  Bulls are also inspected for locomotion, general conformation, and docility.  With all bulls sold under NBA breeding warranties, it is a professionally structured sales programme built as a platform for the vendors and around the needs of the bull buying customers".
The presale action starts on Friday 3rd May at Borderway Mart, Carlisle with the show of bulls and females Commencing at 10.30am.  The sale is at 10.00am on Saturday 4th May.  Live TV coverage of the whole sale will be available; click on the link from the Limousin home page www.limousin.co.uk.
To view pedigree and performance information online click on the 'Basco Online Herdbook' button on the Limousin home page or type the following link in to your browser https://www.basco.org/beef
For enquiries contact the British Limousin Cattle Society on 02476 696500 or email info@limousin.co.uk.