Congratulations to the Limousin-sponsored team of Nia Griffiths, Millie Hendy and Jim Wale who achieved third place in the Young Show Stars Challenge held within Beef Expo, Malvern, Thursday 23rd May 2013. A very close-fought competition saw just 80 points out of a maximum 1,000 points split the whole field.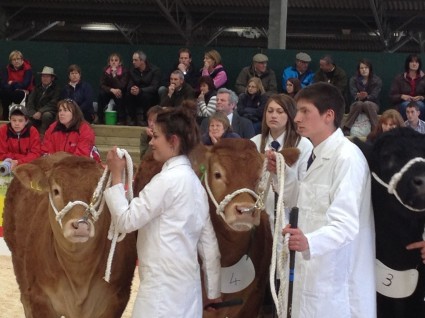 Following last year's inaugural event, ten teams again vied for the top prize of a trip to Canada to compete in the National Junior 4HBeef Cattle Competition, this being won by the Welsh All-Blacks team who scored 908 points out of a possible 1,000. Second place was taken by the Likely Lads (Hereford) who scored 897 and third place went to the Limousin Lads and Lasses who scored 896 points. The Limousin team comprised of Nia Griffiths (22), Cilgryman Fawr, Cwmfelin Mynach, Carms; Millie Hendy (16), Watery Lane, Doynton, Bristol together with Jim Wale (21), Wychwell Farm, Llanycefn, Pembs.
This year, the competition started on the Wednesday evening with a stock-judging element in which all three competitors took part with Millie Hendy nominated to give the reasons. The Limousin team achieved the top place in the stock-judging with 196 points out of 200.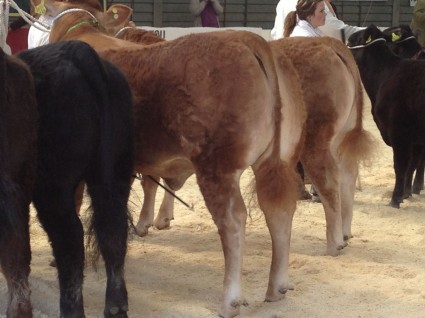 Thursday morning saw all the teams washing, drying, clipping and preparing their cattle for the show in the afternoon. The teams were scored on how they worked together as a team (150 marks), on cattle preparation and presentation (300), stall presentation and breed promotion (200), stock-judging (200), parading and ring etiquette (100) and an interview on their breed and the wider beef industry (50).
The Limousin team worked with two very smart heifers, Dinmore Helebore and Goldies Glorious, both being embryo calves sired by Wilodge Vantastic and out Croftlimousin Primrose and the French-bred dam Java respectively, kindly loaned by Gareth Lee, of Calogale Limousins, Kidwelly, Carmarthenshire.