Reserve Individual Interbreed
Interbreed Beef Pairs Champions Dinmore Elegance & Brockhurst Elvis
Interbreed Cow & Calf One-Two
It was Ladies' Day at the first of two Limousin Grand Prix events to be held this summer as Foxhillfarm Gracie from Mr & Mrs M Alford, Foxhill Farm, Blackborough, Cullompton, Devon took the Supreme Championship. Held at the Three Counties Show in Malvern on 14 June 2013 under judge Mr Chris Pennie of the noted Sarkley Herd, Montgomeryshire, this was not only the first Limousin Grand Prix of its kind but also took place at the first "Royal" Three Counties Show which has recently been granted Royal charter. The second Grand Prix will be at the Black Isle Show in Scotland on 1st August.
Supported with an additional £1,000 prize fund by the British Limousin Cattle Society to help showcase the attributes of the Limousin breed, a total catalogued entry of 54 animals from 17 exhibitors competed in the 9 classes – with four for males and five for females – and, of course, for Championship honours.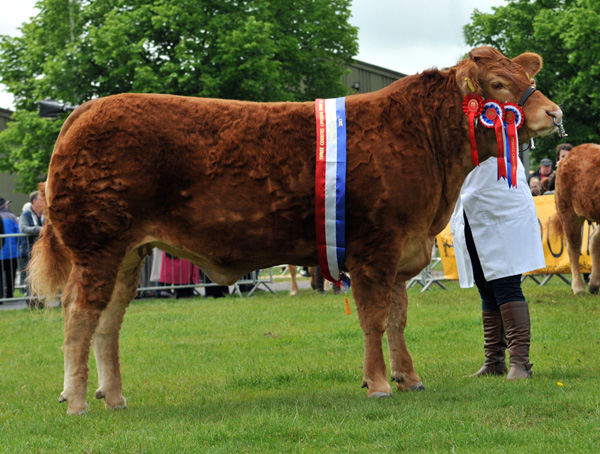 Described by the judge as "a high class field with a tremendous top end of females," it was the August 2011-born heifer Foxhillfarm Gracie, a Wilodge Vantastic daughter and out of Bankdale Alice, who emerged the winner. "This was a very good heifer, hard to fault, a good mover with width and style," commented Mr Pennie – with this win making it a triple success for the Alfords following hard on the heels of breed championships at the Bath & West (where she also took the Interbreed title) and the Royal Cornwall Show respectively.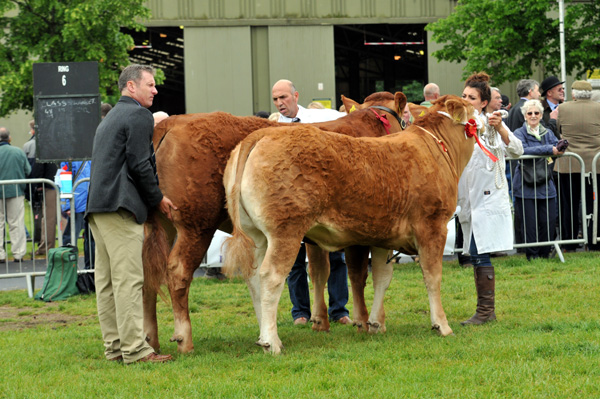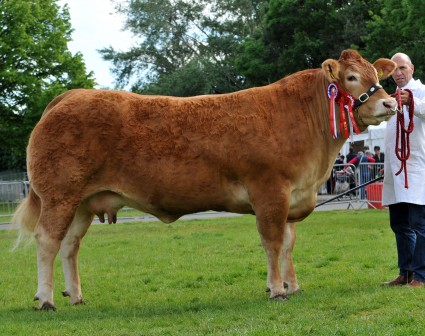 Standing Reserve Overall was the Reserve Female Champion Dinmore Elegance from Mr P Dawes, Kipperknowle Farm, Dinmore, Hereford. Dinmore Elegance is by Wilodge Vantastic and is out of Carmorn Voney and was shown with her January 2013 bull calf at foot, Dinmore Intelligence (by Ionesco). The judge said she was a "tremendous cow with size and power" and on the Saturday she teamed up with the Reserve Male Champion, Brockhurst Elvis (Samy x Brockhurst Bolshoi), from WJ & M Mash Ltd, Torrington Farm, Chesham, Bucks to win the Continental Beef Pairs then Overall Beef Pairs Championship under Judge Mr J Playfair-Hannay, Kelso, Scottish Borders. On the Sunday, she also scooped first the Continental and then the Overall Interbreed Beef Cow & Calf titles in front of Judge Mr P Kirton, Severn Lodge Farm, Kinlet, Worcs with Brickhill Carol from Mr & Mrs D Wheeler, Goodiford Mill, Kentisbeare, Devon standing Reserve Overall in both. Brickhill Carol is by Lino and is out of Brickhill Venus.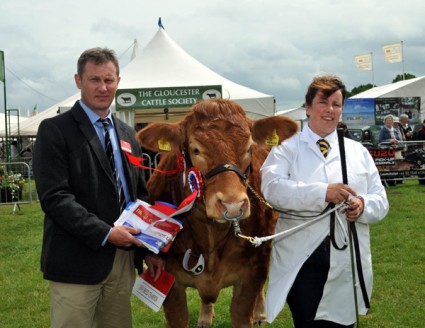 A notable feature of the female Limousin championship line-up was that all first prize winners were by the prolific 42,000gns Wilodge Vantastic with the same bull's breeding also notable in the male section.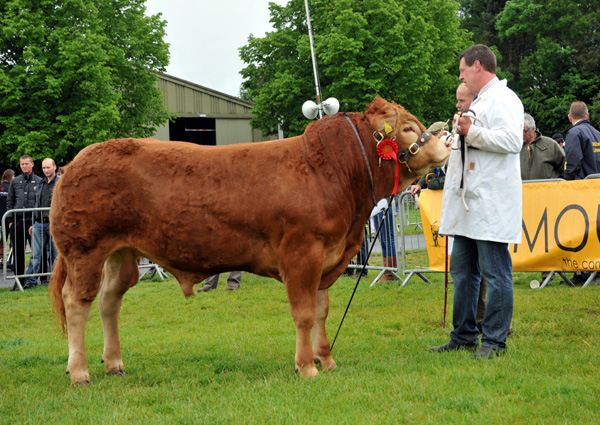 Male Champion and Junior Overall was Ironstone Hyundi from Smiths of Bloxham, Newlands Farm, Bloxham, Banbury, Oxon. March 2012-born, this young bull is by Ironstone Destroyer, a Wilodge Vantastic son, and is out of Staveley Rebecca. He was described as "a classy bull calf with length, good legs and a tremendous back-end," by Chris Pennie.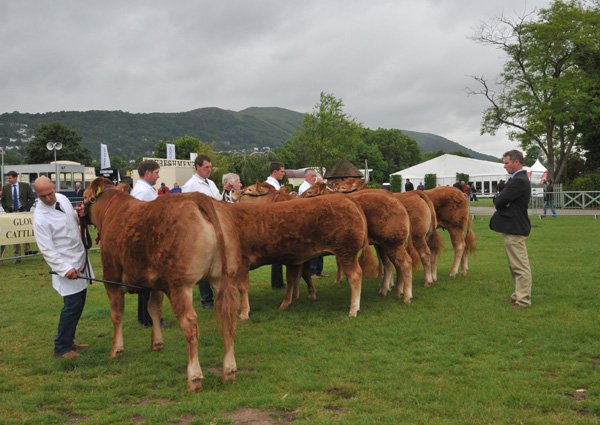 Reserve Junior Bull was Dinmore Hocco, a rising twelve-month-old calf by Wilodge Vantastic and out of Wilodge Priceless, bred by Paul Dawes. The Junior Heifer and Reserve Overall Junior awards were won by Dinmore Helebore (Wilodge Vantastic x Croftlimousin Primrose) which was bred by Paul Dawes and purchased by exhibitors Mr GJ Lee and Miss CM Lloyd, Ger-Y-Coed, Four Roads, Kidwelly, Carms as a four-week-old calf at foot at the Dinmore Reduction Sale in July 2012 for 12,800gns. Another Dinmore heifer, Dinmore Hannah, by Wilodge Vantastic and out of Wilodge Priceless, stood Reserve Junior Female.
In the Commercial classes under Judge Mr D Partridge, Hinton Fields, Worcs the Steer Champion was Roxy Boy, a Limousin-cross bullock bred by Dai Brute, Brecon, and exhibited by Mr GP Brooke, Alfrick, Worcs. Reserve Steer Champion was Thunder from Mr J May, Tardebigge, Bromsgrove, a Limousin-cross bred by John Richardson, Penrith. In the calf classes, open to both commercial and pedigree stock in front of Judge Mr N Lloyd, Luston, Hereford, the Champion Calf was the pedigree Limousin Brockhurst Hardnut. Brought out by WJ & M Mash Ltd, Chesham, Bucks this October 2012-born bull calf is by Wilodge Vantastic and is out of Brockhurst Bolshoi.