20 Bulls average £4242
Five make 5,000gns and over
Spittalton Griffin from Stirling based breeders J G Burnett & Son, Upper Spittalton, Blair Drummond made 10,500gns and led the bull trade at the British Limousin Cattle Society's summer sale of bulls at Borderway Mart on Friday 15th June.  December 2011 born, Spittalton Griffin is by the 72,000gns Haltcliffe DJ and is out of the Wilodge Vantastic sired Spittalton Danielle.  With a Beef Value of LM+37, the top price bull was purchased by Messrs KI&E Jones, Bryn Ddraenen, Padog, Betws-Y-Coed, Conwy to join the noted Garnedd Herd.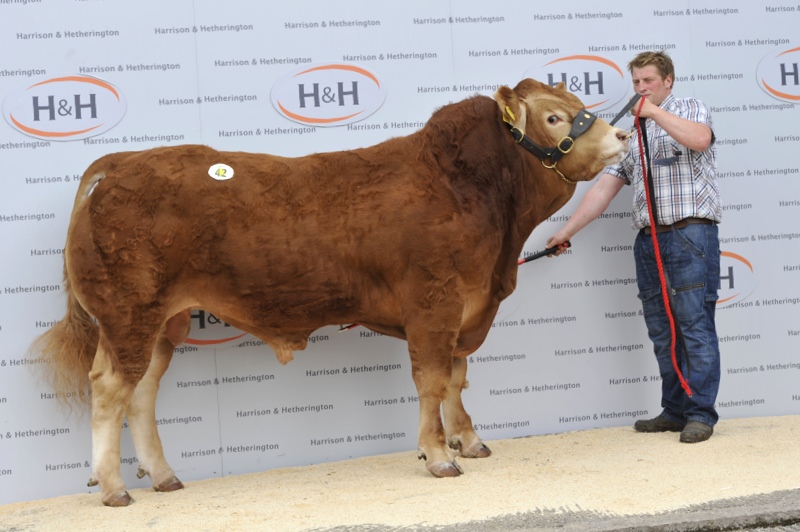 Speaking after the sale Ken Jones commented on his purchase and said:  "The bull has a great top, he's well muscled, has plenty of width, is clean, and has good locomotion.  He also has a terrific pedigree behind him".  The bull will be initially used on the Jones' crossbred cows before being introduced into the 70 pedigree females wthin the Garnedd herd.
This traditional fixture, some six weeks beyond the premier May Sale at Carlisle, saw 20 of the 29 bulls forward sell to a good average of £4242, up by £387 on the year.  Five bulls in all made 5000gns or more.
Selling at 6,600gns, from a good team of bulls, was Fieldson Gobsmacker from Messrs JW & M Fieldson, Poplar Farm, Corringham, Gainsborough, Lincolnshire.  Sired by Fieldson Erasure, a Haltcliffe Bravo son, this December 2011 born bull is out of the Goldies Uppercrust dam, Fieldson Candy.  Another bull with a high beef value, LM+40, Fieldson Gobsmacker was purchased by S Ewart & Son, Belridding Farm, Torthorwald, Dumfries.    The Fieldsons saw five of their young bulls go through the ring to make a very healthy average of £5124.
HOMEBYRES LEAD STRONG LIMOUSIN FEMALE TRADE AT 9,800GNS
Homebyres herd averages £6384
Norman Heifers to 8,800gns
Lourie Cow and Calf at 6,200gns
Following on from the bulls a strong line-up of females, full of quality of breeding, met with a terrific trade in an official Society Limousin Breeders' Sale.
Leading the trade at 9,800gns was a cow and calf from Messrs JLogan, Humebyres, Kelso in what was the first offering from the noted Homebyres herd of breeding cows in calf with calves at foot.  Sold as separate lots, the April 2008 born Homebyres Dinuette made 6200gns followed by her heifer calf Homebyres Howlett who made 3600gns.  Both were purchased by James Tennant Ltd, Manor House Farm, Fraisthorpe, Bridlington, East Yorkshire for their pedigree Lissett herd.  The April 2008 born Homebyres Dinuette is a Homebyres Vanhee daughter out of Homebyres Starlette and has a high beef value of LM+41.  Her third calf at foot, the August 2012 born Homebyres Howlette, is a Wilodge Tonka daughter.  Homebyres Dinuette was sold PD'd in-calf.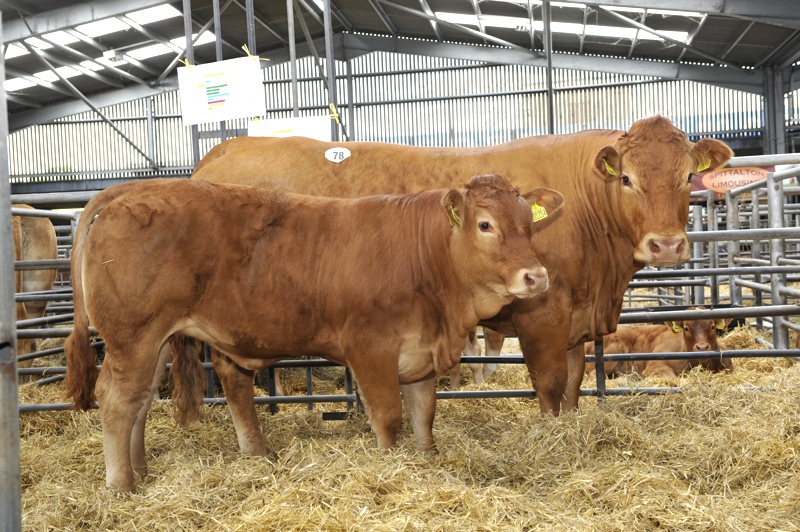 The same purchasers did it again when buying Homebyres Effi with her heifer calf at foot, Homebyres Hiffi, for a combined 9,300gns.   Again the two lots were sold separately with Homebyres Effi making 4800gns and her calf, immediately following, making 4500gns.  The April 2009 born Effi is another daughter of the Balnacraig sired Homebyres Vanhee and is out of the Homebyres Homer sired Homebyres Tansi.  Homebyres Hiffi, Effi's second calf, is sired by Haltcliffe Eubank.  Again PD'd in-calf, Homebyre Effi had a beef value of LM+31.
A quality line-up of heifers from local breeders Eric and Elaine Norman, Little Orton Farm, Little Orton met with an excellent trade that saw a top price of 8,800gns.  Featuring within the offering were daughters from Claragh Franco, the herd's stock bull which was purchased for 24,000gns in May 2011.  Leading the way at 8,800gns was Norman Halo, a Claragh Franco daughter from one of the herd's top cows Stacey Rosetta, a Dyfri Maestro daughter.  April 2012 born, Norman Halo stayed local when purchased by local breeder Jim Mulholland, Great Orton for his Liscon pedigree herd.
The previous lot Norman Hilary, another ClaraghFranco daughter, made 7500gns when selling to the Teague pedigree herd of  JF&MB Teague, TempleHouse, Buteland Farm, Balerno, Edinburgh.  Again April 2012 born, Norman Hilary is out of the Heathmount Trojan daughter Norman Connie.
A genuine Production Sale from the herd, these were the first females offered from Claragh Franco who served over 100 cows in the herd in 2012.
Robert Aitken, StrauthieBridge, Easter Balrymonth, St. Andrews, made 6,200gns when selling the first calver Lourie Finessa.  A Rocky daughter out of the Ronick Hawk sired Lourie Vessa, Lourie Finessa was sold with her November 2012 born Ionesco sired bull calf, Lourie Havana, at foot.  Purchaser was MW Jack, Carriston Farm, Glenrothes who runs the Kingdom pedigree herd.
In all, 14 females sold to 4,000gns or over.
Full report and averages to follow.