Ironstone Cinderella Interbreed Pedigree Champion
Held at its new venue of Bywell near Stocksfield, the Northumberland County Show took place on 25th May 2013. Supreme Beef winner was the Commercial Champion, Watabootie, an 11-month-old Limousin-cross heifer calf from Neil Slack & Julie Sedgewick, Ricknall Grange, Aycliffe. Sired by Culnagechan Egbert and out of a Rossignol-sired dam, she was bought for £5,200 in Penrith from breeder John Richardson, Ghyll House where she had stood Champion. June 2012 born, she scaled 431kg on the day under Judge Mr K Sparke, Hexham.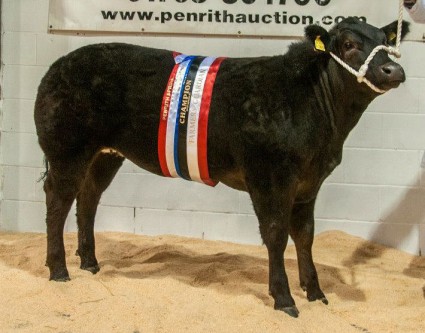 The Interbreed Pedigree Beef Championship was won by the six-year-old Limousin cow, Ironstone Cinderella, from Renton & Redden Partners, Clarence House, Tweedmouth having been judged on a points basis by all pedigree beef breed judges. Sired by Nebo Viking and out of Tweedside Selma, she had earlier won the Limousin Championship under Judge Mr G Swindlehurst, Procters Farms, Clitheroe.