144 lots gross £349,001
Millbrow Elaine, a December 2009-born Ionesco daughter and out of Millbrow Crystal, from George & Pat Long, Ambleside, Cumbria stole the show when, as the last lot in the catalogue, it secured the day's top price of 9,000gns at the British Limousin Cattle Society Breeders' Sale held at Carlisle on Saturday 14th September 2013.  The sale, featuring offerings from seven pedigree Limousin herds, saw 144 lots gross £349,001. A calved heifer, Millbrow Elaine sold with her January-born Wilodge Cerberus-sired heifer calf at foot, Millbrow Iona, to an undisclosed buyer, and was scanned back in-calf to the 50,000gns Wilodge Cerberus.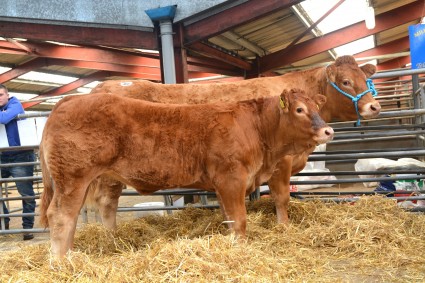 Top call from Stephen & Helen Illingworth, Howgillside, Eaglesfield, Lockerbie was the 8,000gns paid for the January 2013-born embryo calf Glenrock Icemaiden.  Full of breeding, Icemaiden is by the 23,000gns AI sire Goldies Comet and out of the cow Glenrock Spangle who is noted by the Illingworths as being "the best breeding cow in the herd." The purchasers were Boden & Davies Ltd, Mellor Hall Farm, Mellor, Stockport for their Sportsmans herd. Charlie Boden also purchased the 5,900gns cow-and-calf outfit Glenrock Eternity with her heifer calf Glenrock Hermonie. Glenrock Eternity, who was sold in-calf to the 16,000gns Glenrock Fortune, is a March 2009-born daughter of Bremore Artist and is out of Glenrock Una. Her October-born calf, Glenrock Hermonie, is sired by the Irish-bred Castleview Deloitte.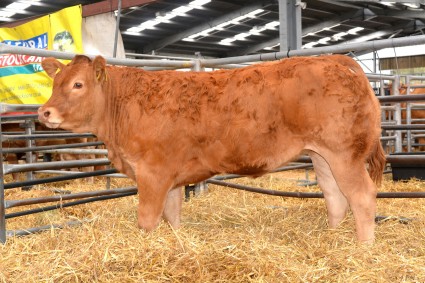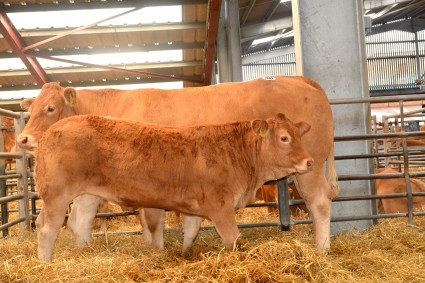 The Illingworths also made 5,000gns when selling the Rocky-sired Glenrock Cancan.  October 2007-born, Cancan is out of Glenrock Victoria and was sold with her third calf at foot, the November 2012 heifer calf Glenrock Hyacinth. The buyer was the Firm of James Hunter who run the Hallrig herd at Tarbolton, Ayrshire. The Illingworth's son, Thomas, sold a cow and calf unit which realised 5,200gns when snapped up by an undisclosed buyer. This was for the 2008-born Brickhill Duclos, purchased as a yearling in Ireland. Duclos is by Mas Du Clo and out of Brickhill Rose and went under the hammer as being AI'd to Bremore Artist. Brickhill Duclos was sold with her October 2012-born heifer calf, Eagleside Black Heaven, sired by Bailea Black BMW.
An undisclosed buyer purchased four frozen embryos. The first two at 2,200gns apiece were the pairings of either Haltcliffe Vermount or Sympa together with Glenrock Spangle with the resultant offspring destined to be full siblings to either Glenrock Fantastic, Reserve Supreme Champion at both the 2013 Royal Highland and Great Yorkshire Shows, or to Glenrock Humdinger, the "best young bull of the 2012 crop" according to Stephen Illingworth. The same purchaser then bought the next two embryos at 2,000gns each being Goldies Comet or Bremore Artiste plus Glenrock Spangle.
Leading the major reduction from the Rentons Herd on behalf of Mr & Mrs S&L Renton, Tannage Brae, Duns, Scottish Borders was a 7,000gns mother and daughter pairing in the shape of the 2005-born fifth calver, Lumbylaw Adelaide (Lumbylaw Panache x Lumbylaw Raw) who was sold in-calf to Wilodge Tonka. With her was the rising yearling heifer calf, Rentons Hortensia, a daughter of Wilodge Tonka, and full sister to the 7,000gns Rentons Gambier (Carlisle Feb 2013). Purchasing the cow at 4,000gns was JD Greenop, Bridge Bank, Wigton, Cumbria for their Bridgedale herd. The heifer calf secured a final bid of 3,000gns from W & J McHarg & Son, Crofthead Farm, Ochiltree, Cumnock, Ayrshire.
Harvey Brothers, Buchanan Street, Balfron Glasgow saw their major reduction sale top at 6,000gns for the October 2011-born Harveys Getique. Shown successfully with a first at Drymen Show, a second at the Great Yorkshire and a third prize at Perth Show this year, Getique is a half-sister to the 6,000gns Harveys Atique (sold in 2007). Sired by Virginia Andy and out of Harveys Tique (by Cloughhead Lord), she now heads to the Crabwell prefix of Messrs Boyling, Crabwell Farm, Parkgate Road, Chester, Cheshire, who also purchased the 3,000gns Harveys Hique.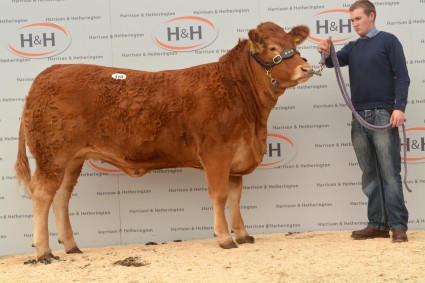 A final bid of 6,000gns from an undisclosed buyer topped the Ashmara contingent on behalf of Mr Neil Martin, Banbridge Road, Dromara, Dromore, N.Ireland. This was for the five-month-old embryo bull calf, Ashmara Iceman, sold suckling its recipient dam. Iceman is by the noted French sire, Rocky, and is out of the dam Hollybank Ruth, who was purchased privately from the Hollybank Herd when it was being dispersed.
The pick of the Hartlaw Herd dispersal on behalf of Mr John McKeen, Silloth, Wigton, Carlisle was the 3,500gns maiden heifer, Hartlaw Honey. July-2011 born, she is by Rocky and is out of Hartlaw Cinnamon and was bought by SJ & R Helliwell, Wooton Park Farm, Hall End, Wooton, Bedfordshire for their Howbrook Herd.  Hartlaw Happyvalentine, born on 14th February 2012, made 3,400gns when selling to the Guards herd of JC & S Little, Mayfield, Church Lane, Thursby, Carlisle, Cumbria.  £1 500 was raised for Macmillan Cancer Support with the sale of two frozen embryos to new breeder Gordon Brook, Kelso. Both embryos are pairings of Wilodge Tonka and Hartlaw Blueberry making the prospective progeny full siblings to the 22,000gns Hartlaw Excaliber, Overall Male Champion 2011 National Limousin Show.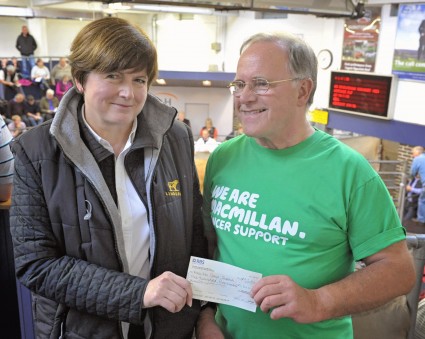 Securing the leading mark for the Normande Herd consignment for Cruickshank Normande, Cowford Farm, Cleghorn, Lanark was the 3,200gns young bull Lough Conn Handyman, bred in Ireland by Richard Heggerty. A son of the AI sire, Fieldson Alfy, and out of Greenhill Conifer, this April 2012-born bull was purchased by D & M Millar, Eycott Farm, Berrier, Penrith, Cumbria.
Averages:
Glenrock Herd
9 Cows served and/or suckling     £4,480.00
Rentons Herd
4 Cows served and/or suckling     £4,305.00
2 Maiden Heifers                             £2,100.00
Harveys Herd
11 Served & Maiden Heifers          £1,942.55
11 Cows served and/or suckling   £2,190.73
Ashmara Herd
15 Served & Maiden Heifers          £2,177.00
2 Recipients with Calves              £3,307.50
Millbrow Herd
6 Served & Maiden Heifers                        £3,010.00
1 Heifer served and/or suckling    £9,450.00
Hartlaw Herd
33 Cows served and/or suckling   £2303.03
1 In Calf Heifer                               £2730.00
18 Maiden Heifers                                       £1881.28
2 Senior Bulls                                 £2520.00
5 Young Bulls                                £1354.50
Normande Herd
22 Cows served and/or suckling   £2,023.64
1 Senior Bull                                   £2,730.00
1 Young Bull                                  £3,360.00
Auctioneer: H&H