Booking deadline 23rd September
The first-ever Society Social Weekend comes to the Harrogate area in October, and it promises to be a great mix of both the cattle and social side of Limousin breeding. There are several ways you can support the event. Weekend packages are still available priced at £250 single or £345 double per couple sharing which is great value as it includes two nights' dinner, bed and breakfast accommodation at the 4* Majestic Hotel, two drinks receptions, wine on the table, transport to and from the Farm Walk as well as a Limousin-themed lunch on the Saturday. Please note, Monday 23rd September is the final deadline for bookings for the whole weekend package as any unwanted rooms have to be given back after this date.
Alternatively, why not come to the Farm Walk and/or the Dinner Dance on the Saturday? The Farm Walk will be held at the Tomschoice Herd of James & Sarah Cooper, Dacre, Harrogate, breeders of top pedigree bulls, and runners-up in the 2011 National Limousin Pedigree Herd Competition. There will be tradestands, catering and bar, technical demos, plus plenty of fun activities like stockjudging, rodeo bull and laser clay pigeon shooting. It is free of charge to attend and a Limousin lunch will be provided as well as Theakstons bitter (first pint free!). Swelling the numbers will be an invited audience of commercial bull buyers, press, sponsors – and of course BLCS members! Please reserve your place by calling 02476-696500 by Fri 11 October. RSVP as we do need numbers for catering purposes.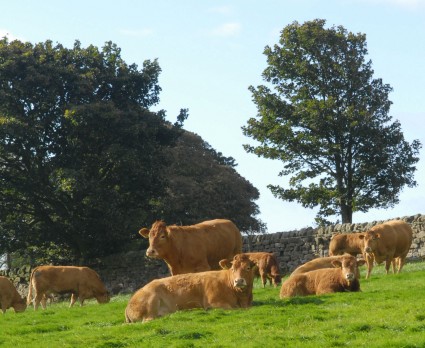 Saturday's Dinner Dance at the Majestic Hotel in Harrogate will be held 7.30pm to 12.30am with the festivities starting off with a pre-dinner Drinks Reception 6.30-7.30pm. This fun evening is set to cap off the weekend in style and we are anticipating 150-200 guests made up of weekend attendees, BLCS members, commercial buyers, sponsors and press. The three-course meal includes half a bottle of wine per person and is followed by coffee, light-hearted after-dinner speaker and disco. If you would like to book for the Drinks Reception & Dinner Dance, tickets priced at £45.50 are available by calling the Limousin office on 02476-696500 again by Fri 11 October, please.  Or why not make a night of it and book Saturday night accommodation at our preferential rate of £85 single or £95 double per couple sharing? Please book early.
So, please turn out in force for the Weekend, Farm Walk & Dinner Dance. Bring your friends (everyone welcome) and make it a highlight of the Limousin year!
For all bookings and enquiries please telephone the Limousin office on 02476-696500