In recent months, Jim Scott of Ardigon Lodge, Killyleagh, Co Down has taken up the honorary position as President of the Northern Ireland Limousin Cattle Club.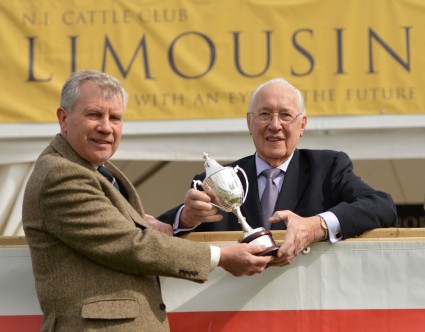 Chairman, Henry Savage, together with members of the NI Limousin Cattle Club committee were delighted when he accepted this position as Jim has been involved with the Club since its inception in the late 1970s. Together with his late father Jim Snr, he formed the pedigree Ardigon Herd with the resulting progeny securing many successes including a Balmoral Championship as well as a Junior and Supreme Reserve Championship at Carlisle. Notable high prices have been achieved at both Carlisle and Perth sales in the past with some of them going on to be foundation cows and bulls in many herds locally and across Mainland UK.
Jim stated: "I am honoured to take on the position as Club President and look forward to my two-year term. It is fantastic to see how the breed has developed in Northern Ireland and to see how breeders have progressed and succeeded in both the sale and show rings across the UK. I delight in seeing the quality of locally-bred females which display power, maternal traits and good longevity."
"I am still very much interested in the Young Limousin Breeders' Club which is a great vessel to encourage youngsters to get involved in the breed. The Club helps to nurture their interest by educating them on handling stock, stock judging and cattle management which in turn helps to secure the future of the breed. Furthermore, I am glad to see the camaraderie that exists within the NI Limousin Cattle Club both amongst its members and with other regions. I aspire to assist in any way I can to support the Club and the Limousin breed."
Jim, who has been on the Club Committee for five different terms over a period of 33 years, and is a past President of the NI Young Limousin Breeders, will bring a wealth of experience to help bring the Club through 2013 and 2014.
He succeeds John Gordon who retired at the Club's AGM following 32 years' involvement with the Club including five as Secretary/Treasurer and twenty as President. John's dedication never waned and he hardly ever missed a meeting, an event, show or sale. John is, and has been, a valuable, dedicated and steadfast member who was always at hand to help anyone. This, combined with his remarkable knowledge, made him an extraordinary asset to the Club. The Executive Committee and membership wish John all the very best in his retirement and hopes he continues to enjoy life to the full for many more years.