The Stars of the Future Calf Show, held at United Auctions, Stirling, on Saturday 17th November, saw a tremendous show of Limousin cattle with a record entry forward in front of Ian Wilkinson of the Redstroke herd, Murthly, Perth & Kinross.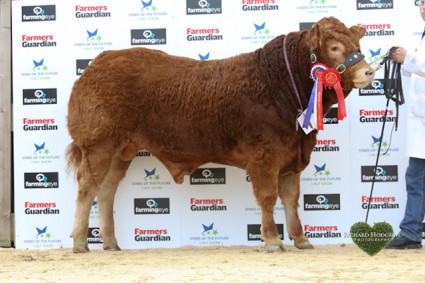 Taking the Overall Senior Champion was John Elliot, Roxburgh Mains, Kelso with his Senior Male Champion Roxburgh Homeland. This November 2012 born Plumtree Fantastic son is out of the French-bred Nova, making him a maternal brother to Samy the triple Burke trophy winner and previous stock bull at Grahams Limousin. Nova was purchased at fourteen years old and this is her first embryo calf born. Roxburgh Homeland went on to take the Reserve Overall Continental Championship later in the day.
Standing Reserve Overall was the Reserve Senior Male Aultside Hulk from Garry Patterson, Upper Forgie, Aultmore, Keith. He is a Wilodge Cerberus son out of the Hargill Blaze sired dam Spittalton Flush.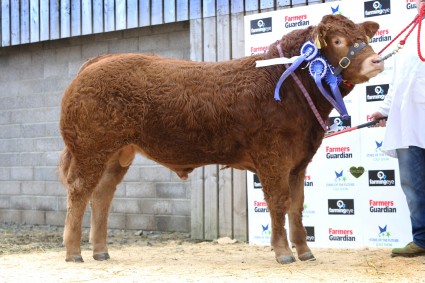 Winning the Senior Female Championship was Tweeddale Harika from the Redhead and Watson partnership, Bowsden Moor, Bowsden, Berwick upon Tweed, Northumberland. This September 2012 born heifer is by Goldies Fandango and out of Tweeddale Feefee. In reserve was Stephen Illingworth, Howgillside, Eaglesfield, Lockerbie with Glenrock Black Hannah. November 2012 born, this heifer is a Bailea BMW daughter and is out of Glenrock Caviar, a Tabarly daughter.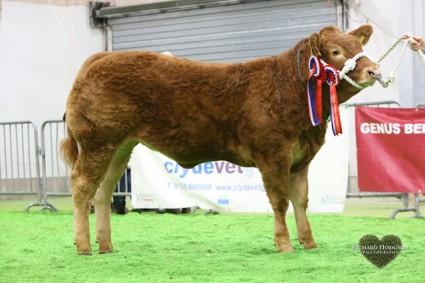 The Overall Junior Championship also went the way of Stephen Illingworth with Glenrock Illusion, having earlier won the Junior Female Championship. She is a January 2013 born Goldies Comet daughter out of the herd's noted Glenrock Spangle. Glenrock Illusion also went on to secure the Reserve Overall Continental Junior Championship.
Following her in to Reserve Overall Junior was the Reserve Junior Female Ronick Ida from the Dick family, Mains of Throsk, Stirling. This February 2013 born Rathconville Eugene daughter is out of Ronick Dunita.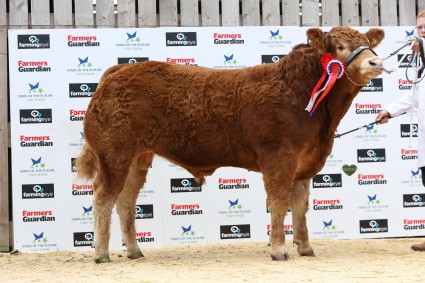 Taking the Junior Male Championship was Foxhillfarm Impecabull from the Alford family, Foxhill Farm, Cullompton, Devon. This Wilodge Vantastic son is out of the 15,000gns Bankdale Alice who is dam of the show winning Foxhillfarm Gracie. Standing reserve to him was Archie MacGregor's Allanfauld Ibrox, a Wilodge Tonka son out of Allanfauld Cortina.
Class results:
Class 36 bulls born 10th July to 17th October 2012
1, M Robertson's Fodderletter Henley, by Cawfields Dylan
2, R Graham's Grahams Humphrey, by Baileys Elderado
3, G Harvey's Harveys Hero, by Virginia Andy
Class 37: heifers born 1st August  to 27th October 2012
1, Redhead and Watson's Tweeddale Harika, by Goldies Fandango
2, W Lawson's Windsole Hazel, by Ampertaine Commander
3, R Graham's grahams harmony, by Baguo
Class 38: Bulls born 3rd November to 30th December
1,J Elliot's Roxburgh Homeland, by Plumtree Fantastic son out of Nova.
2, G Patterson's Aultside Hulk, by Wilodge Cerberus
3, J Elliot's Roxburgh Hoodoo, by Wilodge Vantastic
Class 39: Heifers born 1st November to 21st December 2012
1, Stephen Illingworth's Glenrock Black Hannah, by Bailea BMW
2, Archie MacGregor's Allanfauld Harlot, by Lowerfryd Empire
3, Stephen Illingworth's Glenrock Horizon, by Goldies Comet
Class 40: Bulls born 1st January to 9th January 2013
1, M Alford's Foxhillfarm Impecabull, Wilodge Vantastic
2, M Alford's Foxhillfarm Incredibull,by Guards Boomer
3, M Alford's Foxhillfarm Ipad, by Ionesco
 Class 41: Heifers born 3rd January to 21st January 2913
1, S Illingworth's Glenrock, by Goldies Comet
2, M Alford's Foxhillfarm Ivy, by Wilodge Vantastic
3, M Alford's Foxhillfarm Issy, by Wilodge Vantastic
 Class 42: Bulls born 1st February to 10th April 2013
1, A Macgregor's Allanfauld Ibrox, by Wilodge Tonka
2, A MacGregor's Allanfauld Invincable, by Wilodge Fastrac
3, R Dick's Ronick Inspire, by Rathconville Eugene
 Class 43: Heifers born 8th February to 27th March 2013
1, R Dick's, by Eugene daughter
2, M Alford's Foxhillfarm Iola, by Wilodge Vantastic
3, M Alford's  Foxhillfarm Isla, by Wilodge Vantastic
 Class 44: Bulls born 17th April to 29th June 2013
1, W Lawson's Windsole Indianna, by Dylans Daf
2, W and A Callion's Lodge Ion, by Carmon Copilot
3, W and A Callion's Lodge Ivan, by Fakir
 Class 45: Heifers born 5th April to 11th June 2013
1, W and A Callion's Lodge Image, by Sablier
2, A Lindsay's Clydeside Islay, by Ionesco
3, D Cornthwaite's Maybe Innocent, by Frewstown Breakdance