Five animals at five figures and over

 Sale grosses over £400,000
The Sassy Lassies sale from the Emslies Herd of Mr Harry Emslie, Kinknockie, Mintlaw, Peterhead, Aberdeenshire saw a strong trade throughout lead by the 16,500gns paid for the in-calf heifer Emslies Guerlain.
October 2011 born, Emslies Guerlain is a Sympa daughter and is out of the herd's noted French cow Ubonie.  Combining muscle, power, thickness and breed character, this heifer is a maternal sister to the 37,000gns Emslies Frenchman.  Buying the top price, which also had a Beef Value of LM+37, was Drew Hyslop for his Newshot pedigree herd at Myrtle Cottage, School Brae, Haugh-of-Urr, Castle Douglas.
The sale, marking the first Production Sale from the herd since its foundation in 2003, saw a huge crowd in attendance with new and established breeders from all over the UK competing for the quality lots on offer throughout the catalogue. Five lots in all breached the five figure mark with the sale grossing over £400,000.
Lot 11 Emslies Duchess made 15,000gns when selling in a half share to Walter Wight, Melrose, Roxburghshire along with Doug Mash, Chesham, Buckinghamshire.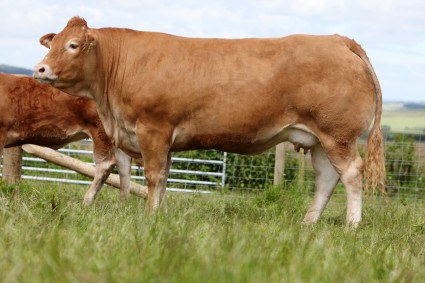 Lot 18 Emslies Ieryl made 15,000gns when selling to Aileen Ritchie, Tamara, Burnside, Whitecairns, Aberdeen
Lot 26 Emslies Farah made 12,000gns when selling to Colin Lewis, Welshpool, Powys
Lot 39 Emslies Gillian made 12,000gns when selling to JL Woodward, Thorpe Saint Andrews, Norwich.
Lot 40 Emslies Black Galaxy made 9500gns when selling to Neil Barclay, Insch, Aberdeenshire
Lot 51 Emslies Glitzy made  9500gns when selling to TP Atkinson, Newland, Ulverston, Cumbria
Averages:
26 Cows served and/or suckling           £6021.35
31 in-calf Heifers                                         £4985.81
9 Maiden Heifers                                         £3896.67
7 Weaned Calves                                        £3360.00
6 Embryo Calves                                          £3500.00
Auctioneers: Harrison & Hetherington
Full Report To Follow…