Wilodge Tonka-sired Commercial Champion stands Reserve Overall
 The Northern Ireland Young Limousin Breeders' Club Annual Calf Spectacular, held at Ballymena Market on Saturday 11th January 2014, saw the May 2013-born bull calf, Larkhill Istabraq, take the Supreme Overall Championship.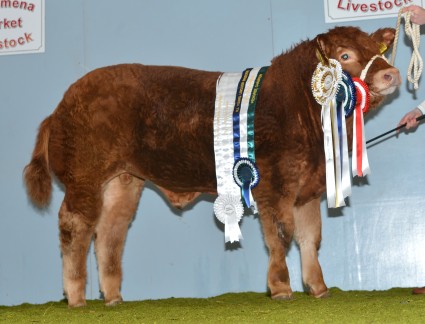 Bred and exhibited by the McAuley Family, Seven Mile Straight, Antrim he had earlier taken the Pedigree Championship under Judge Mr Chris Pennie of the Sarkley Herd, Gwern Yr Ychain, Llandyssil, Montgomery, Powys who described the show as "a tremendous line-up of calves reflecting the dedication and passion that Northern Ireland breeders  have for producing quality cattle. There will undoubtedly be several of these animals feature heavily in some of the forthcoming major sales."
Larkhill Istabraq comes with an impressive pedigree. He is sired by the 2011 All-Ireland Bull Derby Champion, Millgate Fame, who was sold for 32,000gns in October 2011 at Carlisle.  His dam, Larkhill Countess, is out of the top brood cow Carmorn Penny who currently has over 12 sons being used in pedigree herds one of which being Carmorn Copilot who is a full brother to Countess.  Countess's first calf, Larkhill Firmount, was sold in Carlisle in October 2011 for 22,000gns to the Haltcliffe Herd.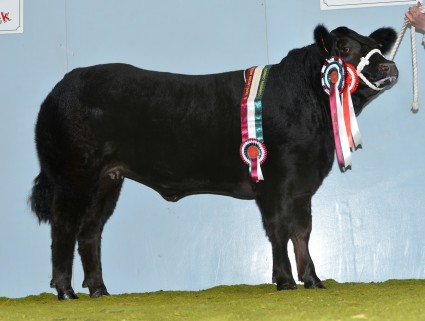 The Commercial Champion and Reserve Overall was the January 2013-born Mojo owned by S & J Smyth. A three-quarter bred Limousin heifer sired by Wilodge Tonka, the judge described her as "a very stylish heifer who oozed class and will be one to look out for in this year's show circuit."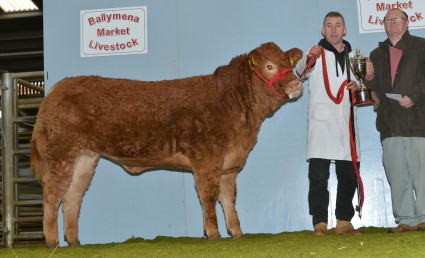 Reserve Pedigree Champion from MJ Conway, Meenagorp Road, Plumbridge was the heifer calf, Craigatoke Irishcoffee, sired by the 35,000gns Plumtree Deus and out of the Goldies Oswald daughter Craigatoke Ultrabright who also bred Craigatoke Butch who is producing prize-winning commercial calves in Scotland. Martin Conway won a further class with the similarly bred Craigatoke Irishlass and the two heifers later teamed up to win the Pairs. The final heifer class was won by the Ampertaine Foreman daughter, Spage Ivy, owned by Liam Campbell, Ballyvaddy Road, Carnlough.
H & D McFarland, Tonnagh Road, Trillick also had a successful day winning two out of the three pedigree bull classes.  A Haltcliffe Dancer son, Rahoney Isaac, won the first bull class, with their Wilodge Cerberus son, Rahoney Immanuel, taking the third.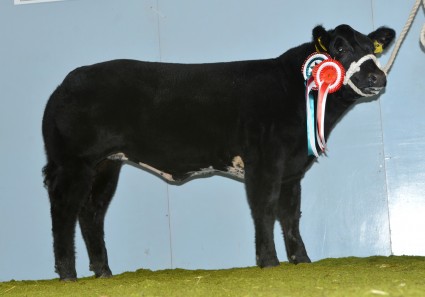 The Reserve Commercial Champion was Mya, a crossbred heifer by Hightown Dalglish, a Shire Apollo grandson, owned by Gareth Small and bred by James Alexander. Swarland Eddie featured heavily in the commercial classes siring over half the calves on show. In the commercial steer classes, Messrs Corrie & Neill won the first class with the Swarland Eddie-sired Candycrush with the second steer class going to Wee Man, a Swarland Eddie calf from Gareth Small. In the youngest class of commercial calves, James Alexander came first with Total Tease – another by Eddie.
This show was made a success by the financial support of sponsors.  The Northern Ireland Young Limousin Breeders would like to thank Bank of Ireland, MSD, British Limousin Cattle Society, Brian McComb Contracts, Greenmount Country Stores, Semenstore, Minprint, Crumlin Ulster Farmers Union, Firmount Veterinary Clinic, Corries on the Farm, NI Limousin Club, Commercial Cattle Club NI, Fane Valley, AI Services, Dovea Genetics, TL Biolabs, Cogent, McKinstry Skip Hire.
Results
Class of Bulls born between 1st January and 31st March
1st Rohoney Isaac by Haltcliffe Dancer (H McFarland)
2nd  Culnagechan Istanbull by Ampertaine Commander (Derek Hume Randalstown)
3rd  Millgate Ignatius by Millgate Fame (Micheal Loughran)
Pedigree heifers born between 1st January and 31st March
1st Craigatoke Irishcoffee by Plumtree Dues (Martin Conway)
2nd Robineed Indie by Procters Cavalier (Dale Robinson)
3rd Chinauley Iris by Mas Du Clo (Albert Finney)
Bull born between 1st April  and 30th June
1st Larkhill Istabraq by Millgate Fame (Brian McAuley)
2nd Jalex Itsallgood by Swarland Eddie (James Alexander)
3rd Bernish Igor by Wilodge Vantastic (Kieran McCrorry)
Heifer between 1st April and 30th June
1st Craigatoke Irishlas by Plumtree Dues (Martin Conway)
2nd Hawthorne Ingrid by Ulm (Peadar Hughes)
3rd Hawthorne Ivy by Fedneyhouse Excellance (Peadar Hughes)
Bulls born after July 1st
1st Rahoney Immanuel by Wilodge Cerberus (H McFarland)
2nd Millgate Icon by Condor (Michael Loughran)
3rd Robineed Ibor by Frewstown Breakdance (Dale Robinson)
Heifers born after 1st July
1st Spage Ivy by Ampertaine Foreman (William Campbell)
Pedigree Champion
Larkhill Istabraq by Millgate Fame (Brian McAuley)
Reserve Pedigree Champion
Craigatoke Irishcoffee by Plumtree Deus (Martin Conway)
Class of Pedigree Pairs
1st Martin Conway
2nd JI&SJ McGeehan
3rd H.McFarland
Steer born between 1st January and 31st March
1st Candycrush by Swarland Eddie (Corrie & Neill)
2nd Bartley Finnegan
Commercial heifer born between 1st January and 31st March
1st Mojo (Jack Smyth)
2nd By Atilla (D McKenna)
3rd By Swarland Eddie (ACrawfrod&co &Richard Beattie)
Steer born between 1st April and 30th June
1st Wee Man (Garreth Small)
2nd The Joker by Swarland Eddie (James Alexander)
3rd Alister Crawford&Co & Richard Beattie
Commercial Heifer born between 1st April and 30th June
1st Mya by Hightown Dalglish (Gareth Small)
2nd Galway Girl (Corrie and Neill)
3rd Jack Smyth
Commercial born after 1st July
1st Total Tease by Swarland Eddie (James Alexander)
2nd Bad Influence by Swarland Eddie (James Alexander)
Commercial Champion Mojo (Jack Smyth)
Reserve Commercial Champion Mya by Hightown Dalglish (Gareth Small)
Overall Champion Larkhill Istabraq by Millgate Fame (Brian McAuley)