Welcome to the club newsletter 2013
The first club stockjudging event was held on 6th June at Dunsa Farm, Chatsworth by kind permission of the Duke and Duchess of Devonshire; the estate manager Mr Ian Turner and his wife hosted the event.
Our thanks to Ian and his staff for supplying us with a great line-up of cattle to judge on this superb sunny evening and our judge Mr Will Forrester from the Twemlows herd made an excellent job of judging the cattle, which he backed up with a superb set of reasons.
The Chatsworth catering team supplied us with some excellent beef cobs, tea and coffee.
Chatsworth youngstock 2012-13 have mostly been bred by bulls Twemlows Eric, Mereside Flashy, Whinfellpark Fancypants and Haltcliffe Valiant.
Results of the young breeders stockjudging
1st Matthew Clark      2nd Daisy Fretwell      Joint 3rd James Findlay   Tom Bird
4th James Heath
The 2nd stockjudging
The 2nd stockjudging of the year took place at the Garmon Herd by kind invitation of Sîan and Meldwyn Lloyd Jones, Pant-y-Coed, Pwllheli.
On arrival at the farm Sîan and her family made everyone very welcome with tea and home-made cakes. After this we went on a short trailer ride around the cows, most of these were Titanic & Picasso daughters – they were like peas out of a pod, superb length and shape, I am sure Sîan and Meldwyn must be very proud of them. The calves on these cows were sons and daughters of Abricot and Raysonhall Claymore already showing great potential for breeding stock of the future.
The picture on the bottom left hand side shows our judge for the day, Alaw Jones. The bulls were of such similar shape and size it was a difficult task to pick out a winner but Alaw gave detailed explanations of why she placed them as she did. We would like to thank her for giving up her time to do an excellent job. After the results of the stock judging, we all enjoyed a delicious barbeque, which Sîan and Meldwyn's family kindly cooked for us.
Results of the stockjudging
Senior Ladies:   1st Rachel Morley            2nd Carol Wynne                 3rd Alison Clark
Senior Men:     1st John Lloyd                  2nd Ken Jones                       3rd M. Jones
Juniors:             1st Matthew Clark           2nd Sion Lloyd Williams       3rd James Heath
Club Open Day August 2013
The Club Open Day was held at Colin and Elaine Lewis's (Garyvaughan herd) Garth Vaughan, Welshpool. This event was well attended by around 260 people. We were taken around the farm on tractors and trailers by Colin and his sons to see his bulls Plumtree Deus and Garyvaughan Champion. Below is a selection of the cattle we saw on our trip round the farm.
Having completed the trailer ride, there was cattle to judge for those who were interested in judging. We would like to thank our judge for the day, Mr Merion Thomas, and the friends and family who provided the barbeque. We could see how much work and effort Colin and his family have put into tidying up and fencing the farm as they have only been there a short while. I'm sure if we go back in a few years' time we will see a lot more improvements.
Day Visit to Whinfellpark
Unfortunately I was not able to attend this trip but around 35 people were able to support this event. They were able to see the renowned Limousin bull Dorcorsllwyn Fabio which achieved a record price of 120,000 guineas in February 2012. I am told the guests were able to view a range of bulls on trailer rides around the large Whinfellpark Estate.
Dinner Dance
This was held at the Boar's Head, Sudbury and was attended by around 82 people. We had a very nice roast beef dinner followed by the results of the herd competition, presented by the judge, Richard Bartle.
On the left our chairman, Mr Neil Vance, presented Richard Bartle with a piece of crystal glass to thank him for making a very good job of judging the herd competition this year.
Herd competition results 2013 to follow.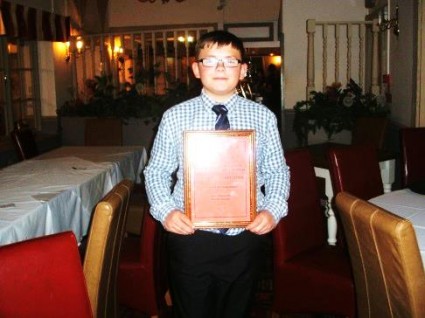 William Nicholls, aged 13, has received his Junior Award for best young breeder.
In the future it would be nice to see a few more people try to attend these events as a lot of work and effort goes into the preparation and hospitality. If anyone wishes to become a member please contact Alison Clark on 0114 2306573, this applies to commercial as well as pedigree breeders.