Messrs S Higgott & Son, Crown Farm, Nailstone, Leicestershire were interviewed by Richard Saunders, BLCS Development Manager, in August 2013. Photography by Andy Hunting.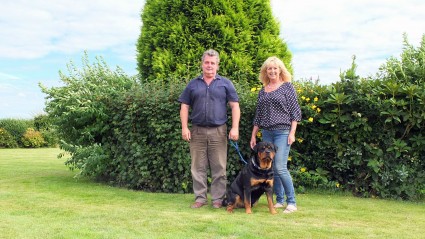 Robin & Julie Higgott run 130 suckler cows in tandem with a finishing unit numbering around 400 head – with both enterprises firmly established on a Limousin footing. Located in North-West Leicestershire, the farm was bought by Robin's father in 1953 and at that time comprised 70 acres with neither farmhouse nor buildings. The current 440 acre farm – of which around half is owned and the rest rented – rises to 524 feet which means winters are cold with winds blowing in from the Russian Urals – the next highest point east – meaning grass growth comes quite late for the Midlands. Land use is divided into approximately 240 acres grass, 95 acres maize (used as forage) and 100 acres of cereals (split evenly between wheat and rape) – the latter grown as a cash crop. The Higgotts do a lot of big baling, mostly for themselves, but also sell some straw to a regular customer in Wales. On the farm there is one full-time employee, as well as some occasional seasonal work.
Of the 130-head suckler herd, around 100 cows are pedigree or pure Limousins, but run commercially, with the rest predominantly three-quarter Limousin with a few Blue or Blonde females thrown in for good measure.
Ease of Calving and Plenty of Milk are the real Advantages of the Limousin
Explains Robin: "We've only been in the suckler job around 5 years as prior to that we were concentrating simply on buying in Limousin-cross stores, and before that Limousin calves, then taking them through to finishing. Having worked with Lims for the past 30 years, the real plus is the ease of calving and the cows generally have plenty of milk." It is anticipated that suckler cow numbers may increase up to 200 in the future.
Whilst the Dagarde pedigree Limousin prefix was established at roughly the same time (in 2009), the Higgotts only register a handful of females. Their pedigree cows carry various prefixes including Spyway and Rodney. Rosecroft Cleo is a particular favourite (Grahams Unbeatable x Bapton Oval) as is Cheadlewood Antonia (Rocky x Cheadlewood Ulrica) and Dinmore Chezza (Bosworth Roger x Peaseleyhill Myrony). Robin says he prefers the larger, framey type of cow and the purchase of six in-calf heifers from Miscombe fitted this bill nicely. "They have plenty of milk to boot," he adds. Jokes Robin, "They say you can't breed mice from rats, so I've always favoured bigger cows which I like to keep pretty fit."
The farm runs four Limousin bulls: Crompton Cavalier (by Nenuphar) and Crompton Douglas (by Grahams Samson) – both purchased privately from Mr R Bowling, Haxby, York; Hafodlas Endeavour (by Hafodlas Llion and out of a Tunnelby cow) purchased for 3,000gns at the 2011 Winnington Sale; with the most recent addition being Emslies Flanker (by Procters Cavalier) purchased privately from W Thompson, New Pitsligo, Fraserburgh in Spring 2013.
Tight Calving Pattern
The two Crompton bulls are out of the same dam, Airtnoch Pat, and both are very easy calving. "Cavalier has done really well for us with eleven sets of twins last year and six this year; you wouldn't know they were twins as both calves have gone on to do well. Also, I don't like to be short of a bull, so like to keep one bull resting (currently Hafodlas Endeavour who is penned with a batch of store steers)." Cavalier courts the females a bit more but Douglas catches them first time with the result that the Higgotts can often get 4-5 calves born on a single day which also helps keep the calving pattern pretty tight.
"As I said, calving is the real plus as far as the Limousin is concerned. We've not had a single caesarian this year, and the vet has only been out twice to assist with births. All the rest haven't even been seen born."
Calving takes place from March onwards and cattle are turned out around mid-May depending on grass availability. Calves are creep-fed a bought-in ration from day one from supplier Manor Farm Feeds, Owston, Rutland. Robin & Julie try to keep cattle out as long as possible – certainly until end-September, when they bring them in in groups. However, youngstock aren't weaned straightaway as the couple prefer to get calves going well indoors with their mothers for around a month beforehand. Says Julie: "We've used this system successfully for the past three years; we save both the cost of the immunisation as well as the injection to cure any problems, and the calves still remain pneumonia-free." A further advantage is that the cows dry off quicker and there's less stress for mother and calf.
Docility is a Key Factor
When looking for a bull, temperament is key and EBVs play a part as does a preference for a bit of shape and a small head. As far as female replacements are concerned, the Higgotts try to breed their own as far as possible in order to avoid buying in health problems but retain the odd bought–in store heifer also. Again, docility is a key factor for the breeding females as it is the husband-and-wife team of Robin & Julie only who look after the calving pens. "They've got to be quiet," insists Julie.
Heifer calves that don't make the grade as replacements join the stores for finishing as do all bull calves which, with the exception of one or two kept as potential stockbulls for retention or sold locally, go on for finishing.  Dehorning is done themselves and foot-trimming is looked after by Derbyshire-based David Thornley.
Limousin-bred Store Cattle
The Higgotts' finishing business is again solely built around Limousin genetics with stores purchased mostly from the north of Scotland as well as some from Wales. "We number 420 head on our holding as of today and when full we can accommodate 510," notes Robin. 208 of these are store steers and heifers which have been bought-in as yearlings earlier this year, the majority seven-eights Limousin-bred.
He continues: "We aim for animals to stay on the farm no longer than 180 days in order to get them away at between 15 and 18 months of age. Stores are fed a total mix ration of homegrown haylage, brewers grains (from the nearby Carlsberg brewery) and bread from a supplier in W Yorks. Their Keenan mixer is invaluable as is a Lucas bedding machine as well as the mobile cattle handler from Tony Binns, Ripley, Harrogate.
Limousin = Consistent Returns
All purchased stores are weighed in when they arrive on-farm, weighed every month, and then weighed out again when sold, which helps the Higgotts calculate their returns accurately. Most are sold deadweight through Woodheads at Spalding and Woolley Bros, Sheffield with some sold live through Newark Market. "We are all for selling live but we do like that little extra peace of mind knowing where our cattle end up," comments Robin. They work on a killing-out percentage of between 60% and 63% with the majority grading at U+ or U- with an occasional R.
Having both the suckler and finishing enterprises means the farm is also partly shielded from market fluctuations, though rising feed costs remain a concern. "When the killing price drops (as it has done recently) we can still score with the sucklers and with good cull cow prices. In turn, when the beef price goes up, we can tap into that though of course store cattle are a lot dearer to buy in than they used to be. We also roughly equate one cow taking the place of two store cattle, so everything is a balance and we cost out all animals – whether cows and calves or finishing cattle – on a per day basis, believing overall that the Limousin gives us the best return," concludes Robin.