Dutch Limousin Herd Dispersed at Borderway Mart, Carlisle
The Dispersal Sale of the Cowporation Herd on behalf of Mr Teus Dekker, Cowporation BV, Alblasserdam, Netherlands, held at Carlisle on Friday 28th March 2014, saw a top price of 9,000gns paid for the four-year-old Nebo Favourite.  Bred by Mr ML Thomas, Nebo, Llanwrst, Conwy, Nebo Favourite is by Wilodge Vantastic and is out of the Neuf-sired Nebo Caryl.  A first calver, the September 2010-born Nebo Favourite was sold with her heifer calf by Ampertaine Commander, Cowporation Iris, at foot.  Purchasing the top price was AJ Ewing, Dumbretton Farm, Annan, on behalf of a client.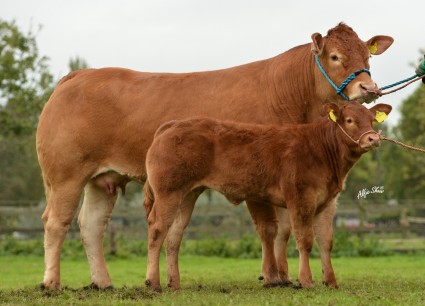 At 6,900gns was Ampertaine Heather who was purchased by Mr M McKeefry for his Eniver Herd of 18 breeding females based in Carhill Road, Garvagh, Coleraine, Co Derry, N Ireland.  Ampertaine Heather is by the 50,000gns Wilodge Cerberus and is out of the Glenrock Ventura-bred cow, Ampertaine Cancan, who is maternal sister to Ampertaine Annabella (who bred the 20,000gns Ampertaine Commander) as well as to Ampertaine Bathsheba (who bred the 38,000gns Ampertaine Foreman).  July 2012-born, this maiden heifer was bred by Messrs WJ & J McKay, Maghera, Co Derry and sold with a Beef Value of LM+32.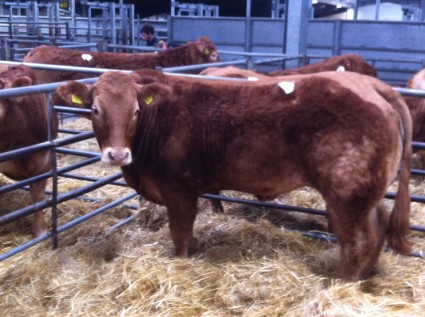 Purchased for 5,000gns by the bull's breeders, Smiths of Bloxham Ltd, Newlands Farm, Bloxham, Oxon was Ironstone Gandi. An embryo calf by Wilodge Vantastic and out of Bailea Umandy, which makes him a full brother to the multi-show-winning Ironstone Dumandy, the November2011-born Gandi sold back to the Ironstone prefix with a Beef Value of LM+43.
The January 2012-born Burnbank Honey, bred by Messrs D & L Graham, Mains of Burnbank, Stirling, was sold for 5,000gns.  Honey is by Carmorn Dauphin and is out of the Rocky-sired Burnbank Damson.  She was sold four months in calf to Ampertaine Gigolo to AJ Ewing on behalf of a client.  The similarly bred Burnbank Harriot had been sold as the previous lot, PD'd in-calf to Wilodge Gatsby, for 2,100gns to Mr TA Storey, Bushfield, Penton, Cumbria for the Liddelvalley Herd.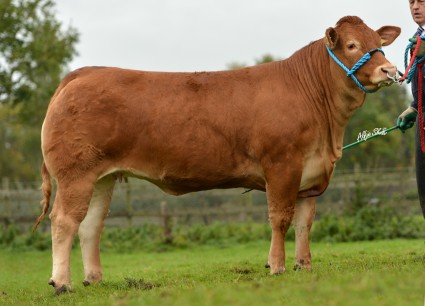 Genoise, bred in France by Rolland Paulette, made 4,500gns when selling to Mallaber Partners, Park Farm, Burton on Trent.  Reserve Overall Champion at the Dutch National Championships in 2013, this September 2011-born heifer is by Accent and out of Admirable.  She was sold 7 months in calf to Ampertaine Foreman.  Another selling at the 4,500gns mark was Ampertaine Harmony, a September 2012-born maiden heifer by Ampertaine Elgin and out of the Ampertaine Abracadabra-sired Ampertaine Excellence.  Another bred by Messrs McKay, Ampertaine Harmony (LM+37) also went under the hammer to AJ Ewing, Dumbretton Farm, Annan.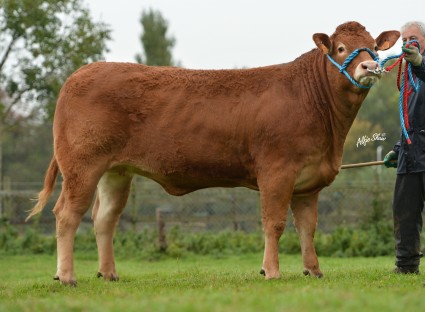 Another Ampertaine Elgin daughter, Ampertaine Hope, was purchased for 4,200gns by Greensons Limousins, Bottisham, Cambridge.  June 2012-born, this heifer is out of another Ampertaine Abracadabra daughter, Ampertaine Eve, and went under the hammer with a Beef Value of LM+36.
The first and last lots in the ring both made 4,000gns.  First up was the 2006-born cow Breiz Izel, bred by Gaec Euan, France.  This cow came with a strong show record behind her having been Champion of Brittany, France, in 2010 and Dutch National Champion in 2011.  By Neuf and out of Uvelzda, she made 4,000gns when selling to AK & JK Smith, Jacobstow, Bude for their Smithy Herd.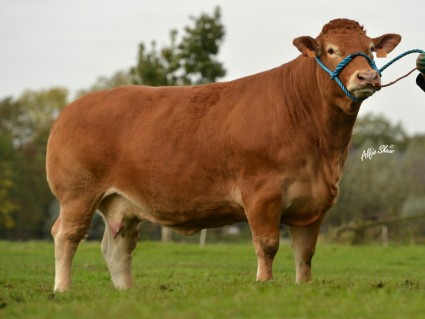 The last lot of the day, who also made 4,000gns, was Ironstone Goldeneye, a 2011-born bull bred by Messrs Smith of Bloxham, Banbury.  By Wilodge Vantastic and out of Montgomery Unny, this bull sold with a Beef Value of LM+39 to Mr D Hillman of Rodbourne, Malmesbury, Wiltshire. Mr Hillman also bought the 1,400gns Cowporation Hermine, a fully French-bred December 2012-born maiden heifer by Ionesco and out of Ecoute.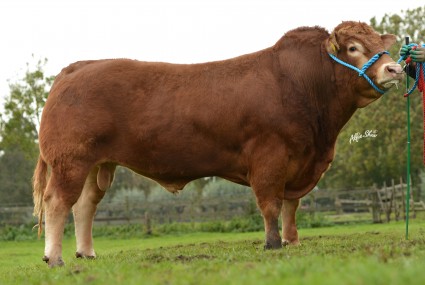 At 3,900gns was Ampertaine Honey, sired by Ampertaine Elgin and out of Ampertaine Anastasia (by Sympa) who sold with a Beef Value of LM+33 to Mr W Gabbie, Ballywillin Road, Crossgar, Co Down for his establishing Hollowdene pedigree herd. Ampertaine Honey's dam, Anastasia, is full sister to the 29,000gns Ampertaine Abracadabra. Securing a final bid of 3,30gns from Mr P Cairns who runs the Plumtree Herd at Tollerton, Notts was the May 2012-born Ampertaine Hazel, by Carmorn Copilot and out of Kype Sky (by Cloughhead Lord), who was sold in-calf to Ironstone Gandi.
Messrs Robb & MacDonald, Flemington Farm, Cambuslang, Glasgow purchased a 3,200gns cow and calf outfit in the shape of the 2010-born cow Cowporation Feebe (Archibeau x Angelique) sold with her Carmorn Copilot-sired heifer calf at foot, Cowporation Irene.
Making 3,000gns was the May 2011-born bull, Wilodge Gatsby, bred by Miss C Williams, Lodge Hill Farm, Shifnal. Sired by Loosebeare Diego and out of Nouvelle Sophia, he sold with a Beef Value of LM+30 to Messrs Hughes & Co who run the Medrad Herd at Ystrad Fawr, Llangwm, Corwen. At the same 3,000gns mark was the maiden heifer Ampertaine Holly, sired by Sympa and out of the Haltcliffe Vermount daughter, Ampertaine Eloquent, who sold with a Beef Value of LM+34 to Mr B Hall's 6-cow Ballyhone Herd at Old Carrick Road, Newtonabbey, Co Antrim, Northern Ireland.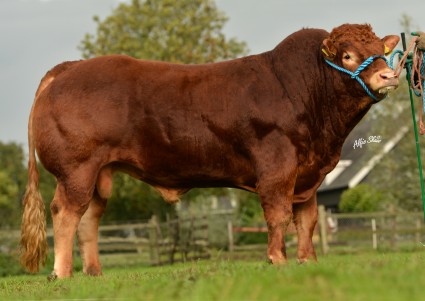 Averages:
22 cows and heifers served and/or suckling      £3,073.64
13 maiden heifers                                                   £3,263.08
3 bulls                                                                      £4,200.00