The NI Limousin Cattle Club held their annual dinner and prize giving night at the Walsh's Hotel, Maghera on Saturday 15th November to allow members the chance to get together and celebrate 2014.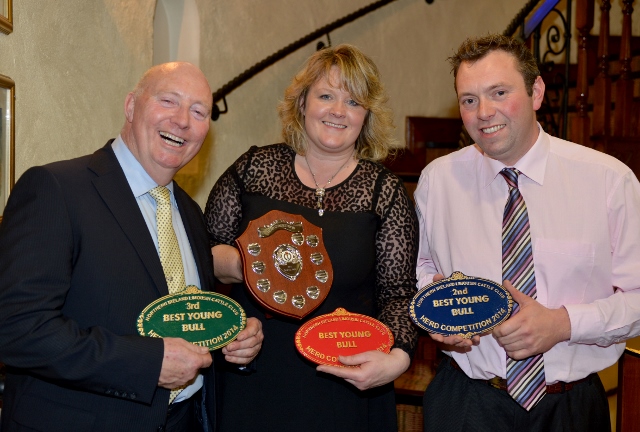 After the dinner, Chairperson Henry Savage began talking about the highlights of 2014 and extended congratulations to those exhibitors who had showed at Balmoral and the NI Limousin Championships, Antrim. He highlighted the successes at all the local sales and mentioned the top awards and top prices achieved at the premier sales in Carlisle including W & J McKay gaining prices of 28,000gns for Ampertaine Hotshot and 13,000gns Ampertaine Impact, H & D McFarland 13,000gns for Rahoney Issac and Rahoney Isiah 10,000gns, S Magill for Iveagh Harry 14,000gns, J McParland for Parkwall Impossible 10,000gns, and D Hume for Culnagechan Ibrox 10,000gns, and mentioned that NI breeders had achieved Junior, Intermediate and Senior titles at the premier shows throughout the year.
Henry stated that the clubs events and competitions would not be possible without the ongoing support of generous sponsors and extended thanks to Nugent Engineering, A Hyde Feeds, Thompson Feeds, Bank of Ireland, Connon General Merchants, Norbrook, J A McClelland, Greenmount Stores, MSD (UK) Ltd, Danske Bank, NI Commercial Cattle Club, Teemore Engineering and AI Services. Henry thanked all the judges and breeders who participate and contribute to the success of club events, giving special mention to guest Alastair Lynsey, with the Club sincerely indebted to all.
Finally Henry thanked all the Executive Committee, President Jim Scott and Club Secretary Heather Hume, for their support, hard-work and dedication to the club. Henry then announced his choice for the Fedneyhouse Crystal Vase which went to McAuley Family, Sevenmilestraight, Antrim for all their help during the year and playing hosts for the club's fantastic open evening BBQ and farm walk.
Henry then passed over to club secretary Heather Hume who began with the presentations and to talk on behalf of our herd competition judges David and Maggie Kelly who were unable to attend the dinner. The judges relayed how they had thoroughly enjoyed judging the competition and the wonderful hospitality extended to them. They also mentioned that they had saw, in every herd size, exceptional cows and young stock, mentioning that there were many herds who had not received prizes but doing great work and to keep going.
The results were as follows:-
N.I HERD COMPETITION 2014-
Extra Small Herd -1st Gorrycam, S Reel,2nd Melbreak,J & A Callion,3rd Robineed, D Robinson
SMALL HERD –  1st Bernish, K McCrory,2nd = Titchburn, D Murray, 2nd = Claragh, J & P Rainey
MEDIUM HERD–1st Trueman, H Savage, 2nd =Ballyrobin, J Gilliland, 2nd = Annadale, C Murray
LARGE HERD 1st Ampertaine, S & J McKay, 2nd Lynderg, J Quail 3rd = Culnagechan, D Hume, 3rd = Carmorn, F McAuley
SPECIAL CLASSES
Best Home Bred Heifer under 2 years –1st, Carmorn Jinetta, F McAuley, 2nd  Rahoney Jerusha, H & D McFarland, 3rd  Ballyrobin  Ivy, J Gilliland
Best "I" registered young bull – 1st  Culnagechan Istanbull, D Hume,2nd         Ampertaine  Interigate, W & J McKay, 3rd Trueman Icon, H Savage
Best Cow Family – 1st Ampertaine  – Sharon Family, 2nd  Trueman – Opera Family, 3rd Claragh –  Avon Family
Best Group of "J" reg calves – 1st  Ampertaine, W & J McKay, 2nd Claragh, J & P Rainey, 3rd Melbreak, J & A Callion
Best Group of "J" reg calves by one Stock Bull- 1st  = Iveagh Gilkes, D Hume, 1st = Lynderg Hero, J Quail, 3rd Argory Freddie, C Clarke
Best Stockbull – 1st Lynderg Hero, J Quail, 2nd Iveagh Gilkes, D Hume, 3rd Argory Freddie, C Clarke:
Best Newcomer  C Clarke
NI Championship Bull Cup – J Quail, NI Championship Heifer Cup to = J Gilliland and D Robinson.
Northern Bank Show Team trophy to J McParland and runner-up Derek & Joy Bell
Gordon Bull –(Most Championships) – L Bradley
Irish Limousin Bull (Top Price Animal – J McKay for Ampertaine Hotshot realising 28,000 gns.
Special Chairperson's Award –McAuley Family for their dedication and hard work during his term as Chair.
Victor Woods Trophy – awarded to young limousin breeders chairperson C McAuley, Antrim
Young Breeder Awards – Phelim Savage, James McComb, Kim Steele-Nicholson, Andrew Hamill and Ruth Hamill.
Young Breeders Cups – Ruth Hamill