The Tomschoice herd of Jamie & Sarah Cooper of Dacre headed up the prices at the Craven Limousin Day, on Wednesday May 13th at Skipton Auction Mart,, with their Senior Bull Warrenderpark Geronimo.  Geronimo is on sale because of the return of his sire, Kaprico Eravelle ,who had been at stud. With his sire scoring in the top 1% of the breed for calving and short gestation, the 2011 born Geronimo, out of Tomshoice Bramble a Sarkley Topknot daughter,  met spirited bidding to finally find a new home with Chris Metcalfe of Healaugh for 5,400gns.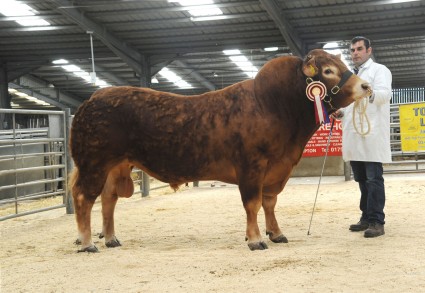 The Supreme Champion was Redland Illanois the first prize intermediate bull by Eldorado bred from a Goldies Valmet cow Redland Diamante.  It was shown by Messrs RM&HJ Lewis of Hunsinggore and was purchased by CR Booth of Hightown for 4,440gns. The Overthwaite Hall of RS Harker from Holme produced a strong pen of bulls, from which judge Peter Kirkton of the Ashledge Herd, Bewdley found his Senior Male Champion and Reserve Overall Overthwaite Issac a March 2013 son of Haltcliffe Fencer out of a Sympa bred cow.  This bull was bought by P Nelson of Shap for 4,300gns.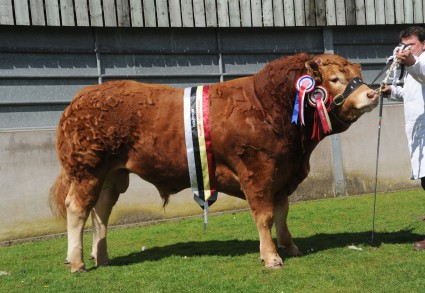 Messrs Harker continued their successful day with Overthwaite Iceberg the 2nd prize intermediate bull sired by Haltcliffe Dynamo and out of the well- bred cow Overthwaite Duchess which sold to SL&SD Lund of Litton for 3,400gns.
Ian Handleys Gunnerfleet herd enjoyed success when winning the 2nd intermediate bull class of the day with Gunnerfleet Intruse bred from the 40,000gns Plumtree Fantastic and out of the 11,000gns cow Goldies Annie. Gunnerfleet went on to win the junior male championship with Gunnerfleet Jamie a January 2014 son of the 32,000gns Dolcorsllwyn Brynmor from the prolific Lockett line through Gunnerfleet Elockett which sold to PM&FM Hill of Whitby for 3,900gns.
Stephen & Michael Priestley returned to home territory from Brampton near Carlisle with their Brontemoor herd to win the spring 2014 junior bull class with Brontemoor Junglebook a Bahut son out of a Seaview Upstart bred cow selling to AR&J Alsop & Son of Dacre for 4,500gns.
Iam Wilson & Carol Woods entry Lowflan James was placed 2nd in the Junior Bull Class and joined WH Marston of Crossgates for 3,700gns.
The annual production sale of cattle from the Oddacres herd of John and Claire Mason attracted a good following headed up by the 13month old Oddacres Jaguar which sired by Homebyres Dixon and bred from the Saphir cow Oddacres Adelphi joined D Wallbank of Oakworth for 3,400gns.
The day saw a solid commercial bull trade with 8 out of 10 entries sold from an entry that comprised 58% Junior Bulls. Senior and Intermediate bulls ready for work saw a particularly strong trade.
The female section achieved a total clearance. Top price was the Oddacres entry from John and Claire Mason, Oddacres Fifi which with her Economie sired heifer calf at foot sold to Janet Sheard of Farnley Tyas for 2800gns.
Maiden Heifers got away well with Oddacres leading the way with their 13mth old daughter of Homebyres Dixon which after winning 3rd Prize in her class became top price in the section at 1700gns when selling to William Rathmell of Tong.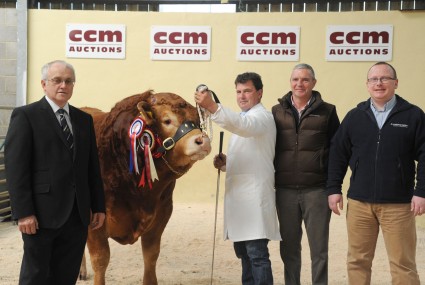 Head – 76       Judge – Mr Peter Kirton, Bewdley
Show Results 
Class 1 – Senior Bull born 12.11 to 30.04.13
1st – RS Harker Lot 6 sold for 4,300gns to P Nelson
2nd – JM&SP Cooper Lot 1 sold for 5,400gns to CJ&DM Metcalfe
3rd – IK&AM Grisedale Lot 2 Unsold
Class 2 – Intermediate Bull born 01.05.13 to 10.09.13
1st – RM&H Lewis Lot 18 sold for 4,400gns to CR Booth
2nd – RS Harker Lot 11 sold for 3,400gns to SL&SD Lund
3rd – JH Tennant Lot 19 sold for 2,600gns to AC&N Starkie
Class 3 – Intermediate Bull born 20.09.13 to 31.12.13
1st – J&I Handley Lot 31 sold for 3,700gns to FA Caton
2nd – I&G Sedgwick Lot 25 sold for 3,000gns to J Gates
3rd – J&I Handley Lot 27 sold for 2,800gns to J Rayner & Son
Class 4 – Junior Bull born 01.01.14 to 15.02.14
1st – J&I Handley Lot 38 sold for 3,900gns to E Hill
2nd – I Wilson & C Wood Lot 44 sold for 3,700gns to WH Marsden
3rd – Barker Farming Partnership Lot 34 sold for 2,200gns to J&E Medcalf
Class 5 – Junior Bull born 16.02.14 to 30.03.14
1st – JM&SP Priestley Lot 52 sold for 4,500gns to AR&J Alsop
2nd – S Field Lot 47 sold for 3,000gns to K Sunderland
3rd AJ Mason Lot 51 sold for 2,300gns to T Wild & R Ellis
Class 6 – Junior Bull born 01.04.14 to 31.12.14
1st – WM&JE Shuttleworth Lot 66 sold for 1,350gns to HF Stubbs
2nd – AJ Mason Lot 57 sold for 1,800gns to Frankland Farms
3rd – AJ Mason Lot 60 sold for 3,400gns to D Wallbank
Senior Male Champion – RS Harker Lot 6
Senior Male Reserve Champion – JM&SP Cooper Lot 1
Intermediate Male Champion – RM&H Lewis Lot 18
Intermediate Male Reserve Champion – J&I Handley Lot 31
Junior Male Champion – J&I Handley Lot 38
Junior Male Reserve Champion – JM&SP Priestley Lot 52
Male Champion – RM&H Lewis Lot 18 (Intermediate Bull)
Male Reserve – RS Harker Lot 6 (Senior Bull)
Class 7 – Cow in Calf or with Calf @ Foot
1st – JM&SP Cooper Lot 78 sold for 2,500gns to Blackfriar Limousins
2nd – JM&SP Cooper Lot 70 sold for 1,900gns to J Greenwood
Class 8 – Maiden Heifer born 01.01.12 to 31.12.12
1st – JM&SP Cooper Lot 73 sold for 1,550gns to G Cropper
2nd – JM&SP Cooper Lot 98 sold for 1,650gns to KG Wilkinson
3rd – AJ Mason Lot 99 sold for 1,700gns to W Rathmell
Female Champion –  JM&SP Cooper Lot 78
Female Reserve – JM&SP Cooper Lot 73
Overall Supreme Champion – RM&H Lewis Lot 18 (Intermediate Bull)
Overall Supreme Reserve – RS Harker Lot 6 (Senior Bull)
Averages –
Senior Bulls                             to 5400gns av £3478
Int Bulls                                   to 4400gns av £3015
Jun Bulls                                  to 4500gns av £2378
Maiden                                    to 1700gns av £1627
Cows Incalf                             to 2500gns Av £2126
Cows with Calves                    to 2800gns av £2422
Chief Price:
 BULLS
JM&SP Cooper – Tomschoice
5400gns,  
JM&SM Priestley – Brontemoor
4500gns, 3300gns, 2700gns, 2500gns x2, 2200gns
RM&HJ Lewis – Redland
4400gns, 3000gns
RS Harker – Overthwaite
4300gns, 3400gns
J Handley – Gunnerfleet
3900gns 3700gns 2900gns x2 2800gns
I Wilson & C Wood – Lowflan
3700gns
AJ Mason – Oddacres
3400gns, 2300gns, 1900gns, 1800gns
SE Field – Cornfield
3000gns
I&G Sedgwick – Gallaber
3000gns
W Holden & Son – Boldventure
2900gns
A&P Fletcher – Siddall
2600gns
JH Tennant – Lissett
2600gns
Barker Farming Partnership – Tancred Grange
2200gns
T&E Priestley – Prietec
2000gns
FC N M Walker – Hartlingtontop
2000gns
OJ Kendall – Arkle
1850gns
 FEMALES
Cows with Bull Calves
AJ Mason – Oddacres
2000gns, 1900gns
JM&SP Cooper – Tomschoice
2000gns, 1900gns, 1700gns
D&D Prince – Toftgate
1950gns, 1900gns
Cows with Heifer Calves
JM&SP Cooper – Tomschoice
2800gns
Cows Incalf
JM&SP Cooper – Tomschoice
2500gns, 1550gns
Maiden Heifers
AJ Mason – Oddacres
1700gns, 1550gns, 1500gns
JM&SP Cooper – Tomschoice
1650gns x2, 1600gns 1550gns 1500gns