24 Bulls average £3959, up by £30 on the year for two more sold
 100% clearance of bulls forward
 11 bulls at 4000gns and more
  Norman Invincible from Eric & Elaine Norman, Little Orton Farm, Carlisle sold for the day's top price of 8000gns at the British Limousin Cattle Society's end of season summer bull and female sale held at Borderway Mart, Carlisle on Friday 12th June.
The September 2013 born Norman Invincible is another by the herd's prolific stock bull Claragh Franco and is out of the Glangwden Bigboy daughter Norman Glory.  This bull with natural power and shape was purchased by Edward Dean who runs the Kirkhouse pedigree herd at Kirkhouse, Brampton, Carlisle.  It was 'more of the same' for the Normans who at the Society's sale in February at Carlisle sold seven bulls in all to gross 68,000gns including Franco sons at 22,000gns and 20,000gns.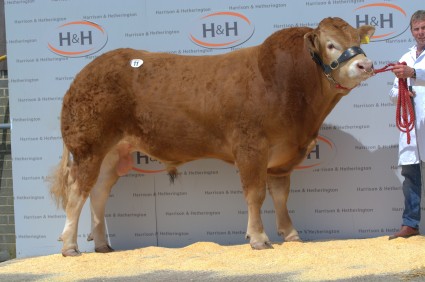 Two lots later the Normans sold another Claragh Franco son, Norman Ispy for 5000gns to the Cargend herd of B&SE Carter, Cragend Farm, Lancaster.  This October 2013 bull is out of the Dyfri Maestro daughter Stacey Shelly.
Continuing a fine run of 2015 Limousin bull sales, this summer sale saw all 24 bulls forward sell to a solid average of £3959, up by £30 on the year for two more bulls sold.  Eleven bulls in all sold for 4000gns or more.
The day's second top price of 5500gns was paid for one of the younger bulls in the catalogue in the shape of the January 2014 Fairywater Jack from Andrew Ewing, Dumbretton Farms, Annan.  This bull is by the herd's noted 17,000gns stock bull Ironstone Diego, a Wilodge Vantastic son, and is out of Sarkley Ulexie.  Sporting some terrific figures this shapely bull was purchased by J&D Hyslop, Balluskie Farm, Kildonan, Barhill, Girvan.
The fourth bull to make 5000gns or more was Maraiscote Ignite from Ian Nimmo, Bogside Farm, Newmains, Wishaw, Lanark.  December 2013 born Ignite is by yet another Vantastic son this time the herd's famous Goldies Comet.  Ignite, out of the Normande Urquhart daughter Maraiscote Dynamite, wa bought by RJ Armstrong, Crossfell House, Millburn, Penrith.
Full report to follow…
 Averages:
24 bulls                        £3959.38
24 bulls                        £3959.38
11 females                  £1541.59