The Dispersal Sale of the Twilyte Herd of pedigree and commercial Limousin cattle held on behalf of Messrs GW Holling & Sons, Alfreton, Derbyshire on Saturday 6th June at Newark Livestock Market saw a solid trade throughout, with pedigree and commercial buyers in attendance and willing to pay well for well bred, correct females.
Auctioneer Paul Gentry said trade reflected the uncertainty in the prime beef sector at the moment, with buyers slightly more cautious than at previous dispersals. "There were some great cattle on offer and those buyers with confidence in the beef industry were prepared to pay well for the cattle they wanted. Unfortunately, the continuing issues in the prime cattle trade are filtering back to the breeding sector and some buyers were less keen to commit.
"Overall trade was good and the cattle on offer were a credit to the dedication of the Holling family to breeding functional, modern cattle suited to a wide range of farming systems," he added.
Leading the prices was a 6000gns call for the herd's 2011-born stock bull, Manorhouse Geronimo, a Mayfields Drambuie son out of Manorhouse Velcro, a Hartside Oneman daughter. Bred by W J Wright, he sold to F S Knight, Stoke Doyle, Peterborough.
Second best at 4800gns was another of the stock bulls, Confluence Greta, also 2011 born. This Greenwell Charttopper son is out of Confluence Bly, a Plaisant daughter and was the choice of P and J H Boyle, Southoweram, Halifax.
Topping the female prices at 4400gns was a heifer and calf outfit, with this being Twilyte Holly, a 2012-born Redskins Enzo daughter out of Hodgro Polygala, a Bapton Javelin daughter. She sold in calf to Annandale Excalibur and was knocked down at 2400gns to Nigel Johnson, Lutterworth.  Her heifer calf, Twilyte Jaynie, by Confluence Greta sold at 2000gns to P R Walker and Son, Lund, Driffield.
Then at 3700gns was Twilyte Jazzy, a Redskins Enzo daughter out of Twilyte Bliss, a  Jencralodge Supasonic daughter. This January 2014-born heifer headed to Northern Ireland with L McEldowney, Maghera, Co Down.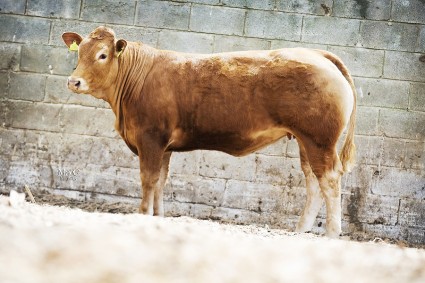 The same buyer then paid 3600gns for Twilyte Inara, a November 2013-born heifer by Redskins Enzo out of Scorboro Chanel, a Limo Tanat daughter.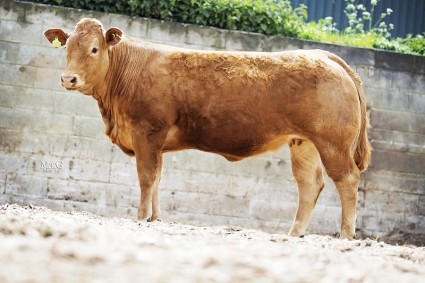 Following her at 3200gns was Coachhouse Fiona, a Coachhouse Bingo daughter out of Coachhouse Valletta, a Haltcliffe Picasso daughter. This one sold with her heifer calf, Twilyte Lucy, at foot and was bought by F and S Stamper, Huntingdon, Cambridgeshire.
Another heifer and calf outfit followed at 3050gns, with this being the Pennys Donny daughter Twilyte Hetty and her heifer Twilyte Jiggle, a Confluence Greta daughter. Hetty sold for 2000gns and is out of Twilyte Ettie, a Lawf Scott daughter and sold to Rowplant, Tibshelf, Alfreton, Derbyshire. Twilyte Jiggle was knocked down to R L Ritchie, Wainfleet St Mary, Skegness, at 1050gns.
Making 2900gns was Twilyte Gemstone, an Annandale Excalaber sired heifer out of Fieldson Vanessa, a Mereside Rufus daughter. She sold with her heifer calf, Twilyte Jade, at foot and was bought by Nigel Johnson, Lutterworth.
The same buyer then spent 2800gns on Twilyte Glow, a Greenwell Donny sired second calver out of Beck Audrey, a Beck Regent daughter. She sold with a heifer calf, Twilyte Lily, at foot by Coachhouse Bingo.
Also making this price was calved heifer Twilyte Hatty, a Redskins Enzo daughter out of Twilyte Dainty, a Lawf Scott daughter. Sold with her heifer calf at foot, Twilyte Jigsaw, she sold in-calf again and was bought by Nigel Johnson again.
Commercial cattle
On the same day two drafts of commercial cattle with calves at foot also met a ready demand, with 40 Limousin crosses from the Gascoines Group selling to a high of £1950 twice. The first of these sold to C E Hardcastle, Grantham, while the other was knocked down to John Casey, Beaconsfield.
Meanwhile, the Neachell family's draft of 26 cows and calved peaked at £1750 when selling to R N Gent, Newark, with another at £1720 bought by John Casey.
Averages:
 Twilyte dispersal – 59 pedigree cows with calves at foot – £2156.95, eight pedigree heifers with calves at foot – £2264.06, 17 crossbred cows with calves at foot £1799.12, 42 in-calf cows £1430.36, 21 in-calf heifers £1329.41, 50 maiden heifers £1329.41, three stock bulls £4620, 50 young bulls £1057.69
Gascoines Group – 40 crossbred cows with calves at foot £1533.75, Messrs Neachell – 26 cows and calves £1493.08, give in-calf cows £1004, three bulls £1515.67