The British Limousin Cattle Society Breeders' Sale held on behalf of members of the South Western Limousin Breeders' Club at Exeter on Friday 26th June 2015, saw a top price of 2550gns for Smithy Ghost a 2011 born In-Calf Cow by Grahams Unbeatable from Tony, Jo & Adam Smith of Launceston. This cow, carrying an embryo by Mas Du Clo or Ampertaine Foreman out of the French & Dutch National champion cow Breizizel, was sold to Mr TD Pearson of Hereford.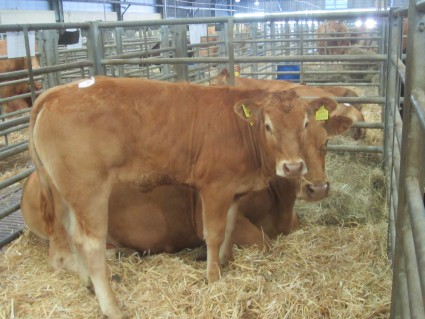 Other in-calf cows sold to 1950gns for Messrs Wheeler of Cullompton with Millfields Clara a 2007 born cow by Sympa out of Procters Virtue (she sold due in October to Grahams Unbeatable). Harry Parker of Wiltshire sold a consignment of 20 cows & calves from his Stourhead herd which attracted great interest and topped at 2300gns twice for Stourhead Drucilla a 2008 born cow by Utha, she sold with her November born bull calf by Huntershall Gladiator. At the same money was Stourhead Hattie a heifer by Stourhead Engleburt which sold with her outstanding heifer calf by Haltcliffe Firefly. At 2200gns was Brockhurst Bantu a 2006 born cow by Glenturk Ultrasolid, she sold with her April born heifer calf by Firefly. Harry Parker's consignment averaged £1985.
Other cows and calves sold to 1900gns for Westcroft Viney a 2004 born cow by Sallom which sold with her September born British Blue x heifer calf at foot from Melanie Forward of Talaton.  Steve Edmunds of Truro sold his consignment of cows & calves to a top of 1750gns for Chytodden Eva a 2009 born cow by Rosecroft Belter.  A consignment of In Calf Heifers from Messrs PA & PM Earley of Dorset sold to a steady trade topping at 1320gns. A consignment of bulling heifers from the Loosebeare herd of Messrs EW Quick & Sons of Crediton met great interest and topped at 2000gns for Loosebeare Incywincy sired by Aghadolgan Emperor. Two other heifers by Loosebeare Fantastic sold at 1950gns & 1700gns.
Only a handful of bulls forward sold to a top of 2600gns for a 17 month old bull by Kaprico Donato from Patrick & Sheila Greed of Silverton.
Averages
1 Pedigree Limousin Bull                £2730
33 Pedigree Cows & Calves            £1819
2 Pedigree In Calf Cows                 £2362
12 Pedigree In Calf Heifers            £1150
3 Pedigree Bulling Heifers              £1977
6 Pedigree Yearling Heifers           £1352
Auctioneers: Kivells