Limousin group wins Senior Interbreed Championship
 Sevengun Jellee wins Junior Beef Interbreed Championship and Junior Limousin Championship
 Limousin group takes reserve position in Junior Interbreed Championship
 Poolehall Iris placed as Reserve Overall Limousin Champion
 Woodroad James claims Male Limousin Championship
Doug Mash of Torrington Farm, Buckinghamshire scooped the Limousin Overall Supreme Championship and went on to take the Beef Individual Interbreed Championship with his Wilodge Vantastic daughter, Brockhurst Heavenly, at the 2016 Great Yorkshire Show on Tuesday 12th July.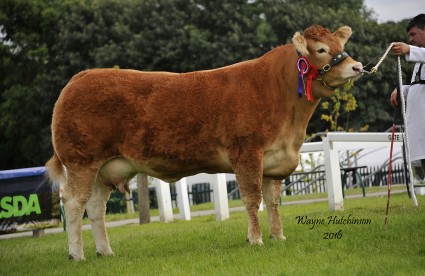 The September 2012-born Brockhurst Heavenly is rearing her second calf within Doug's 80-strong Limousin herd, which was established in 1988 with purchases from Tanhill and Upland sales. This was the cow's first major show win; however her dam, Brockhurst Bolshoi, is a past interbreed champion at the Great Yorkshire. Continuing the Mash family's success on the day, Heavenly's niece, Brockhurst Littlegem, came runner-up in the class for heifers born on or after 1 January 2015.
Regular exhibitors it was only by chance that Doug and his team made it to this year's Great Yorkshire.  "By the time we sent our entry in, all the stalls were thought to have been taken," he said. "We only found out the Friday before that space would be available, so it was a rush to get ready. But we're obviously highly delighted with the result."
Judging the Limousin classes was Dafydd Griffiths, who runs the noted Mynach herd in Whitland, Wales.
"Brockhurst Heavenly is very true to type, with a big frame and a leg in each corner," said Mr Griffiths. "She also has a sweet head and was shown with a very good calf at foot."
Later in the day Brockhurst Heavenly floated to the show's Supreme Individual Beef Interbreed award when being put up by the judge Willie Seels of Doncaster.
It was another show where the quality of the Limousin breed shone brightly through resulting in a further haul of Interbreed titles. As well as the Individual Interbreed, Limousins won the Senior Team Interbreed, the Junior Interbreed, the Reserve Junior Interbreed Team, and the Commercial Steer Championship.
Standing Reserve Overall Champion Limousin at the Great Yorkshire was Poolehall Iris, shown by Dougie McBeath and Sarah Jane Jessop of Lower Greenyards Farm, Bannockburn, Stirling in Scotland. By Haltcliffe Ben and an embryo calf out of the 27,000gns Wilodge Flawless, the October 2013-born Iris had been purchased for 4,800gns from Nigel Matthews of Shropshire at the Red Ladies Derby at Borderway Mart, Carlisle in 2014.
Iris has already collected a string of show rosettes and awards, including the 2015 Scottish Limousin Grandprix title and Overall Interbreed Championship at Turriff, as well as the Reserve Supreme Championship and Reserve Female Championship at this year's Royal Highland.
The 'dynamic duo' of McBeath and Jessop also clinched the Male Championship and Reserve Overall Junior Championship with Woodroad James, a son of Woodroad Donald born in July 2014. He was another shrewd purchase, having come from Noel Fennessy's much-admired herd in Castleconnell, County Limerick.  James won a Reserve Championship at Ayr this year and was Senior Male Champion at the 2016 Scottish Limousin Grandprix.
Taking the Reserve Male Championship was James Tennant Ltd of Manor House Farm, Fraisthorpe, Bridlington, North Yorkshire. The family runs a 150-cow suckler herd alongside a couple of dozen pedigree Limousins, which include the February 2015-born Lissett Lorean, by Attirant and out of the Kaprico Davelle daughter Homebyres Gainsi.
This bull has made three show outings and been placed every time, winning the Reserve Male Championship at Lincoln Show and the Overall Limousin Championship at Malton. He also won a special prize at the Great Yorkshire as the Best British Limousin animal exhibited by a North Eastern Limousin Breeders' Club member, as well as the Best Junior Exhibitor Bred Male (born on or after 1 January 2015).
Tony Booth's Millgate Fame-sired Sevengun Jellee came away with the Junior Championship and went u against stiff competition to take the Junior Interbreed Championship, which was also judged by Willie Seels of Doncaster in South Yorkshire. The November 2014 heifer, which is a member of Tony's herd at Hardwick Hall Farm, Aston in Sheffield, is no stranger to success, having won the Overall Limousin Championship at last year's English Winter Fair in Stafford. Jellee also took the Great Yorkshire title for the best animal under two years old on 1 July 2016, which is the Colin Alderson Memorial Trophy, offered by the North Eastern Limousin Breeders Club. Her dam is Hartlaw Erotica, which was purchased at Borderway Mart Carlisle three years ago.
The Senior Interbreed Beef Group Championship won by the Limousin team was again judged by Willie Seels of Doncaster. The group was made up of Brockhurst Heavenly (WJ and M Mash); Poolehall Iris (McBeath and Jessop);Woodroad James (McBeath and Jessop); Sevengun Jellee (AH Booth).  A formidable team and worthy winners!
The Limousins also picked up the Reserve award in the Junior Interbreed Beef Group Championship. This team comprised of  Ironstone Laura (Smiths of Bloxham); Ironstone Lavender (Smiths of Bloxham); Gascoines Lotsoffaith (Gascoines Group) and Gascoines Lyla (Gascoines Group).
In the commercial classes, judged on the Wednesday, the champion steer was the April 2015 Limousin cross forward by R Mudd and CN Bentley, from The Gables, Kepwick, Thirsk in North Yorkshire. Judge was G Ketley of Colchester, Essex, who gave the blue ticket to a Limousin cross steer born in April 2016 and shown by J Hyslop of Balluskie Farm, Barrhill, Ayrshire.