Grange Lequeux, a Chabal son, is the second export to France in five years
For the second time in five years the Smith family's Grange herd of Limousins has exported a Limousin bull to France, the home of the breed.
The Smiths, George and Beth and son, Steven, have been breeding pedigree Limousins for 40 years at Daventry, Northamptonshire, always adding new genetics to their herd by importing from France.
Their latest export, Grange Lequeux, is a full brother to the last bull they sold to France, Grange Gervaise, who was the first ever British bred Limousin to be sold and exported to France.  Grange Lequeux was sold through Interlim Genetique Service to join Regis Lequeux's herd at Roussines, Central France. He is by French sire Chabal and out of Grange Cascade, a Perit B daughter.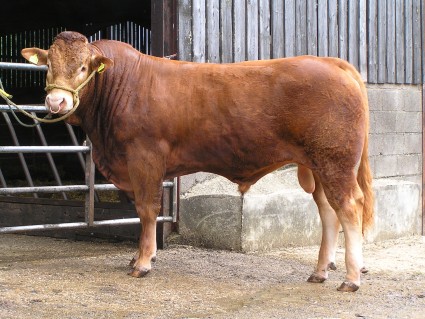 Steven Smith said the export was the result of the herd's focus on using exclusively French genetics and breeding growth, correct, well balanced Limousins, coupled with the close working relationship with Interlim Genetique Service.
"We have always stayed true to the French type of Limousin, breeding for length of loin, mobility and the breed's excellent maternal characteristics. Lequeux exemplifies the French type of Limousin, being a well grown, well balanced bull with plenty of stretch and scope."
Adding his thoughts George Smith said the bull had been a stand-out from early on and while Regis Lequeux hadn't seen the bull himself in the flesh until he arrived in France, he and the Interlim team bought him on the strength of his pedigree and the success of his brother in a number of French herds.
"Gervaise has performed well for a number of French breeders and his sire, Chabal, a bull we imported from France a number of years ago, continues to breed well for us. His breeding was one of the main attractions for Regis Lequeux as there is little of this breeding available in France.
"We are naturally delighted to export another bull to France and believe Lequeux will breed equally as well there as his brother already has done," he added.  The plan is for the bull to be used within Regis Lequeux's herd, as well as competing on the show circuit.
Steven Smith said the 110-cow Grange herd had enjoyed many successes over its 40 years, but to export another bull to France in the herd's ruby anniversary year was a unique achievement.
"Bulls from the herd continue to be in demand from both pedigree and commercial breeders in the UK and it is pleasing to see a number of them performing well in their new homes. To have sold the first ever Limousin to France four years ago was an unbelievable feat, but to now follow that up with a second sale is something that is truly amazing.  We would like to thank the whole Interlim team for their assistance which was invaluable.
"Little did my mother and father think when they bought their first pedigree Limousins some 40 years ago just how much influence the breed would have on their lives. Breeding Limousins and their involvement with the breed both here in the UK and in France has brought the family much involvement and we look forward to that continuing for many years to come," he explained.
Mr Smith said the intention was for the herd to remain true to its French origins and a number of recent importations from France had been made to strengthen the genetic base available to Grange herd. "We have bought 24 bulls from the Lanaud test station over the last 22 years and all have added to our herd in some way."