The annual NI Limousin Championship was held at Antrim Agricultural Show grounds on Saturday 23rd July and again the event was well supported by local breeders and spectators.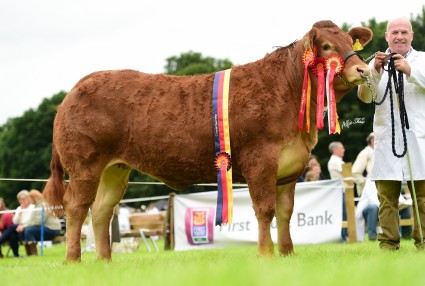 The Overall Championship winner was the Female Champion Shanhill Jodie bred by L Crilly, Newry who had caught the eye of judge Sarah Jane Jessop from Stirling, Scotland.   Shanhill Jodie is sired by Ampertaine Elgin and is out of dam Limo Fay a Wilodge Cerberus daughter. Shanhill Jodie had already made her mark on the show circuit in other shows this year with her being Limousin Champion at  Armagh and Interbreed Champion at Newry.   Larry Crilly also gained Reserve Senior Female with his November 2014 born heifer Shanhill Jilly a full sister to the Overall Champion.
Taking the Reserve Overall Championship was the Junior Champion, and Overall Male Champion Carnew Legend bred by J Aiken, Dromara.  This July 2015 born bull is sired by the past Male Champion at Balmoral Champion Show, Lynderg Hero.  Legend is out of the home bred dam Carnew Billiejo a Samy daughter.  The Calf Championship went to the heifer calf Millgate Melody bred by M Loughran, Dunamore. This January born calf is sired by Norman Ely and is out of a homebred Condor dam Millgate Harmony.
The Reserve Overall Female and Reserve Junior Champion went to Newry breeder Peter & Serena Murphy's heifer Carrickaldreen Lucerne.  August 2015 born, Lucerne is sired by Ampertaine Foreman and is out of the dam Ironstone Eveningstar.
The Intermediate Champion title and Reserve Male Champion was given to Ballyhone Lucas bred by Brian Hall, Newtownabbey.  February 2015 born this bull is also sired by Ampertaine Foreman and is out of a homebred dam Ballyhone Gigi.
Intermediate Reserve Champion went to J Aiken, Dromara with Carnew Lexus sired by Plumtree Deus and out of a home bred dam Carnew Gina.
In the Commercial section the Overall Champion went to the Limousin cross heifer calf Trouble bred by R & L Workman, Larne.  Taking the Commercial Reserve Championship was Zeus owned by JCB Commercials.
The NI Limousin Cattle Club would like to thank hosts Antrim Agricultural Show, judge Sarah Jane Jessop and sponsors, Bank of Ireland, Thompson Feeds Ltd, AI Services Ltd, Nugent Engineering, J A McClelland, Greenmount Stores, Hyde Feeds and the British Limousin Cattle Society.
Full Results:
Class 74 HEIFER CALF AGED FROM THE 1st JAN 2016. 1st Millgate Melody;
Class 75 BULL AGED from 01/07/15-31/12/15 1st Carnew Legend, 2nd Clydevalley Levi;
Class 76 HEIFER AGED from 01/07/15-31/12/15 1st Carrickaldreen Lucerne, 2nd Clydevalley Lilly, 3rd Ballyrobin Lizzy;
Class 77 BULL aged from the 1/02/2015-30/07/15 1st Ballyhone Lucas, 2nd Carnew Lexus, 3rd Carnew Lionheart, 4th Derriaghy Lincoln, 5th Millgate Lewis:
Class 78 Heifer aged from 01/02/15-30/06/15 1st Shanhill Lucy, 2nd Ballyrobin Ladygaga;
CLASS 79 FEMALE over 18mnths- 2yrs 1st Shanhill Jodie, 2nd Shanhill Jilly, 3rd Dyfri Judith, 4th Ballyrobin Lipsy;
CLASS 80 Female over 2 years 1st Clydevalley Jessie, 2nd Grahams Ethel, 3rd Ballyaulkin Jaylo, 4th Ballyrickard Edith;
CLASS 86 Commercial Heifer Champion R & L Workman, Trouble, Reserve Champion JCB Commercial, Zeus