The Limousin breed was well represented at the 2nd Pedigree Calf Fair & Beef NI Expo held at the RUAS, Balmoral Showgrounds, Belfast on the 19th November 2016.
A very high standard of Limousin calves was exhibited at the event demonstrating excellence in breeding and the calibre for the future.
This premier show is a great opportunity for local breeders to showcase premium quality pedigree calves to potential buyers ahead of the show & sale season which kicks off this month.
Judging the Limousins on the day was in the very capable hands of the N.I Limousin Cattle Club President Mr Jim Quail of the Linderg Pedigree Herd, Banbridge, Co Down.   Jim commented on the Senior & Junior champions, "Both females displayed good feminine qualities and will go on to be great breeding cows in the future within their respective herds."
Senior champion winner was Ballyrobin Lugs, an October 2015 Netherhall007 daughter.  Her dam Ballyrobin Estee also bred two overall champion winners at the British Limousin Cattle Society Ballymena sales in 2015 & 2016 respectively.  Ballyrobin Lugs was exhibited by her owner Joan Gilliland, Antrim.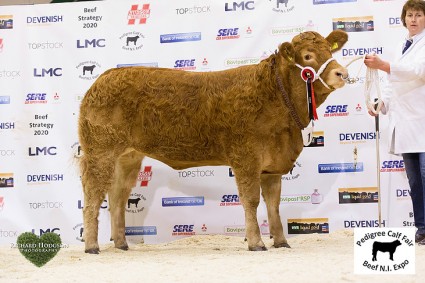 Reserve senior champion was secured by Trueman Lute, a September 2015 Haltcliffe Hitec daughter out of the home-bred Trueman Foxfort. Trueman Lute was exhibited by Henry Trueman & Sons, Newry.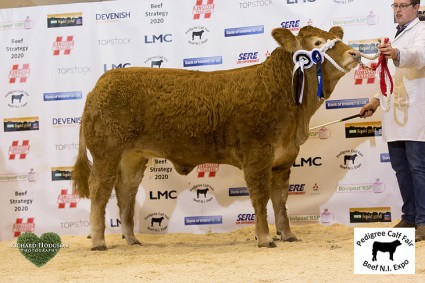 Junior champion winner went to Carnanagh Mia, a Jan 2016 Ampertaine Foreman daughter and bred from Glenrock Cellest.  Carnanagh Mia was exhibited by M S & A Donaghy, Crossmaglen, Newry.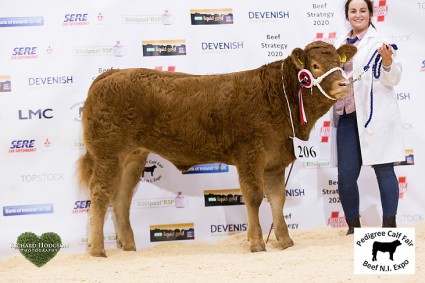 Reserve junior champion was Rayderjem Maverick, a February 2016 Haltcliffe Doctor son and bred from Goldies Innocent.  Rayderjem Maverick was exhibited by D & R McFarland, Tirquin, Omagh.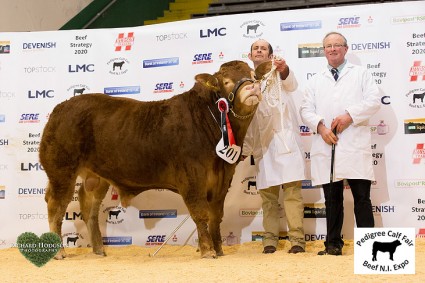 The N.I. Limousin Cattle club would like to congratulate all the winners and thank the Pedigree Calf Fair Beef Expo NI for organising another successful show.
Results:
CLASS 37 – BULL BORN ON OR AFTER 01/09/15 & ON OR BEFORE 31/12/15
1 J & S Allen DERG LANCE Sired by Brutus Hashtag
2 Derek Hume CULNAGECHAN LIONHEART Sired by Carmorn CoPilot
3 JI & SJ McGeehan SLIEVE LENNOX Sired by Wilodge Enrico
CLASS 38 – HEIFER BORN ON OR AFTER 01/09/15 & ON OR BEFORE 31/12/15
1 Joan Gilliland BALLYROBIN LUGS Sired by Netherhall DoubleOSeven
2 Henry Savage & Sons TRUEMAN LUTE Sired by Haltcliffe Hitec
3 Joan Gililand BALLYROBIN LOVEJOY Sired by Wilodge Cerberus
CLASS 39 – BULL BORN BETWEEN 01/01/16 & 31/03/16
1 D & R McFarland RAYDERJEM MAVERICK Sired by Haltcliffe Doctor
2 B O'Kane & Sons KEADY VIEW MIGHTY Sired by Ampertaine Foreman
3 P & P McDonald TULLYGLUSH MAJESTIC Sired by Ampertaine Elgin
CLASS 40 – HEIFER BORN BETWEEN 01/01/16 & 31/03/16  
1 M.S & A Donaghy CARNANAGH MIA Sired by Amptertaine Foreman
2 Rachel Robinson LISBRACKEN MADISON Sired by Swarland Eddie
3 M.S & A Donaghy CARNANAGH MINI Sired by Goldies Comet
CLASS 42 – HEIFER CALF BORN AFTER 01/04/16
1 P & P McDonald TULLYGLUSH MILLI Sired by Ampertaine Elgin
2 Stephen McGookin & Sons BALLYCAIRN MELISSA Sired by Wellhouse Elm