Official 2016 Society Sales gross £5,646,159
February 2017 Society Bull Sales sees 191 bulls sell with a 92% clearance rate
Gross sales of pedigree Limousin cattle, sold at official British Limousin Cattle Society (BLCS) auction sales in 2016, increased in the year by over £300,000 to a figure of £5.6 Million.
Recently released figures show that total pedigree Limousin sales in the year came in at £5,646,159 – up by almost £308,225 on the 2016 figure.
In the course of the 2016, eighteen collective sales were held at Carlisle, Stirling, Brecon, Newark, Dungannon, Ballymena and Aberdeen respectively to gross £3,925,038.
Official BLCS Breeders' Sales, which comprise of Production, Reduction & Dispersal Sales, grossed a further £1,721,121 on behalf of 20 individual herds. Just under 1,450 animals were sold in all at pedigree Limousin sales in the year.
Commenting, BLCS Chairman John Phillips, Whitland, Carmarthenshire said:
"These are terrific figures and reflective of the ongoing demand for the breed and the quality of the cattle being brought forward.  The suckler men and the feeders are looking for performance and efficiency.  They want easy-calving, cheap-to-keep, easy-managed cattle that are feed efficient, do well and hit the target weights and grades consistently. Limousins are fitting that bill."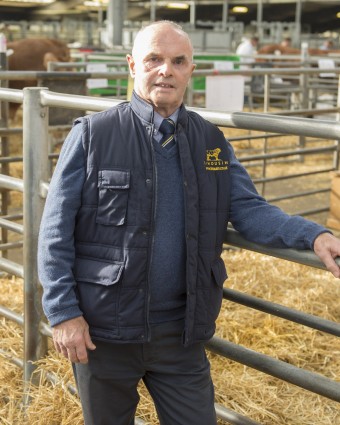 "Commercially cattle that convert food efficiently, hit the ideal slaughter weights at the youngest possible age, and have repeatable, quality carcases consistently hitting the target grades, are very much in demand and finding reward.   There has been a significant and long term industry move to sourcing cattle at 15-16 months of age and weighing 350-380kgs and this has put a focus on medium sized cows producing fast growing calves that are finished at this age and hit the spec.  This change in market focus fits the Limousin breed extremely well as a suckler cow and producing first quality calves with top grades, good yield and high killing out percentages.  These are the principle factors in the strong performance at the Limousin sales through the year."
In the last twelve years, Limousin pedigree sales have grossed just under £70 Million (£69,930,274). Whilst the high-end of the trade in 2016 saw 45 animals in the year make 10,000gns or more, the highest proportion of bulls at the sales were again sold between 2,000gns and 5,000gns.
This positive demand for Limousin cattle has continued into the February 2017 sales.  Across three sale centres, Stirling, Dungannon, and Carlisle 191 out of 208 bulls forward have sold to gross £1,121,281 and at an average of £5870 (+£1034). The total clearance across the three sales was extremely high at 92%.