Guest writer James Hazard profiles the Turville Herd of the Lear family based at Creslow Manor, Aylesbury, Buckinghamshire and sees the Limousin breed ticking all the boxes as a pedigree herd run on a very commercial basis.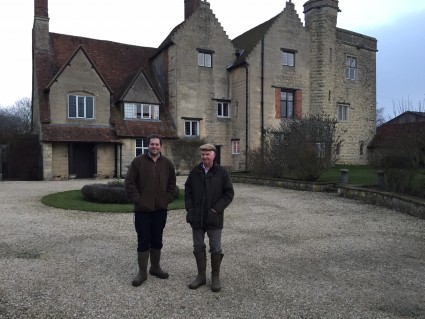 The Turville Herd is located in Creslow, a unique and historic parish nestling in the heart of rural Buckinghamshire. As you approach the farm it is clear by the size of the farm and cattle buildings that the Lear family do not do things by halves. It is owned and run by Brian Lear and his wife Linda, with family Steven, Adam and Nicola all playing major roles within the operation. A really important part to the day to day management of the herd is Andy Elmes, the stockman who has been with the family for a number of years and whose passion and knowledge for the breed and the individual animals is clear.
Cattle have been grazed on the farm since the 13th Century and were fattened for Henry VIII's table at Hampton Court. Some years later in 1799, it was farmed by John Westcar, who won the highly regarded first ever Royal Smithfield Show, which we have all come accustomed to in recent years with some of the best cattle in the UK.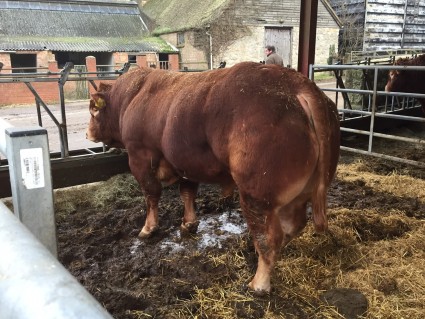 Linda's father was tenant of the government on the farm for a number of years and then in 1998 Brian and Linda had the chance to purchase the farm and parish which consisted of 930 acres. The family now also run three other farms, one a grassland farm with the other two consisting of grass and arable. The farms run by the family now total a sizeable 2700 acres but with the main farm still by far the largest.
The farm had previously been running Angus cross cows and when the first continental cattle importations came into the UK, semen was used from all three breeds, Charolais, Simmental and Limousin. "We decided to try these continental breeds as we couldn't get the weight gains from native breeds. The heifers just seemed to get fat and you couldn't push them to produce a bigger carcase," said Brian. "It quickly became clear that Limousins were the way to go as they ticked all the boxes and were exactly what we were looking for."
Numbers of cattle grew very fast on the farm and around the time of suckler cow quotas, slaughter premium etc, cow numbers totalled an impressive 650 cows. Although, when these payments were dropped, this affected things considerably as producers just weren't getting enough money for what they produced. Brian therefore had to, as he always had done change and move with the times, cut the cow numbers by half nearly overnight and change from selling the majority as store cattle to now looking to finish everything.
After readdressing things a decision was made to push more towards pure Limousins but to run them on a very commercial basis.  This was when in 1991 the Turville Herd of pedigree Limousins was established. The herd of pedigree cattle grew in numbers rapidly on one of the other farms and the commercial cows were gradually reduced and phased out of the business.
As numbers grew they joined a cattle health scheme in 2003 which they felt was so important as any underlying problems could quickly affect the operation and profitability of the business.  Other clear aims were to introduce polled genetics as this was a commercial trait, allowing producers to run higher numbers of cattle without the labour-some task of dehorning.
In 2008 Black Limousins were first introduced with polled genetics.  Brian commented that, "two bulls were purchased in the UK which were from embryos bought in Canada and we also bought a couple of flushes ourselves. The black genetics brought not only polling but good growth rates and easy fleshing characteristics which married up well with the carcase abilities we had within the herd."  The two bulls were Thornham Vulcan, son of SLVL Duchess Olivia and Tamarvalley Bojewyan, a full brother to Boscastle who has been used with success within the Newhouse herd of Messrs Adam in Scotland. Andy added, "They were two good bulls and were more British in type and Thornham Vulcan left us with some very good cows."
This year the herd have an impressive 330 cows put to the bull, along with 100 heifers to come into the herd. The forward plan is firmly in place to reach the goal of 500 cows. The herd is treated commercially with emphasis on ease of calving, docility and muscle depth and a keen focus on exactly what the processors require in terms of carcase weight, quality and fat cover. The herd is proud to have had BVD accreditation since 2008 and are now Johnes Level 2 health status. Plans are well underway to be IBR free, with cows being vaccinated for BVD and Lepto.
"If feels great to have a clean herd, although it also makes buying in potential herd sires that little bit harder," commented Brian. "We make sure that if we are buying a new stock bull that we do our homework and select bulls from clean herds."  Bulls once purchased are put into quarantine and tested before entering the main herd, adding to the army of 17 bulls currently used on the farm. Of these, six are homebred with the plan to keep a further two this year. Brian added, "We plan to breed a few of our own polled bulls to retain and use within the herd."
One of the questions I'm sure some may well be wondering is why this large scale operation register everything as it's another added cost.  Brian says simply that, "every animal has the potential and when it gets to 12 months of age we have that option to either sell that animal as a breeding bull or female for a premium."  With numbers growing, the majority of females have been retained but year on year with so many numbers coming into the herd, the team can be really critical what they keep as replacements. As Brian also states, "we can de-register with the Limousin Society and get £20 back from our £25 original registration charge, therefore even if that animal is destined for slaughter it has cost me £5 for one year which has given me time to see its potential."
The plan now  is to add a little more muscle to the black cows within the herd and part of this they feel is from the use of myostatin double muscle carriers from select bought in bulls. The farm currently have a bull breeding very well for themselves in the form of Greensons Ibsen, sired by Dolcorsllwyn Fabio and out of a Wildoge Cerberus sired female. He is a heterozygous carrier of the nt821 gene and was purchased privately from Guy Green and family in Cambridgeshire. Two other Greensons bulls are doing a good job within the herd, Greensons Gridiron and Faulkner are both producing animals with good performance traits and have the added bonus of being polled. Brian and Andy are keen to see how their daughters perform as they have left them with some nice looking females that will be coming into the herd this time.
Other purchases in recent years have been made at the Limousin Society's Premier Sales at Carlisle.  Procters Genesis, sired by Haltcliffe Dj and out of a Haltcliffe Vermount daughter is also breeding well within the herd. A further bull is Iveagh Harry, who is sired by Sympa and out of the Rocky sired dam Carhill Davina which makes him a three-quarter brother to the senior stock bull (Iveagh Gilkes) in the Culnagechan herd of Derek Hume in Ireland.  More recently the very well-bred Ampertaine Impact, sired by Ampertaine Elgin and out of the same cow as Ampertaine Commander, has been bought in. In May 2016, Brian pushed hard to secure the purchase of the bull Ampertaine Jefferson for 20,000gns.  This bull, the herd's most expensive purchase to date, is another sired by Ampertaine Elgin and is out of a Wilodge Vantastic sired cow.
When looking to purchase a new stock bull, Brian firstly checks a herd's health status, the bull must be from as clean herd. He must be clean shouldered and his performance figures should be good as this will aid them to get an idea of the growth rates of the progeny as well as a number of other key traits including maternal production value. A lot of the bulls that have been purchased over the years have had good maternal production values and this the Lears feel is important when the bull comes to breeding and allows them to be more confident in retaining the females.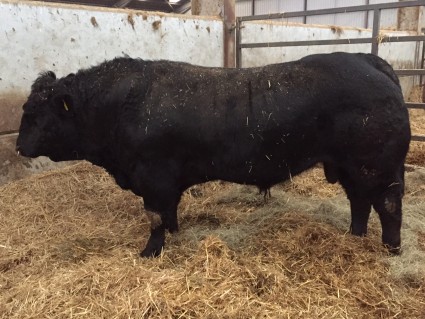 "Our aim is to have a lot of polled cows that are easy fleshing and then to use a mix of bulls that carry the myostatin gene and polled traits across them," added Brian. "We keep around 15-20 bulls to either sell privately off the farm and within those we maybe keep maybe one or two a year to retain and use within the herd as we know the bloodlines and cows families they are out of etc. Some people come to us to buy either a red bull or a black bull, some want a polled bull and therefore that's why we keep a bit of a selection of types."
"Calving happens mainly in spring, with the ideal time being from the end of January onwards. We try to calve as many heifers as possible at 24 months, with heifers being run over the weigh scales to check growth rates for age and access them by eye. The younger heifers born after April onwards for example run around again until the next year as we don't do any autumn calving, this allows them to grow on and it helps keep groups of cattle together."   It works well for them having another farm where the maiden heifers go and the later calving cows can stay with them out of the way whilst they get things calved and turned out at the main holding. The cattle from the other farm can then be brought back as by that time some shed room becomes available.
Brian commented that, "when we start to put the heifers in calf some are AI'd for a real short period and then the bulls go in on 1st April to try and keep the calving window early and as tight as possible. The key to the whole operation is that you have to select your bulls well and aim to get heifers having a 30-35kg born calf. We have a couple of certain bloodlines and we normally try to breed ourselves a bull to keep from these to go on the heifers, as short gestation and calf birth weight is critical. The bulls which we use on the heifers currently are not performance bulls, they are aimed solely at getting a live calf from the heifers. We castrate the majority of the bull calves born out of the heifers and tend to not keep some of the heifer calves born from certain bloodlines as they won't get the performance and size to keep as a cow within the herd."
The cows are calved also from the end of January and the bulls go into them on 1st April and they are turned out to grass, weather depending sometime in April.  Andy added that, "this year we were full to bursting with 200 calves born and we were desperate to get cattle out." Cows are then grazed over the summer months and are kept in groups of 25-30 but that depends on the spread of calving within the group. "To try and look after our bulls, if the group have a tight calving pattern we don't tend to give him any more than 30 in that group but if the calving has been more spread out within a group the bull could maybe manage a few more as the window that cows will be on heat will be slightly longer," added Brian. Come autumn time the oldest calves are weaned at around 7 months of age. At the time I visited they had just weaned 100 calves off in one batch, with all calves receiving a vaccination for pneumonia. The cows are brought inside to settle during the weaning process and then after nearly a week are turned out again and are fed depending on what the grass levels are like at the time of year. For example, if they have grass they will receive complimentary barley straw to eat and if there is not much grass they will be fed hay.
Following on from that when the cows are brought in for the winter they are fed on a ration of grass silage, barley straw and minerals for the early calving cows and then grass silage, a small percentage of maize silage along with barley straw and minerals for the remainder.
Heifers retained for breeding are fed grass silage, wheat and wheat distillers to aid them to keep growing but also to keep them in good condition.
The only real change this year has been recently, beans are grown on the arable side of the operation and recent prices have made it more appealing to sell them and to buy a protein in to feed the cattle in the form of wheat distillers.
The diet for the all fattening cattle on the farm consists of differing quantities but is based on maize silage, milled wheat, wheat distillers, chopped straw, live yeast, lime flour and molasses.
Calves only have creep feed introduced from mid-June until weaning and that consists of home grown oats, milled wheat, wheat distillers, molasses and minerals. "At the height of creep feeding we are using 4-5 ton of feed in the calves creep feeders a week and therefore cost is critical," adds Andy.
The farm in 2016 castrated quite a number of bull calves because of the unknown market for young bull meat as a number of the processors gave warnings that they might not want or even deduct hard on young bulls for slaughter next year. Andy commented that, "even though we know the conversion rates are slightly slower for a steer compared with a bull, we will monitor growth rates and will wait and see what the figures say when they are finished and we will compare the two when we get the kill out data and prices."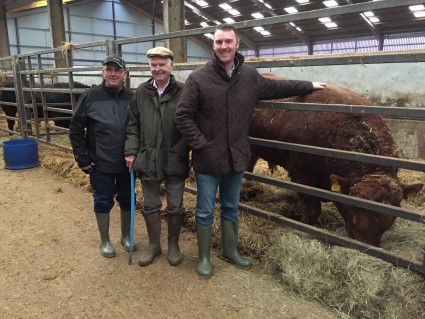 Once the cattle are finished the aim for the operation is again quite clear, "the current market requires cattle killing out at 400kgs dead and therefore that's what we aim to have, a finished animal at," Brian commented.
Brian outlined that they are currently averaging 14 – 14 ½ months finishing age but are working hard at trying to reduce that through numerous things, ranging from breeding choices, management and feed etc. He emphasised that you must keep the animal growing and putting on weight, hence the need to creep feed from mid-June until weaning, pushing the cattle early will give you massive advantages in getting that animal finished and off the farm as fast as possible.
All the cattle are sold through Thame Farmers Market who have a deadweight department who organise lorry loads of cattle on a weekly basis and also fix the price for them. Bulls are normally sold through this process fortnightly in groups of around 12 bulls and the same deadweight department organise the heifers and cows for the farm.
Many thanks to the Lear family for a very interesting and eye opening visit. The scale of the operation is very impressive but the management and attention to detail was certainly very clear and noticeable.