114 bulls average £6668 up by £1058 on the year
91% clearance as 114 of the 125 bulls forward sell
17 more bulls sold on the year
16 bulls make five figures and over
53 bulls in all make 5000gns and over
Bulls and females gross £856,332
Limousin bulls met with a strong demand and a flying trade at the British Limousin Cattle Society's February Sale held at Borderway Mart on Saturday 18th February.  There was something for everyone with commercial producers out in force and the trade added to with a sprinkling of breeder's bulls.
Sixteen bulls made five figures and over with 53 in all making 5000gns and more.  Underlining the strong demand, averages on the year were up by £1058 to a mighty £6668 for the 114 bulls sold.  The clearance rate was an exceptional 91% with the 114 bulls sold being out of the 125 forward.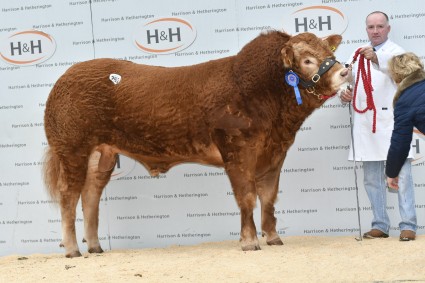 Leading the day's trade was the stylish Swalesmoor Liam at 30,000gns from the Swalesmoor Partnership, Kedzlie Farm Ltd, Kedzlie Farm, Lauderdale.  This October 2015 born bull is an embryo calf by the noted Cloughhead Umpire and out of Nebo Favourite, a cow with strong show record behind her and purchased for the herd at 9000gns.  In the summer of 2016 Swalesmoor Liam had stood as a first prize winner at the Natioanl Limousin Show and at arlisle in the pre-sale show he stood second in a strong class to the Reserve Junior Champion.  Purchasing the top price in a two way split was Messrs Ridley, Haltcliffe, Wigton, along with Richard Harker for his 60-cow Honeymoor herd at Grayrigg Hall, Kendal.
Speaking at the close of the sale Richard Harker said: "This bull is a very modern Limousin.  He has tremendous length, is clean, and good on his legs.  He carries a lot of style and has plenty of depth and quality in his pedigree."
Full report and pics to follow: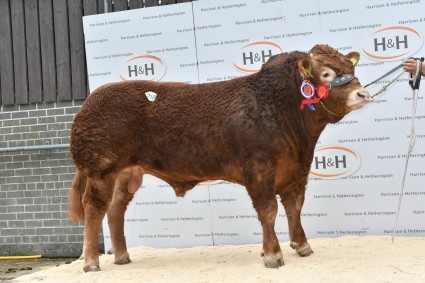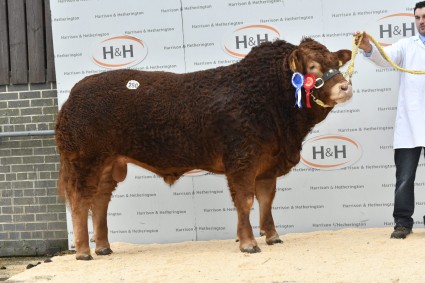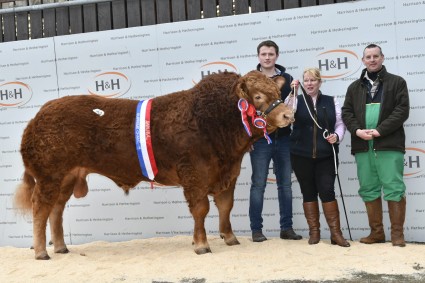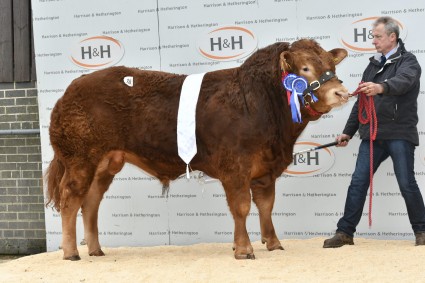 LEADING PRICES:
252  30,000gns     Half Share
Messrs Ridley, Haltcliffe, Hesket, Newmarket, Wigton, Cumbria
Richard Harker, Grayrigg Hall, Kendal.
2nd prize class 14
218  22,000gns     Neil Barclay, South Road, Insch, Aberdeenshire
1st prize class 11 and Junior Champion
250  22,000gns     Messrs Jenkinson, Clifton Moor, Clifton, Penrith, Cumbria
1st prize class 14 & Reserve Junior Champion
194  20,000gns     John Penny & Sons, Leeds Road, Rawden, Leeds, W.Yorkshire
1st prize class 9, Intermediate Champion & Overall Champion
180  19,000gns     G Cameron, Newton Cottage, Acharrade, Argyll
1st prize class 8, Reserve Intermediate Champion & Reserve Overall Champion
204  18,000gns     J & JF Nimmo, Bogside Farm, Newmains, Wishaw, Midlothian
1st prize class 10
243  18,000gns     JC & J White, Rigg Farm, Lunedale, Middleton-In-Teesdale, Barnard Castle
163  17,000gns     Undisclosed Buyer
1st prize class 6
122  16,000gns     F Ward, Rogerley Hall, Frosterley, Bishop Auckland, Co. Durham
1st prize class 3 & Reserve Senior Champion
173  14,500gns     Messrs Howells, Gelli Farm, Cymmer, Port Talbot, West Glamorgan
1st prize class 7
210  13,000gns     JM & SP Cooper, Hill Top Farm, Dacre, Harrogate, N.Yorkshire
3rd prize class 10
152  12,000gns     WR & JM Cowx & Son, Hudscales, Hesket Newmarket, Wigton, Cumbria
4th prize class 5
148  11,000gns     R Dunlop, Pinvalley Farm, Barr, Girvan, Ayrshire
1st prize class 5
178  10,500gns     J Pritchard, Evistones Farm, Rochester, Newcastle Upon Tyne
2nd prize class 8
102  10,000gns     J Leiper & Sons, Black Heddon, Ponteland, Newcastle Upon Tyne
1st prize class 1
147  10,000gns     W Robson Farm Limited, High West House Farm, Tow Law, Bishop Auckland
2nd prize class 5
181  9,000gns       H Rutherford, Low Eshells, Hexham, Northumberland
5th prize class 8
211  9,000gns       A Peart & Son, Woodcroft Farm, Frosterley, Bishop Auckland, Co Durham
4th prize class 10
215  9,000gns       T Laird & Son, Sunnyside Farm, Cronberry, Cumnock, Ayrshire
213  8,800gns       I Brown, Lowgate Farm, Lowgate Fleet, Lincolnshire
4th prize class 11
154  8,500gns       J Leiper & Sons, Black Heddon, Ponteland, Newcastle Upon Tyne
2nd prize class 6
 248  8,500gns       T & R Harper & Sons, Southmains, Skirling, Biggar, Lanarkshire
         3rd prize class 14
247  8,200gns       K Lister & Sons, Kiln Hall Farm, Kettlewell, Skipton, N.Yorkshire
5th prize class 14
 138  8,000gns       NA Birch, High Rakes Farm, Monyash, Bakewell, Derbyshire
2nd prize class 4
 141  7,500gns       Messrs Beckwith, New Hall, Barras, Kirkby Stephen, Cumbria
108  7,000gns       W & J Cameron, Burnside, Edingight, Grange, keith, Banffshire
2nd prize class 1
209  6,800gns       VS Allgood, Reaveley Farm, Powburn, Alnwick, Northumberland
242  6,800gns       R & R Currie, Low Dunashery, Tayinloan, Tarbert, Argyll
2nd prize class 13
 142  6,500gns       H Peart, Far Howe, Mungrisedale, Penrith, Cumbria
         3rd prize class 5
 145  6,500gns       LW Humphreys & Son, Ashurst Court, chart Sutton, Maidstone, Kent
5th prize class 5
 214  6,500gns       J Higgs, Little Bank Farmhouse, Church Stoke, Montgomery, Powys
2nd prize class 11
 230  6,500gns       Knockterra Farming Co, Knockterra Farm, Cumnock, Ayrshire
232  6,500gns
Half Share
JB Fletcher, East Friar House Farm, Newbiggin-in-Teesdale, Barnard Castle
MB & HD Fletcher, Friar House Farm, Forest in Teesdale, Barnard Castle
5th prize class 12
FEMALES
32     5,800gns       W Richardson, Ghyll House, Dufton, Appleby-In-Westmorland, Cumbria
25     4,200gns       S Littlewood, Hollingreave House Farm, Raygate, Newmill, Holmfirth
26     4,200gns       JW & ME Fieldson, Poplar Farm, Poplar Lane, Gainsborough, Lincolnshire
30     4,200gns       S & S Hough, Park Grange Farm, Park Lane, Pontefract, W.Yorkshire
Averages
27 Senior Bulls               £5323.89   (plus £1153.73)
51 Intermediate Bulls     £6967.06   (plus £1240.36)
36 Junior Bulls               £7253.75   (plus £157.35)
114 Bulls                         £6668.42   (plus £1057.98)
 40 Females                     £2404.50
Auctioneers: Harrison & Hetherington