62 bulls average £5102, up by £501
91% clearance of the 68 bulls forward
Six more bulls sold on the year
30 bulls make 5000gns or more
A strong demand from commercial producers highlighted the sale of Limousin bulls held at United Auctions Stirling Market on Monday 6th February.  Averages were well up on the year by over £500 to £5102 for the 62 bulls sold.  Six more bulls were sold on the year with the sixty two of the sixty eight bulls forward selling representing a clearance rate of 91%, one of the highest figures in recent years at Stirling.  Two bulls made over five figures with 30 in all selling at 5000gns and more.
Leading the way, and making the top price of 12,000gns, was Goldies Lordoftherings from the prolific Goldies herd of Bruce Goldie, Townfoot Farm, Mouswald, Dumfries.   This June 2015 born bull had earlier in the day secured the Overall Supreme and Intermediate Championships in the pre-sale show in front of the judge Jonathan Watson from the noted Tweeddale Herd at Bowsden Moor, Berwick Upon Tweed.  An embryo calf Goldies Lordoftherings is entirely homebred being sired by Goldies Fantastic, a Wilodge Vantastic son, and out of Goldies Dove.  A pedigree packed with performance Goldies Dove has previously bred bulls to 9000gns whilst Goldies Fantastic had sired the top price at the Stirling May 2016 Sale of Limousin bulls.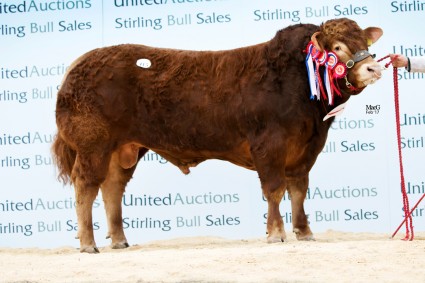 Purchasing the top price for his 65 cow pedigree Dyke herd was JR MacGregor, Dyke Farm, Milton of Campsie, Glasgow.  Commenting Donald MacGregor said:  "This was just the stand out bull on the day.  He has power, width, plenty of volume and backs this up with a great pedigree and strong performance figures."   These comments were very much endorsed by the show judge Jonathan Watson who said:  "The Champion is a terrific bull all round.  He has a lot of presence and style, carries himself well and just flows.  He's very clean, has a great top, had great width in the plates and is full of meat coming right down into the hock.  Having all the attributes of a breeder's bull he could very much do both jobs, pedigree and commercial, with the muscle, style and length that he has."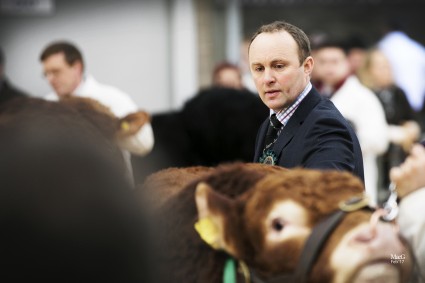 With a terrific track record behind them, the Goldies herd arrived at Stirling having had the top Limousin herd average at the preceding four sales at the venue.  The 12,000gns for Goldies Lordoftherings represented a remarkable third consecutive sale top price, and four out of the last five, for the herd at Stirling Limousin sales.
In another strong day of trading the Goldies offering saw seven bulls in all sell too average £5535.  Included within this at 5000gns was the Reserve Junior Champion Goldies Black Lee.  This July 2015 born polled bull is by Haltcliffe Doctor and is out of Goldies Toronto who has previously bred bulls to 12,000gns.  Purchasing Goldies Black Lee was J&J Wyllie, Crossford, Dunfermline.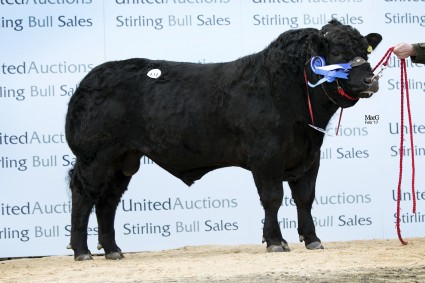 Confirming a ready demand for some quality black Limousin bulls on offer was the 'highlight' trade achieved by the family partnership of Mary Fotheringham along with Robert and Hazel MacNee, (Westhall) Overfinlarg Farm, Tealing, Dundee.  Leading the way for them was their Reserve Senior Champion Westhall Black Landman who made the sale's second top price of 11,000gns.  The sire of this April 2015 born bull, and his first calves offered at sale, is Newhouse Hartley who was purchased at Stirling in 2014 for 12,000gns from Bob and Kay Adam, Newhouse of Glamis Forfar.  Landman is out of the Westhall Fothers sired dam Westhall Hlame.  Liking this bull for 'his size and correctness' was the purchaser in the shape of the noted commercial herd of Wester Kinloch Farm, By Blairgowrie, Perth.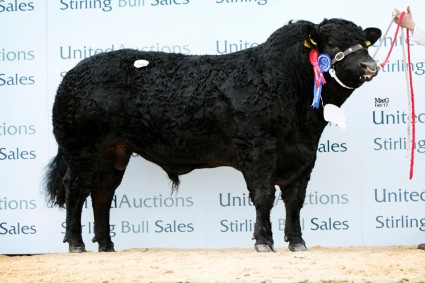 A herd with a long history in Limousin breeding, Westhall have secured previous Limousin Supreme Championships at the world famous Perth Bull Sales.  The Reserve Senior Championship is their highest award at the new Stirling venue.  At the business end, the sale of three bulls on the day to gross £27,090 was also the herd's best sale performance to date.
Selling at 8000gns was Westhall Black Lance who had stood second in his class to the Senior Champion.  Again April 2015 born, Lance is by the homebred (and aforementioned) Westhall Fothers and is out of the Tamarvalley Boscastle sired Westhall Fame.   Again going to a local and noted commercial herd, Westhall Black Lance was purchased by J&J Pattullo, Sandyford, Kirriemuir, Angus.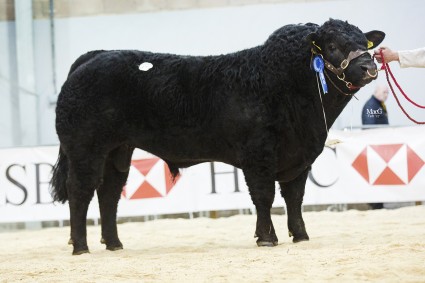 From the same class, Westhall Black Lordofthedance made 6800gns when selling to the Fife based commercial herd of Balcaskie Farms, Lochty Farm, Anstruther.  March 2015 born this bull is another by Newhouse Hartley and is out of Westhall Gogogirl.  Speaking afterwards Robert and Hazel MacNee said:  "We have always been strong supporters of the sales at Stirling and those held by United Auctions and we're really delighted with the trade we've had today.  The bulls have gone to some top and local commercial herds and we feel there has always been a bit of a liking for black by many Scottish commercial men to both breed females and to produce calves."  The Westhall herd comprises of both black and red cows but with it being noted that most contain an element of black Limousin genetics.
Also selling at the sale's joint third top price of 8000gns was the first bull in the ring, the Senior Champion Strawfrank Leroy from Allan Campbell, Strawfrank Farm, Carstairs Junction, Lanark.  March 2015 born this upstanding bull had previously stood as Junior and Male Champion at the 2016 Scottish Limousin Grand Prix.  Got by AI Strawfrank Leroy is by Vagabond, a bull that has been used in the herd by Allan Campbell after he liked the calves by him from some cows he had purchased in-calf from the Greenwell Herd of the Nattress family.    Leroy is out of Gunnerfleet Fassuna who was purchased as a heifer from the herd of Ian Handley at a breeders' sale at Carlisle.  Purchasing the Senior Champion was J Walker & Sons, Sauchenbush, Echt, Aberdeenshire.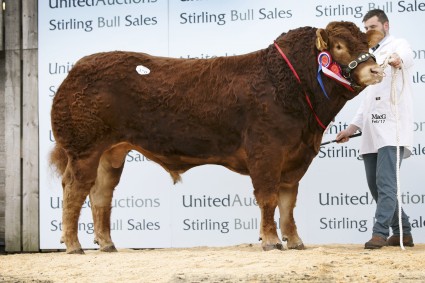 Three bulls made 7200gns. The first of these was Homebyres Landmark from Messrs J Logan, Homebyres, Kelso, Roxs. From the first class of the day this April 2015 born calf was got by the noted AI sire Swarland Eddie and is out of the Homebyres Vanhee daughter Homebyres Hallmark. This bull was bought in a two-way split by Low Middleton Livestock, Low Middleton Farm, Belford, Northumberland, and J MacGregor, East Loanend Farm, Horncliffe, Berwick on Tweed. From the same home and selling at 6800gns was the entirely homebred Homebyres Lawman. This time from the second class this April 2015 born bull is by the noted Homebyres Vanhee and is out of the Homebyres Arnott sired Homebyres Echinacea. Off to the islands, Homebyres Lawman was bought by N&M McLellan, Kilchiaran Farm, Port Charlotte, Isle of Islay, Argyll. The Homebyres herd sold further bulls on the day to 5500gns, and 4000gns respectively giving them a gross of £24,675 and an average of £6169.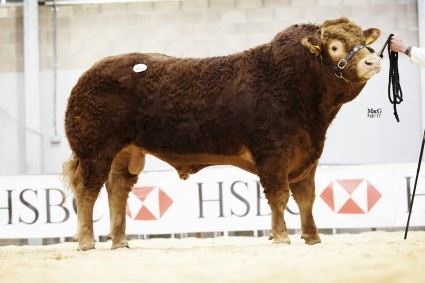 The second bull at 7200gns was Spittalton Lancer from the local herd of breeder Andrew Burnett, Upper Spittalton, Blair Drummond. May 2015 born, Spittalton Lancer is by the Objat son Dinmore Hitman, who has previously bred bulls at the same mark at Stirling, and is out of the Hargill Blaze daughter Spittalton Edwina. Moving to the North of England this bull was purchased by GH Walton & Sons, Greyside Farm, Hexham, Northumberland. In all the Spittalton herd sold eight out of eight bulls on the day to gross £38,535. Amongst their other featured prices was the 5800gns paid by A McAllister, Blairmore, Balfron, Glasgow, for the Netherhall Gallant son Spittalton Lendal.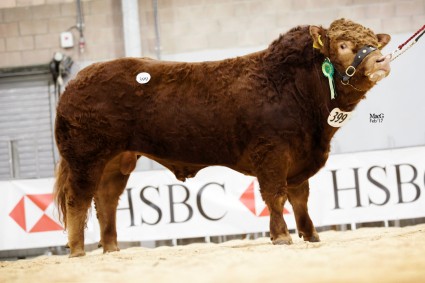 Completing the bulls at 7200gns, and selling late in the catalogue, was Haltcliffe Limoges from Haltcliffe, Hesket-New-Market, Wigton. A polled bull, Haltcliffe Limoges is by the German bred sire Tigris and is out the dam Holy who was bred in the noted Rochard herd in France. Buying this August 2015 born bull, which had placed fifth in his class, was R Simpson & Son, Mains of Creuchies, Alyth, Perthshire.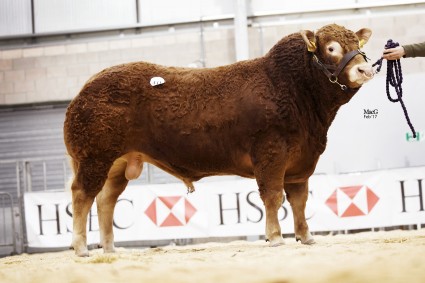 Recouping some of their outlay for the Champion bull, Messrs JR MacGregor, Dyke Farm, Milton of Campsie, Glasgow, made 6500gns when selling Dyke Laird.  This April 2015 bull had stood as second prize in the second class of the day.  By Netherhall Gilbert he is out of the Haltcliffe President sired Dyke Amazon.  Dyke Laird was bought by the Scottish Government Bull Stud, Knocknagael Farm, Essick Road, Inverness and was one of six purchases made by the Bull Stud through the sale.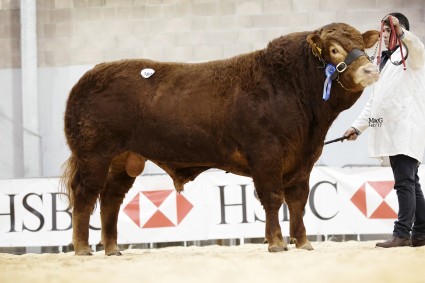 Included within the Bull Stud's purchases, and another at the 6500gns mark, was Maraiscote Lionel the second prize bull in the fourth class from Ian Nimmo,  Bogside Farm, Newmains, Wishaw.   Lionel is sired by the Irish bred bull Macschoice Chris, a Rocky son, and is out of the Normande Urquhart daughter Maraiscote Fuzzy.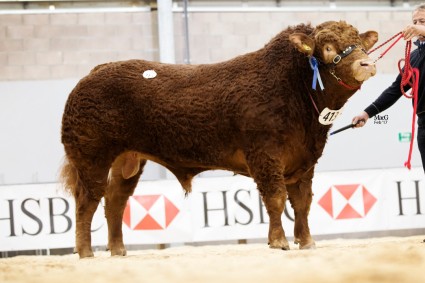 Bulls from the senior section made almost a total clearance and featuring within this was Aultside Luckystrike from Garry Patterson, Upper Forgie, Aultmore, Keith, who made 6200gns.  A fifth prize winner in the second class this April 2015 born bull is an embryo calf, and one of the first sons to be offered, by the 55,000gns Aultside Hulk who Garry Patterson sold in May 2014 at Carlisle.  Out of Clarkton Evelyn, Aultside Luckystrike was purchased by Messrs MacNeill, Tiraghoil, Isle of Mull, Argyll.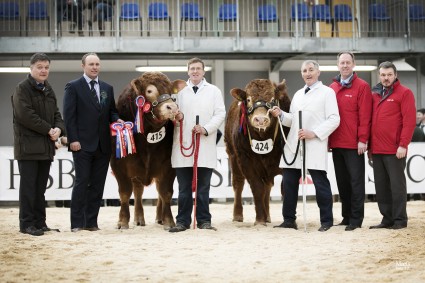 Robert Smith's video of the Limousin Judging can be viewed HERE.
AVERAGES:
62 Bulls (+6)                £5102 (+£501)
Auctioneers:               United Auctions