78 head forward with a 91% Clearance rate
Judge – Mr Ian Wildgoose, Derbyshire
Prices topped at 6000gns at the Craven Limousin Day at Skipton Market, on Wednesday 10th May, when Garrowby Hurricane returned to an old hunting ground after his 2013 win at the Craven Limousin Extravaganza. Purchased at the 2013 sale by Michael and Stephen Priestleys' Brontemoor herd, Hurricane has four crops of calves on the ground at the Priestleys', Kirkcambeck farm in Cumbria, producing multiple show winners.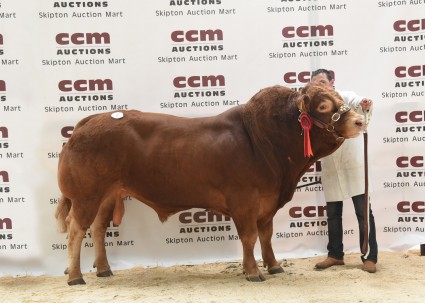 Winning second prize in the senior bull section the 2012 Glenrock Ventura son, having served his time at Brontemoor, was keenly sought by Pedigree and Commercial suckled calf producers alike before finding a new home with RW Dalton of Barnard Castle.
A very strong intermediate bull section saw Copperhurst Lenny consigned by Lancashire Breeder, Andrew Howarth of Whitefield lead off at 4600gns for the 2015 Plumtree Fantastic son bred from a Twemlows Sax cow, Copperhurst Camilla.  This bull went to Messrs AM&DE Stones of Ebberston.  The Copperhurst herd also rang the bell with Copperhurst Lionking who is sired by Copperhurst Ike, a bull with good growth and ease of calving throughout his pedigree which joined Adam Kunz of Ingmanthrope for 4500gns.
The team from Procters Farms Ltd of Slaidburn produced an excellent pen of bulls which included the Intermediate Bull Procters Lancastrian. This shapey, mobile 2015 bull by Ampertaine Hotshot bred from the Haltcliffe Vermount cow Procters Haleiha went to Kevin Huck and John Tennant of Borderley for 4500gns.
Strong competition and a total clearance of Junior Bulls saw Messrs JM&SP Cooper's Tomschoice herd produce first prize winner and Supreme Champion from the previous evenings Limousin Extravaganza in Tomschoice Matador. His sire Carwin Icarus was the 2016 pre-sale champion whilst Matador himself carries EBV's which puts him in the top 1% of the breed for gestation length and calving ease. He became first choice for WP Brewer & Sons' Coredale herd at 4600gns. Procters Farms Ltd were hard on the heels of Matador with their second prize junior bull Procters Master an Ampertaine Foreman son bred from a cow, Procters Heiress which was sired by Haltcliffe DJ.  Master was snapped up by another Procter, this time Messrs E&MA Procter and Son of Great Musgrave for the production of high quality calves from their suckler herd.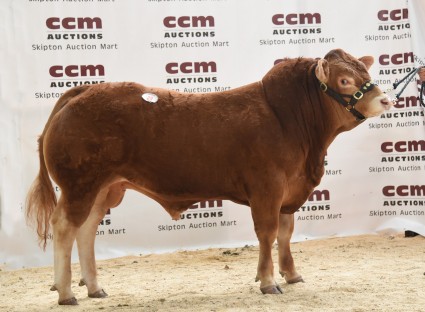 Numbers forward in the junior bull section allowed for two classes to be staged with Brontemoor Master with an EBV Value of 32 and a grandson of Rossignol paving the way for Brontemoor when selling to Nidderdales Trevor and Joe Stoney for 4000gns.
The annual consignment from John and Claire Mason's Oddacres Herd met a very ready audience with a number of repeat customers returning again. Their highlight was Oddacres Monty an April 2016 Gallois son and brother to the 10,000gns Oddacres Lemmy which sold to Bolton Abbeys Roland Carr for 3600gns.
Female Champion was Hollingreave Mojo, a granddaughter of Goldies Terence, bred from a homebred Oddacres Gaffer cow in Hollingreave Iona and consigned by Stuart Littlewood of New Mill which made 2300gns.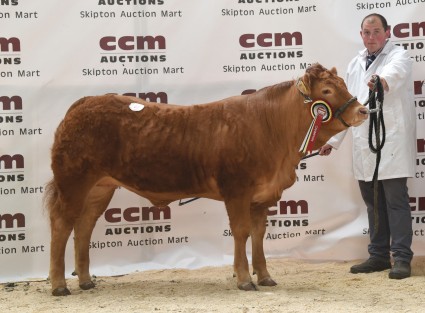 The top price female was Swalesmoor Lara from Kedzlie Farm Ltd, Blainslie, a strong may 2015 daughter of Bial and carrying a service in April and selling to Mark Crabtree of Kettlesing for 3100gns.
Show Results –
Class 1 – Senior Bull born 21.09.10 to 23.03.12
1st – JM&SM Priestley Lot 2 sold for 6000gns
2nd – ER Howard Lot 1 sold for 2500gns
Class 2 – Intermediate Bull born 27.02.15 to 14.07.15
1st – JM&SM Priestley Lot 5 sold for 3700gns
2nd – AR Howarth Lot 8 sold for 4600gns
3rd – RS Harker Lot 6 sold for 2900gns
Class 3 – Intermediate Bull born 15.07.15 to 27.10.15
1st – I Handley Lot 18 sold for 3200gns
2nd – Kedzlie Farms Lot 17 unsold
3rd – JM&SP Cooper Lot 21 sold for 2800gns
Class 4 – Intermediate Bull born 28.10.15 to 23.12.15
1st – Procters Farm Lot 24 sold for 3400gns
2nd – RM&H Lewis Lot 25 sold for 2500gns
3rd RM&H Lewis Lot 23 unsold
Class 5 – Junior Bull born 04.01.16 to 04.03.16
1st – JM&SP Cooper Lot 37 sold for 4600gns
2nd – Procters Farm Lot 39 sold for 4500gns
3rd – W Orme Lot 34 sold for 2500gns
Class 6 – Junior Bull born 05.03.16 to 20.05.16
1st – JM&SM Priestley Lot 48 sold for 4000gns
2nd – AJ Mason Lot 47 sold for 3600gns
3rd – AJ Mason Lot 55 sold for 2400gns
Senior Male Champion – JM&SM Priestley Lot 2 sold for 6000gns
Senior Male Reserve Champion – ER Howard Lot 1 sold for 2500gns
Intermediate Male Champion – I Handley Lot 18 sold for 3200gns
Intermediate Male Reserve Champion – JM&SM Priestley Lot 5 sold for 3700gns
Junior Male Champion – JM&SP Cooper Lot 37 sold for 4600gns
Junior Male Reserve Champion – Procters Farm Lot 39 sold for 4500gns
Male Champion – I Handley Lot 18 sold for 3200gns
Male Reserve – JM&SP Cooper Lot 37 sold for 4600gns
Class 7 – Cow or Heifer either incalf or with calf at foot
1st – Kedzlie Farms Lot 96 sold for 3100gns
2nd – JM&SP Cooper Lot 73 sold for 2400gns
3rd – JM&SP Cooper Lot 63 sold for 2300gns
Class 8 – Maiden Heifer
1st – S Littlewood Lot 89 sold for 2300gns
2nd – JM&SP Cooper Lot 87 sold for 1650gns
3rd – JM&SP Cooper Lot 85 sold for 1200gns
Female Champion –  S Littlewood Lot 89 sold for 2300gns
Female Reserve – Kedzlie Farms Lot 96 sold for 3100gns
Overall Supreme Champion – I Handley Lot 18 sold for 3200gns
Overall Supreme Reserve – JM&SP Cooper Lot 37 sold for 4600gns
Averages –
2 Senior Bulls                                      to 6000gns av £4463
20 Intermediate Bulls                          to 4600gns av £3313
19 Junior Bulls                                     to 4600gns av £2863
20 Maiden Heifers                               to 2450gns av £1683
7 Cows Incalf/with calves @ foot       to 3100gns av £2713
Chief Prices:
BULLS
Senior Bulls
JM&SM Priestley – Brontemoor
6000gns
RS Howard – Whittaker Hall
2500gns
Intermediate Bulls
JM&SM Priestley – Brontemoor
3700gns 3600gns
JM&SP Cooper – Tomschoice
2800gns
AR Howarth –
4600gns 4500gns
Procters Farm – Procters
4500gns 3400gns
SSJC Lunn – Coalgate
3500gns
RS Howard – Whittaker Hall
3400gns 3100gns
J Handley – Gunnerfleet
3200gns
P Fletcher – Siddall
3000gns
RS Harker – Overthwaite
2900gns
RM&HJ Lewis – Redland
2900gns
Junior Bulls
JM&SM Priestley – Brontemoor
4000gns
JM&SP Cooper – Tomschoice
4600gns
Procters Farm – Procters
4500gns 4000gns
AJ Mason – Oddacres
3600gns
FEMALES
Cows with Calves
JM&SP Cooper – Tomschoice
2700gns 2500gns 2300gns
S Littlewood – Hollingreave
2500gns  
Cows Incalf
Kedzlie Farm – Swalesmoor
3100gns
JM&SP Cooper – Tomschoice
2400gns
Maiden Heifers
Heald & Co – Coachhouse
2450gns 2300gns
Procters Farm – Procters
2300gns 2000gns