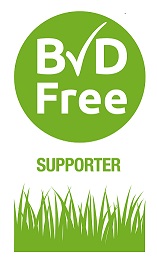 After supporting the BVD free initiative since its inception in July 2016 the British Limousin Cattle Society is pleased to announce that it has now become an official advocate.
BVDfree England is the first national scheme to target the elimination of the BVD virus from beef and dairy herds across the country. The scheme has been developed through an industry partnership with over 100 organisations, retailers, trade associations, unions and breed societies, pledging their support.
Commenting on the BLCS official endorsement of the scheme Chief Executive Iain Kerr said "Bovine Viral Diarrhoea is a complicated virus which costs the cattle industry a significant amount of money every year. Eliminating BVD will have significant benefits for Limousin breeders and commercial buyers given that it will result in improved fertility and healthier cattle in general. As such the Society is delighted to become an official supporter of the scheme" He went onto say "The scheme has an ambitious target to eliminate the virus from all cattle herds in the country by 2022, everyone involved in the industry has a part to play in ensuring that this objective is reached"
More information is available at bvdfree.org.uk, including some useful FAQ's.