Carlisle Bull Sales October 2017
This years premier BLCS Collective Sale at Carlisle on Saturday 14 October will see around 200 Limousin bulls coming forward for sale. The event will mark the 40th anniversary of the National Autumn Show and Sale.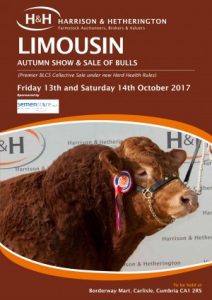 Friday 13th sees the judging of all classes commence at 11am under the eye of Judge Duncan Hazard, Mereside Limousins, Linconshire. The sale, on Saturday 14th starts at 10:30am.
The catalogue can be viewed online here