United Auctions sold 1,198 suckled calves at their Stirling sale on Monday 25th September 2017. Heifers (495) averaged 231.34p/kg, up over 2p on the year, with a leading bid of 347.40p/kg or £1,480 for a 426kg Limousin-cross from J Robertson & Co, Newton of Logierait.
Under Judge Mr J Taylor, Easter Ochtermuthill, the heifer had been awarded the Reserve Champion spot and had taken the Scottish Limousin Clubs Salver for best Limousin calf.
Overall, 703 bullocks went through the ring to average 239.28p/kg, up almost 9p on the year earlier. Selling to a high of 290p/kg was a 369kg Limousin-cross which also came from John Robertson & Co.
Winner of the British Limousin Cattle Society sponsorship voucher for the best pen of four was Ballechin Farms.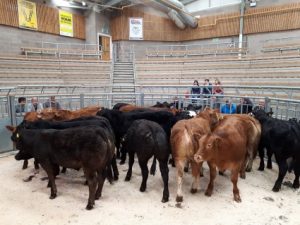 Other leading prices
Limousin Bullock
TA Hamilton, Bridge House 540kgs £1300
J Robertson & Co, Newton of Logierait 450kgs £1130
R Currie, Low Dunashery 434kg £1130
Limousin Heifer
J Robertson & Co, Newton of Logierait 426gs £1480
Ballechin Farms 464kg £1430
I Lammie Longhouse 430kg £1110
Pen of 4 bullocks
Ballechin Farms 544kgs £1340
Ross Farms, Wester Middleton 557kgs £1280
J Robertson & Co, Newton of Logierait 543kgs £1280
Pen of 4 heifers 
Ross Farms, Wester Middleton 463kgs £1300
Monzie Farms 437kg £1100
Ballechin Farms 453kg £1230