The Limousin Leaders team comprising of Amy and Alan Lindsay of the Clydeside Herd, Longridge, West Lothian and Iona Smith from Ayrshire secured fourth place in the intensely contested beef competition at the 2017 National Young Stars event held at Three Counties Showground, Malvern on 22nd and 23 August. This great result follows on from the Limmy Lads, John Graham, Andrew Adam, and Tom Illingworth, Championship success of last year.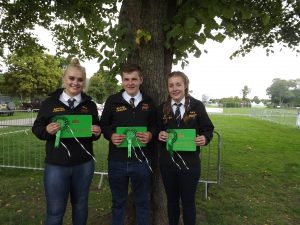 The event, sponsored by Allflex, now in its third year, saw more than 100 young farming enthusiasts between the ages of eight and 24 showcase their skills. One of the highlights of the event is undoubtedly the beef competition and 11 teams were entered this year, including an exchange team from Canada.  There were three teams with Limousin and Limousin Cross animals represented on their stands. Two teams were supported by the British Limousin Cattle Society, the Limousin Leaders and the Limoholics, while there was a Limmy Stars team from Newton Rigg College, the Peak District.
As part of the competition the teams are encouraged to source external sponsors, a way of demonstrating their ability to forge professional relationships. The Limousin Leaders team managed to secure additional sponsorship from Show Time, the suppliers of specialist grooming products, while the Limoholics found their extra support from Workwear Express, a leading work wear clothing provider.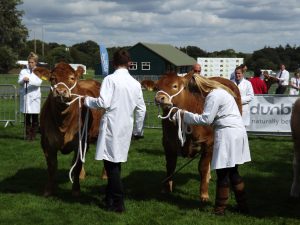 Over the two days the judging proved to be incredibly close, scored out of a possible 1,000 points less than 60 points separated first and fourth place. With a solid overall score of 810 points the Limousin Leaders finished in fourth place. Demonstrating just how close the entire competition was the Limoholics team were not too far behind with 804 points, making fifth spot. The Limoholics team comprised of Emma Rathbone and William Nicholls from Specs Limousin, Stoke-on-Trent and Isabelle Mackley of the Mountsted Herd, Scarborough. Analysis of the scorecard indicates that the speaking skills of Emma Rathbone bore some success with the Limoholics achieving the joint highest score in the interview segment of the competition.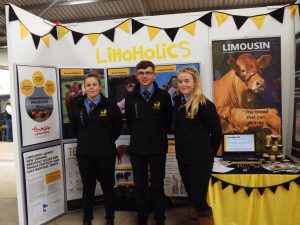 The event brings the team of three participants together to demonstrate their teamwork and practical skills over six disciplines; clipping and preparation, presentation and promotion, stockjudging (including reasons), ringcraft, interview and a skill-a-thon.  The teams need to plan and prepare a promotional stand, together with the area for stalling two cattle that they later use to demonstrate their practical skills. Promotional stands are marked on the quality of the breed information, sponsors material, and facts about themselves.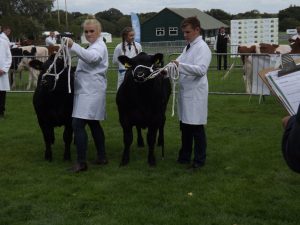 All of the Limousin teams performed really well and their stands were informative and engaging. They can all be extremely proud of themselves for their achievements. Stephanie Dick, YLBC Chairperson commented "these guys have made me a super proud Chairman for all the effort they have put in to making the stands and getting ready for this competition".
Congratulations are extended to everyone who participated; without doubt all are hardworking ambassadors for the breed throughout the UK.