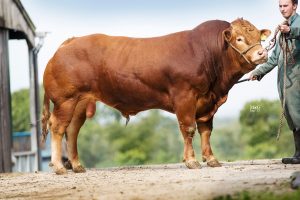 A Limousin cow and calf pair from the dispersal of the Moonleaze herd of Limousins from the Comer family, Braydon, Swindon, led the trade at the Autumn breeding cattle sale at Newark on Saturday 23 September.
The hammer went down at 7,000gns for the March 2012 born Wilodge Docker daughter Moonleaze Hayley and her Loosebear Golddust April 2017 born heifer calf at foot Moonleaze Nadine. Out of a Benrish Alfy dam Moonleaze Dropintheocean, and in-calf again to the herds stock bull Golddust she went home with the Cheddar based Messrs Counsell Partnership.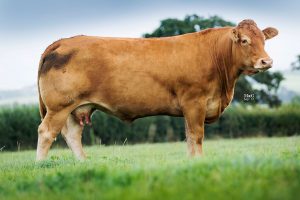 At 6,000gns, the next best price was achieved by Loosebeare Golddust himself. The August 2011 born herd's stock bull by Gronw Cheeky and out of Loosebeare Cayley, a Rainbow Simon daughter, he has a beef value of +37. He was knocked down to Gary Sharp of Fristling Hill Farms, Stock, Essex. Gary runs a commercial 1,800 head suckler herd on the farm and came to the sale looking to add to his stock bull group. Golddust was one of two bulls he bought on the day, calving all year round Gary says he is "particular attracted" to the easy caving attributes of the breed. He has a range of breeds in his female cohort and finds the commercial attributes of Limousin's fit the bill in producing the kind of calves he wants. He says "if he could have bought ten on the day, I would!"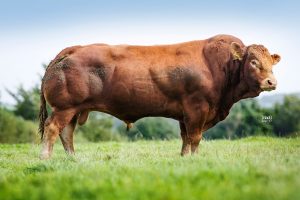 Also at 6,000gns was a young bull Moonleaze Marchhare. A Golddust son out of Mooneleaze Eyefull, a Wilodge Classic daughter, he carries a beef value of +41 and was knocked down to J and J R Appleyby, South Somercotes, Louth. Moonleaze Eyefull, out of the Opera daughter Moonleaze Uptowngirl, sold for 5,000gns herself. With a heifer calf by Loosebeare Golddust at foot, and having run with him again she was knocked down to the top priced purchasers Counsell Partners.
Making 5,200gns was Moonleaze Gleam, a May 2011 born cow by Bernish Alfy out of the Goldies Thunder daughter Moonleaze Beauty. She sold with her twin heifers at foot by Golddust and having run again with the stock bull. She was knocked down to P J Dale, Ripley. At 5,000gns was Moonleaze Hawthorn, another lot by Alfy but this time out of the Brockhurst Ustica daughter Moonleaze Cranberry. Another cow with her heifer calf at foot by Golddust, and also having run with him again, she was the pick of Braydon Farm Partnership, Swindon.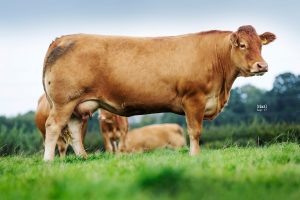 Following on from that at 4,500gns was an in-calf cow, Moonleaze Justaslovely, a Golddust daughter out of a Wilodge Designer daughter. She sold with a Rainbow Simon sired embryo calf at foot out of Ronick Vienna and having run with Albian Justthejob. She added to the Counsell Partners purchases, as did the in-calf heifer, Moonleaze Limelight. A Loosebeare Golddust daughter out of a Wilodge Classic daughter they took her home for 4,500gns. Having been AI'd to Wilodge Cerberus she too has run with Albian Justthejob.
A 4,000gns call came for another of the in-calf heifers, Moonleaze Lawn. Sired by Bernish Alfy, she is out of a Greenhill Viper daughter and sold having been AI'd to Foxhillfarm Irishlad and having run with Golddust. This one went home with R N Gent, Laxton. Making 3,500gns was another of the cow and calf outfits, Moonleaze Iceberry. The Wilodge Docker daughter is out of a dam by Bernish Alfy. Selling with her Golddust heifer calf at foot she was another purchase for the Braydon Farm Partnership in Swindon.
Overall Averages
1 stock bull £6,300
4 young bulls £3,727.50
36 cows and calves £3,535
8 in-calf cows £2,349.37
2 heifers and calves £2,940
10 in-calf heifers £2,934.75
19 maiden heifers £1,573.89.