The major reduction sale from the Haltcliffe Limousin herd of Craig Ridley, Wigton, Cumbria on Friday 26th January didn't disappoint. With the herd being one of the foremost pedigree names in the United Kingdom ringside at Borderway Mart was packed to the rafters with eager buyers. Demonstrating the depth in the quality of females on offer and the robust demand for Limousin females the hammer went down at solid prices across the board.
Commenting on the success of the sale Craig said "I am delighted with the outcome of the sale, it has exceeded all my expectations. It has been a hugely positive day and I am thankful for the support from all the buyers by the ring today. I am sure the cows and heifers will go onto serve their new owners well"
Heading up the sale at 8,000gns was the first in-calf heifer to come into the ring, a very smart lot in the shape of Haltcliffe Maria. Born January 2016 she is by Haltcliffe Hitec out of one of the herds top cows Haltcliffe Bianca and is in calf to Grahams Michael. Craig purchased the smart bull Grahams Michael from R & J Graham, Stirling, in a two way split with E W Quick & Sons at Carlisle in October last year for 20,000gns. Making the successful final bid on the day was Richard Bartle. The deal will see the heifer shared between the Absolute Herd he runs in conjunction with Mary Cormack and the Dinmore Herd of Paul Dawes.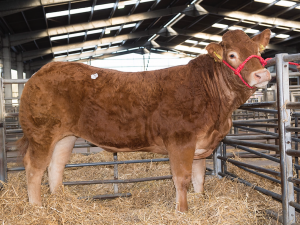 Commenting on his purchase Richard said " I like the bloodline of this heifer very much. She came into the ring with a great outlook, stylish, long and clean, just our type of animal" he went onto say "She was the only beast in the sale PD'd in calf to Grahams Michael, a bull I am particularly keen on, so I had to be sure I was taking her home"
Following this top price two lots fetched 6,500gns.
First to sell at this price, to an undisclosed buyer, was a tidy cow and calf outfit, the Sympa daughter Haltcliffe Gina and her eight month old heifer calf by Ballyrobin Joop Haltcliffe Nellie. Following later in the sale was the January 2016 born in-calf heifer Haltcliffe Mel, knocked down to K & S Williamson for their Blackwater Herd in Co Tyrone, Northern Ireland. Mel, who's dam Haltcliffe Fate is a very musclely Haltcliffe Vermont daughter, is PD'd in calf to Ampertaine Elgin.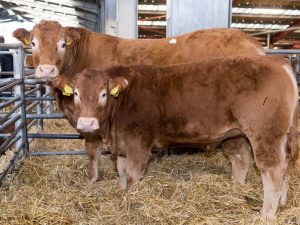 Averages
31 Cows & heifers served and/or suckling     £4,223.71
26 Served heifers                                       £3,497.31
22 Maiden heifers                                       £2,920.91
Full report to follow