The opening major British Limousin Cattle Society sale of the year takes place at Stirling Agricultural Centre on Monday 5 February. Getting underway at 10am the show of bulls will be judged by Mr Ian Nimmo, Maraiscote Herd, Bogside Farm, Wishaw. The sale is scheduled to commence at 3.30pm.
A total of 99 bulls are catalogued for sale, which represents an increase on the number scheduled for sale in the corresponding fixture last year. This strong cohort of cattle offers a superb choice for commercial and pedigree producers alike.
A particular highlight of the parallel sale in 2017 was the robust demand for bulls from commercial producers, a characteristic which went onto be evident all over the UK as the year progressed. Averages in last year's sale were well up on 2016 against a backdrop of more bulls sold than in the previous year. In addition, the clearance rate, at 91%, was one of the highest figures in recent years at Stirling. Leading the way last year, and making the top price of 12,000gns, was Goldies Lordoftherings from the prolific Goldies herd of Bruce Goldie, Townfoot Farm, Mouswald, Dumfries.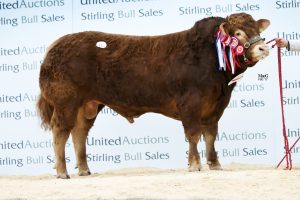 Across the Society sales during the autumn 2017 it was evident that there was a big demand for easy calving genetics, and this is likely to be a continued trend going into the new-year sales across the UK. Combined with added strengths in feed efficiency, age to slaughter, and the ability to produce high yielding carcases at the target weights and grades required by the market place the breed is in a solid position. Analysis of the cohort of bulls forward at Stirling this year reveals that breeders are once again bringing forward some first quality bulls. Almost 40% of the bulls catalogued have a calving ease EBV greater than the breed average and 15% are in the top 25% for the breed. In addition, more than 80% have a Beef Value Index (the economic value of an animal in terms of the financial merit of its offsprings' carcases) greater than the breed average, 45% are in the top 10% for the breed and a handful are even in the top 1%.
In what continues to be an uncertain time for the industry commercial producers coming to buy will see market ready genetics on display left right and centre. They have been very willing to confidently invest in Limousin as the 'go to' breed, a trend unlikely to abate given the challenges of profitability and efficiencies.
The catalogue can be located on the website here
It is also available on the LIMSALE App