The 40th National Early Spring Show and Sale of Limousin bulls and females at Borderway Mart takes place on Friday 16th and Saturday 17th February.
Over two thirds of the bulls listed for sale have a Calving Value, a combination of calving ease and gestational length, above the breed average.  A particular feature across the Society sales during the autumn 2017 was the demand for these easy calving genetics; the momentum for which continued at Stirling recently where it clearly drove the trade.
In addition, a remarkable 84% of the bulls catalogued have a Beef Value above the breed average. The Beef Value is a breeding index which aims to quantify the economic value of an animal in terms of the financial merit of its offspring's' carcases. It is a combination of 200 and 400 day growth, carcase and calving traits and is an overall predictor of performance that is well established and trusted by growing and finishing herds alike.
The delivery of bulls with the ability to produce high yielding carcases at the target weights and grades required by the market place continues to place the breed in a sound position. While the high-end of the trade will always deliver some fantastic prices, it is worth noting that the greatest proportion of bulls will sell at prices that appeal to commercial buyers. The advantages of market ready genetics mean they can confidently invest in the breed.
Judging of all classes and championships is at 11.00am on Friday 19th and the sale of Females is at 5.00pm
The sale of bulls is at 11.00am on Saturday 17th
16th Feb 2018 – Pedigree Limousin Females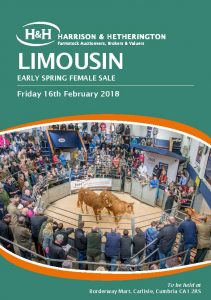 69 Pedigree Limousin cattle comprising: 5 cows with calves at foot, 1 served heifer & 63 maiden heifers.
To view the full female catalogue please click here
17th February 2018 – Pedigree Limousin Bulls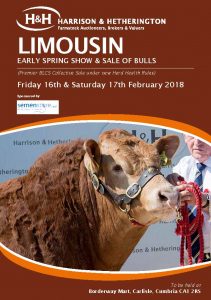 193 Pedigree Limousin Bulls
To view the full bull catalogue please visit here