98% clearance rate across the sale
41 Bulls average £3949.62 – up £163.01
57 Maiden heifers average £2011.23 – up £293.94
An exceptional demand for both bulls and females saw a near total clearance at the Newark Limousin Day sale on Saturday 21 April 2018, with 98% of the 161 cattle coming forward finding new homes. With pedigree and commercial buyers out in force, averages were up notably compared to the same fixture last year. The female trade peaked at 6000gns while the bulls sold to a top of 5800gns under the hammer of auctioneer Paul Gentry.
Mr Gentry said that the packed ringside of buyers ensured a swift trade throughout the sale. "Every class of stock was well sought after, with buyers keen to source new genetics to move their herds forward in these uncertain times."
Leading the sale was a 6000gns call for Absolute Justesse, a 2014-born Diamante daughter from Richard Bartle and Mary Cormack, Upper Dinmore, Hereford. Justesse is out of the noted show cow Newstart Upsydaisy, the Interbreed Champion from the Royal Show 2007. She sold with her Dinmore Lionheart sired seven-month old heifer calf at foot and was the pick of H D and P J Cranfield, Edneham, Lincolnshire for their Copylawn Limousin herd.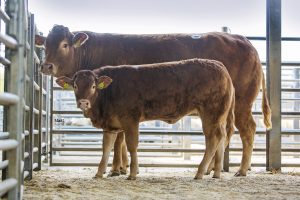 The bull trade was led at 5800gns by the October 2016 born McInnes Machine from Ashley and Emma McInnes, East Cowick, Nr Goole. By the 27000gns Loosebeare Iain, Overall Champion at Carlisle in October 2014, he is out of McInnes Jasmine, a Corridan Hakka daughter. He was bought by C E Hardcastle, Grantham, Lincolnshire.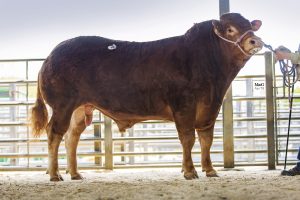 Following this at 5200gns was another bull the same age also from Ashley and Emma in the shape of McInnes Michelin. Again by Loosebeare Iain, only time out of McInnes Grace, a Netherhall Chancer daughter, he was knocked down to J D Leavesley, Needwood, Burton on Trent.
Following that came four bulls at 5000gns. The first of these being the shapely Croxtonheath Mufasa from M D Copley, Grantham, Linconshire. An embryo calf, the April 2016 born Wilodge Cerberus son is out of Mereside Celine, a Vagabond daughter who has consistently bred well in both the Croxctonheath and Mereside herds. He found a new home with J Gowthorpe and Son, North Cliff, York.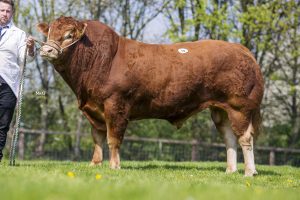 Second at this price was the Male and Overall Champion in the pre-sale show, September 2016 born Foxhillfarm Masterbull from Michael and Melanie Alford, Cullompton, Devon. By the 125,000gns Trueman Jagger and out of noted brood cow Bankdale Elizabeth, Masterbull made his way home with T A Vickers and Son, Tow Law, Co Durham.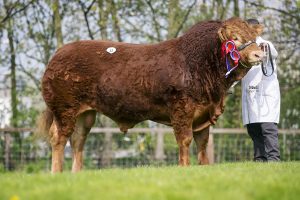 Messrs Heald, Retford, Nottinghamshire, sold Coachhouse Munster at the same money. This September 2016 born bull is by the homebred Coachhouse Eebygum and out of Coachhouse Ureveller, a Haltcliffe Picasso daughter. Buying this one was P T Makin, Great Ayton, Middlesborough. The final 5000gns call came for McInnes Mrbond, another from Ashley and Emma McInnes. Also sired by Loosebeare Iain, this 18-month old is out of Greenwell Daisy, a Vagabond daughter and was the choice of C D C Farm and Machinery, Holbeach St Johns, Lincolnshire.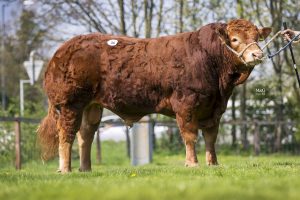 Close behind at 4800gns was July 2016 born Calogale Mourinho from Messrs Lee and Lloyd, Kidwelly, Carmarthenshire. Mourinho is by the homebred Objat son Calogale Irresistable and is out of one of the herd's best cows Dinmore Helebore, a Wilodge Vantastic daughter. Irresistable is breeding well for Logierait Commercials, his first two daughters sold for a record breaking 9000gns and 6100gns at the Royal Northern Spring Show last year. He also sired the steer Champion at the Borderway Beef Expo in November 2017. Mourinho was bought by Luke Colbourne, Newdigate, Dorking.
Two bulls followed at 4500gns, the first being the two-year old Gascoines Maybetheone from Gascoines Group Ltd, Southwell, Notts. He is by Fieldson Beefy and out of Pasturefields Iamtheone, an Anside Flint daughter. He sold to E Wood and Son, Bramley, Rotherham. The second at 4500gns was the September 2016 born McInnes MrMotivator another from Ashley and Emma. Also by Loosebeare Iain he is out of McInnes Harrogate, a Strattons Donis daughter. MrMotivatior went home with M A Piper and Son, Tenterden, Kent.
Following Justesse in the female sale was a 5800gns call for the November 2014 born McInnes Jean again from Ashley and Emma McInnes. This Corridan Hakka daughter, maternal sister to the 9000gns Greenwell Annette, is out of Greenwell Lenette, an Igolo daughter and sold with her bull calf at foot by Loosebeare Iain. In-calf to Procters Logan she headed home with J and T Waring, Everingham, York for their Everpark herd.
Following that at 4800gns was the four-year old Dinmore Jouvence from Paul Dawes, Dinmore Manor, Hereford. Another by the French sire Diamant, but this time out of the Wilodge Vantastic daughter and great show cow Dinmore Elegance. She sold with a bull calf at foot by Dinmore Lionheart to Messrs Brown who run the Hollyberry herd at Foggathorpe, Selby. At the same money was the October 2014 born Absolute Jadore, another from Messrs Bartle and Cormack. This one is also by Diamant, but out of the Rivermead Judge daughter, Rivermead Rosebud who is the dam of Newstart Upsydaisy. Also with her Dinmore Lionheart bull calf at foot, she was bought by Adrian Clark and Sons, Great Dunmow, Essex for their Gallowscourt herd.
Making 4500gns came the September 2015 born in-calf heifer Calogale Leyla, another from Messrs Lee and Lloyd. With a tremendous back pedigree, she is due towards the end of May so offered an exciting prospect for an almost immediate return. Sired by Dinmore Goldeneye and out of Callogale Hollyberry, a Wilodge Cerberus daughter, she is in-calf to Goldies Comet and was the third purchase of the day for the Waring family.
A brace then followed at 4200gns, with the first being Dinmore Josephine from Paul Dawes. Born August 2014 she is by Diamant and out of Carmorn Voney, a Rubis daughter who was three times Interbreed Champion at the Balmoral Show. With a bull calf at foot by Dinmore Lionheart she sold to Grant Farming who run the Wildmore herd in Boston.
The other at this level was the pre-sale show Female Champion McInnes Majestic from Ashley and Emma McInnes. Sired by Corridan Hakka this January 2016 born heifer is out of the Strattons Donis daughter McInnes Insatiable and was knocked down to the pre-sale Judge Llyr Hughes on behalf of the Pabo herd of W P Hughes and Son, Llanddeusnt, Anglesey.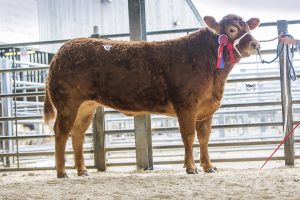 At 4100gns was the Reserve Female Champion Frogmore Lavender from Chris White, Moreton-in-Marsh, Gloucestershire. The July 2015 born in-calf heifer is sired by Wilodge Cerberus and is out of Ironstone Frangelica, a Clown daughter, making her a full sister to Frogmore Helen, the 2015 Royal Welsh interbreed champion. She was taken by William Tomlinson, Retford, Nottinghamshire for his Tomlinson herd.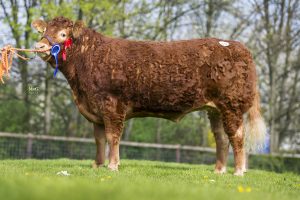 Averages
41 bulls £3949.62 (+£163.01)
48 cows and calves £2776.91 (£-34.66)
57 maiden heifers £2011.23 (+£293.94)
five in-calf heifers £2898 (+£955.50)
10 in-calf cows £2152.50 (+£451.50)
Auctioneers: Newark Livestock Sales