United Auctions hold their May Multi-Breed Show and Sale over Sunday 6th and Monday 7th May 2018 at Stirling Agricultural Centre.
The Limousin show will be held at 9am on Monday 7th May and is being judged by John Duncan, Milton of Campsie, Glasgow.The sale starts from 11.45am onwards on the same day.
View the catalogue here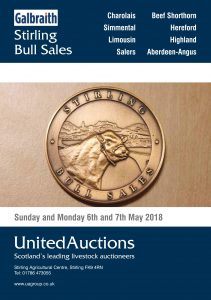 The catalogue is also available on the LimSale App.