In this feature we see how the commercial attributes of Limousins fit the bill perfectly for first generation farmer Gary Bell in his commercial enterprise at Haas Side Farms in Lockerbie.
First generation farmer Gary Bell's breed of choice when starting his farming enterprise was Limousin, which he believes ticks all the boxes when it comes to producing top quality calves and productive cows.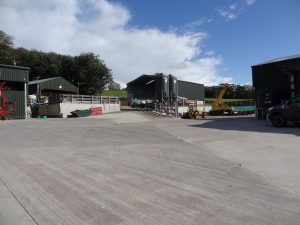 Gary is first and foremost a businessman and admits the farm is his relaxation, but even though it is a hobby, he runs a tight ship at Haas Side Farms, Lockerbie, with the help of his stockman, Andy Johnstone. He has invested hugely in a state of the art steading which caters for his 165 suckler cows.
Readily admitting to learning as he goes along, Gary was convinced from the start that Limousin bulls would produce the type of calves he was going to like to sell. He said, "It is my ambition to breed top show calves, which will be bought by successful commercial show producers and I think the Limousin has the quality and style to achieve that."
Brought up in a non-farming family; father Jim was general manager of a dairy manufacturing plant in Scotland. Gary picked up his farming genes from his grandfather and remembers sitting on his knee as he drove a tractor at weekends.
In 1997 Jim set up Haas Tek Services Ltd, a company which relocates and installs food processing plant and machinery, while a few years later Gary founded PPM Limited, a business which reconditions the machinery and sells it all round the world. He said, "I spend a lot of time abroad with work, and all day in front of a computer or on my phone, so getting back to the farm at weekends always comes as light relief."
The original purchase was Haas Side Farm on the outskirts of Lockerbie and Gary introduced 35 cows onto the 60 acres there, however the enterprise really got going three years ago when he bought the 140 acre Old Walls Farm a couple of miles away, followed by a further 100 acres from a neighbour last year.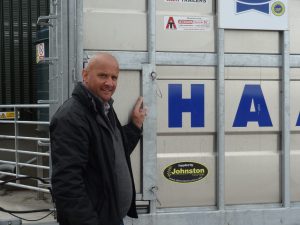 He set about demolishing the steading at Old Walls and has constructed a purpose-built steading complete with cattle courts, bull pens, covered silage pit and 60,000 tonnes of underground slurry storage.
Gary said, "I spent a lot of time visiting farms around the country to get ideas of what I wanted and so far the system has worked. During the week, Andy has to be able to safely work with the cattle on his own, so the handling systems and sheds are all designed for easily moving cattle around."
He also bought more cows choosing Limousin and Belgian Blue crosses with a good bit of shape and length about them. He travelled many miles to find the right type of stock eventually buying 10 foundation in-calf heifers from Bill and Ilona Thomson at Nether Glasslaw, Aberdeenshire. He said, "I was prepared to spend a decent amount on good heifers with calves at foot to get established, with the most expensive being one from Craig Malone at £5,100, however the plan now is to breed my own replacements."
Apart from producing quality calves, another advantage of keeping long, good shaped cows is the cast cow trade and at the time of visiting, he had taken three to Carlisle which averaged over £1,300 each, while the previous week one made £1,800.
Cows are spring calving and the aim is to have them all calving within a 12-week period from March. Despite Belgian Blue blood in many of the cows, there are few calving problems with only one caesarean section last year and Gary says that is something he particularly likes about the Limousin cross calves. He said, "They tend to be smaller at birth but are very active, they get up and suck quickly."
He and Andy work closely with the local vet, Fiona Dalgliesh, who checks all the cows pelvises among many other things. Gary said it was important, especially when buying in heifers, to ensure health problems are kept to a minimum. He is working towards a closed herd with high health status, he also utilises the services of SAC Consulting and has Acoura Farm Assurance accreditation.
He has recently purchased three pure Limousin heifers and says that if he breeds a bull good enough to use on his herd it will be a bonus, but he is not going down the embryo transfer route. He firmly reckons that he is a "commercial man at heart" and that the pure cows will probably end up running with the herd.
The main stock bull at the moment is Hartlaw Indigo, bought at Stirling for 6,500gns and Gary has been delighted with his calves. He also has a Lodge Hamlet son, Pabo Mr Muscle, which cost 10,500gns at Carlisle, Elrick Jackal, Briarlea Jai and Ickle Joker make up the bull stock. The latter having been bought privately from Adam and Fional Dalgliesh. His most recent purchase was Redrock Mallard at 5,000gns from the Steadman Dodd dispersal.
Gary said he takes EBV's into account when buying bulls, especially ease of calving, however it is the carcase elements of length, level top-line and tight bellies that he really looks for, and as he says in his own words he is "spoilt for choice" with the Limousin breed.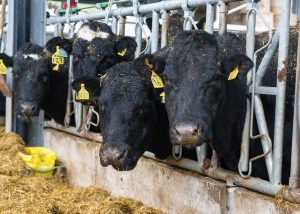 Producing top quality calves is Gary's aim and they are creep fed from three to four months and sold as weaned calves in October. Although calves are weighed regularly, the plan is to start electronically recording weights and calculating daily liveweight gains.
The system is fairly versatile and at the time of visiting in September, Gary had just housed a batch of 60 cows and calves because it has been such a wet summer and they were making a mess and not thriving outside as much as he would have liked.
Straw is purchased from Aberdeenshire for bedding and also for feeding. This year he plans to ammonia treat the straw and mix it with home-grown silage and minerals to provide a complete diet for the cows.
Each year he draws off about 25 of the best calves with their mothers and they are destined for the Young Farmers sale at Dumfries, where he has sold to a top of £3,400. While this sale regularly attracts some serious commercial show producers, it is aimed at the local young farmers' calf competition. Purchasers buy in October and sell in the spring, winning prizes for the most money made, the most weight gained and best in show.
Gary said, "I get a real buzz from seeing my calves go through the ring, and then checking on their progress in April. I think it is important to support young farmers because, after all, they are the farmers of the future."
The remainder of the calves are sold at Carlisle and Lockerbie and are starting to be noticed by some of the show men by the ring. Last year all his calves sold averaged £1,200 and he has had good feedback from some of the buyers.
Although new to the business, Gary absolutely loves his cattle and is keen to learn more and produce the best he can. He is joined in his enthusiasm by his three-year-old daughter Gabriella, who likes nothing better than checking the cows on the gator with her dad. Gary is married to Melanie and they also have an 18 month-old daughter Melissa, together with 11 year-old Camryn, 13 year-old Lucas and 16 year-old Alyssia.
His evenings and weekends on the farm are precious to Gary and a welcome break from the fast-paced world of business. He said, "It may sound strange, but I like nothing better than a couple of hours hosing down the handling pens and walking round my cows and calves when I have time."
While Gary has a lot going on in the corporate world fundamental to achieving his goals in the cattle business is his focus on Limousins. He is certain that he has the right breed for producing top quality commercial cattle.