51 bulls sell, up by 10 on the year
Bulls average £5182, up by £119 on the year
Clearance rate of 84% of the 61 bulls forward
Following hot on the heels of a great day's trading at Carlisle two days previous, the autumn round of British Limousin Cattle Society sales moved onto Stirling on Monday 22 October. Emphasising the strong and sustained demand for the breed the sale saw ten more bulls sold on the year, and increase in averages for the 51 sold to £5182 up by £119, plus a tremendous clearance rate of 84%
The sale saw three bulls make over five figures, twenty-one in all make over 5000gns, and with a total gross of £260,820.
Two junior bulls lead the sale at 11,000gns respectively. The first of these was Knock Nicol from AG Howie, West Knock, Stuartsfield, Peterhead. This May 2017 born bull had taken first prize in the last class of the pre-sale show before taking the Overall Championship from judge for the day Michael Robertson, Fodderletter Farms, Ballindalloch, Banffshire. By Goldies Goldfinger and out of the Newhouse Billy sired Knock Hopscotch, this bull carried some excellent performance figures, most notably for 200 and 400 day growth. Commenting on the Champion Michael Robertson said: "My choice of Champion is a big powerful, correct bull for his age who carried plenty of style. He had a great top, a nice head, and very good locomotion. I feel this bull would be suited to both pedigree and commercial herds." The judge's words proved to be spot on as the Champion was bought by the well know figure Terry Coghill who runs both a pedigree (Hekra herd) and commercial Limousin herd at Muce Farm, Birsay, Orkney.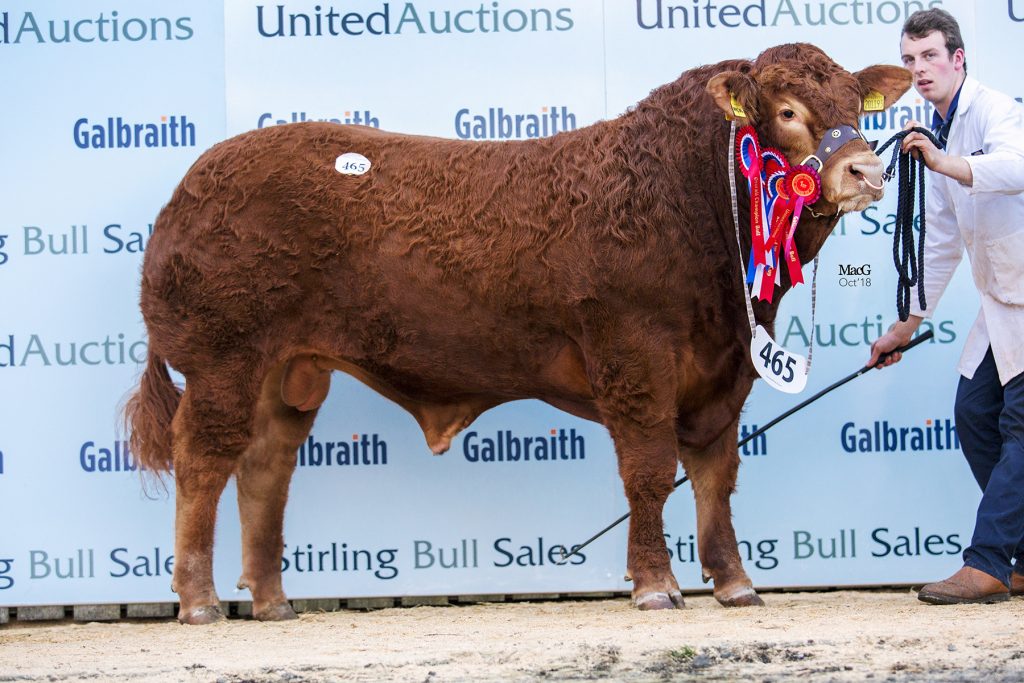 Speaking afterwards a delighted Albert Howie said: "Knock Nicol has been a good calf since the day he hit the ground and we always had high hopes for him. Winning the Championship was tremendous, and we are delighted with the outcome of the sale and the strong trade on the day."
Also, at 11,000gns was Burnbank Northernlad from Messrs D and L Graham, Mains of Burnbank Farm, Blairdrummond, Stirling. Another from the final class, and the second youngest in the catalogue, this June 2017 born bull is by Glenrock Ventura and is out of the nine-year-old Burnbank Evita. Sporting some excellent performance figures across the various traits this bull was shared by the Newhouse pedigree herd of Messrs Robert M Adam and Son, Newhouse Of Glamis, Glamis, Forfar, and the Westhall herd of M Fotheringham & H McNee, Over Finlarg Farm, Tealing, Dundee.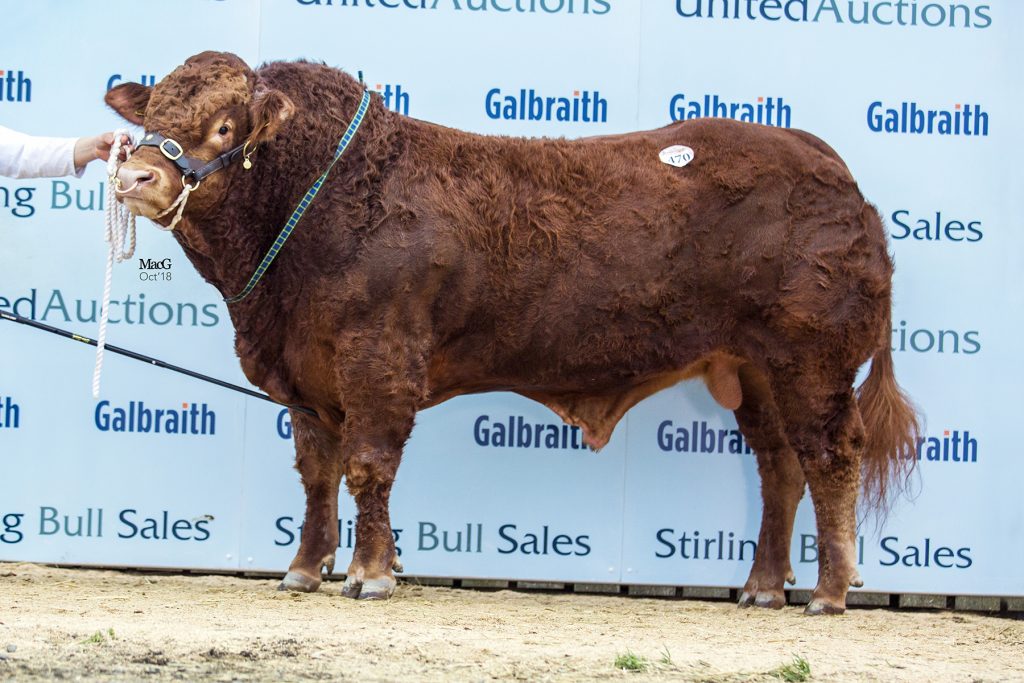 Over the course of the Stirling and Carlisle sales, held within three days of each other, the tremendous demand for Limousin bulls by commercial producers was evident. In all 169 bulls were sold over the two sales to average just under £5,500. Numbers of bull sold was up on the year at each centre with strong clearance rates of 83% and above. At Stirling the sale average was also up by £119 on the year.
Speaking after the Stirling sale, the British Limousin Cattle Society Chief Executive Iain Kerr said: "In what has been, and remains, a challenging industry, these sale figures show the confidence in the breed commercial producers have to deliver performance and profit as they future proof their businesses. At the Stirling sale, and continuing from the weekend, easy calving, easy fleshing bulls with plenty of scope and growth potential were in strong demand and easily sold. There's a clear recognition that fast finishing progeny hitting the target weights required by the market is both efficient and profitable and that Limousin delivers just that. Over the three days easy calving and efficiency were very much the sale buzz words."
Standing second in his class to the Champion and Reserve Junior Champion was Homebyres Nistleroy from Messrs J Logan, Humebyres, Kelso. This May 2017 born bull was the third on the day to break the five-figure mark when he sold for 10,000gns. Got by AI, Homebyres Nistleroy is by Fairywater Haig and is out of Homebyres Floricity, who is back in calf again to the same bull. This stylish young bull was snapped up the judge Michael Robertson, Fodderletter who runs sixteen pedigree cows and a 100 strong commercial herd. For the Logans the 10,000gns price topped their previous best at Stirling (8,200gns) and came hard on the heels of a strong sale at Carlisle two days previously where they sold two bulls at 10,000gns and one at 6,000gns.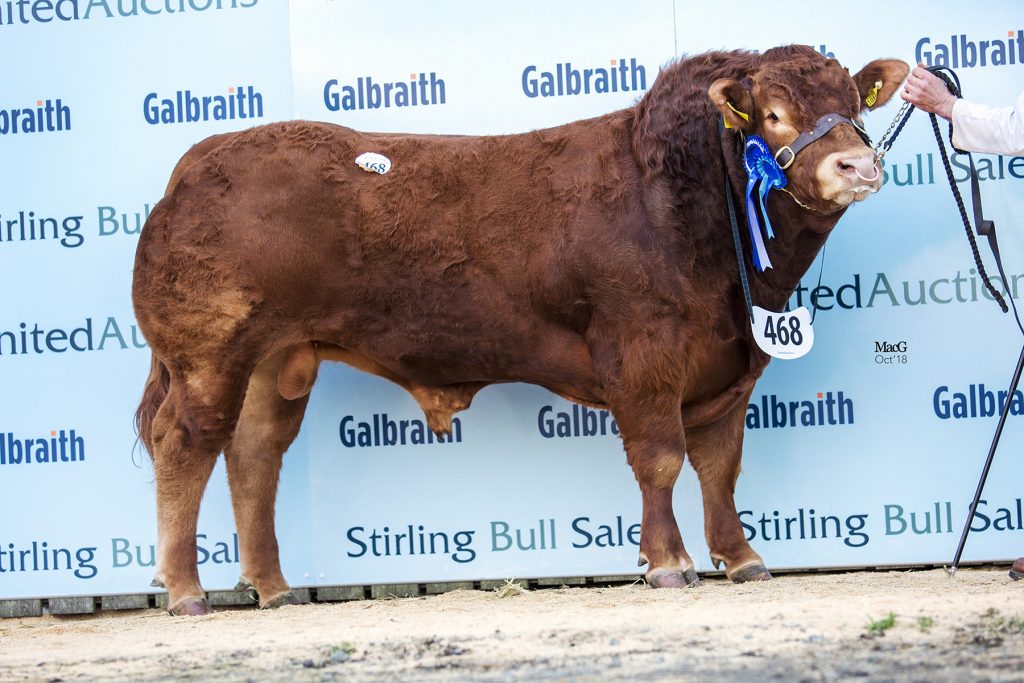 As well as their joint top price, Messrs D and L Graham, Mains of Burnbank Farm, had helped to get the sale off to a good start when the second bull in the ring, Burnbank Millenium, made 8,500gns. This bull stood second in his class to the Reserve Senior Champion in the presale judging. November 2016 born Millenium is by the popular AI sire Ampertaine Gigolo and is out of Burnbank Gypsy, a Rainbow Simon daughter. Buying this bull was D S Stark and Sons, South Ballo, Inchture, Perthshire. Two further Burnbank bulls sold on the day made 4,000gns apiece.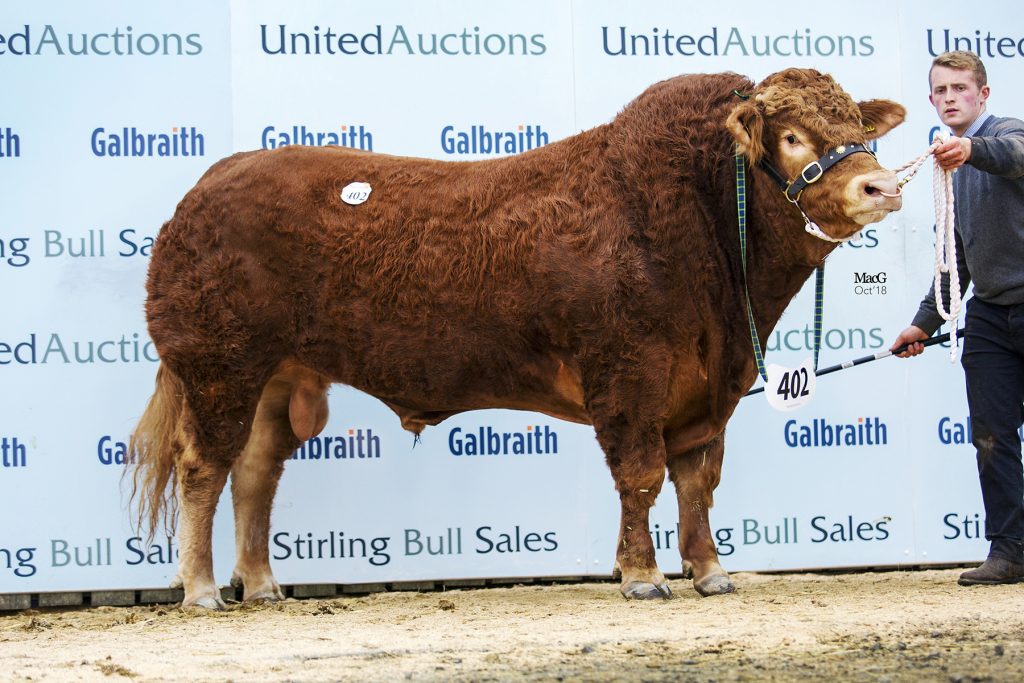 Selling at 8,200gns was the Senior Champion, Strawfrank Nevada, from Allan Campbell, Strawfrank Farm, Carstairs Junction, Lanark. A February 2017 born bull Strawfrank Nevada is by the AI sire Ballinloan Jaegerbomb and is out of Strawfrank Grace. He came to Stirling with a decent show record behind him having won first prizes at both the Stars of the Future Show and the 2018 Royal Highland. A big, powerful bull, who weighed in at 1025kgs, Strawfrank Nevada was knocked down to Chas McMillan, Ardbeg Farm, Isle of Islay. For the 30 cow Strawfrank herd the 8,200gns price was their best at Stirling to date.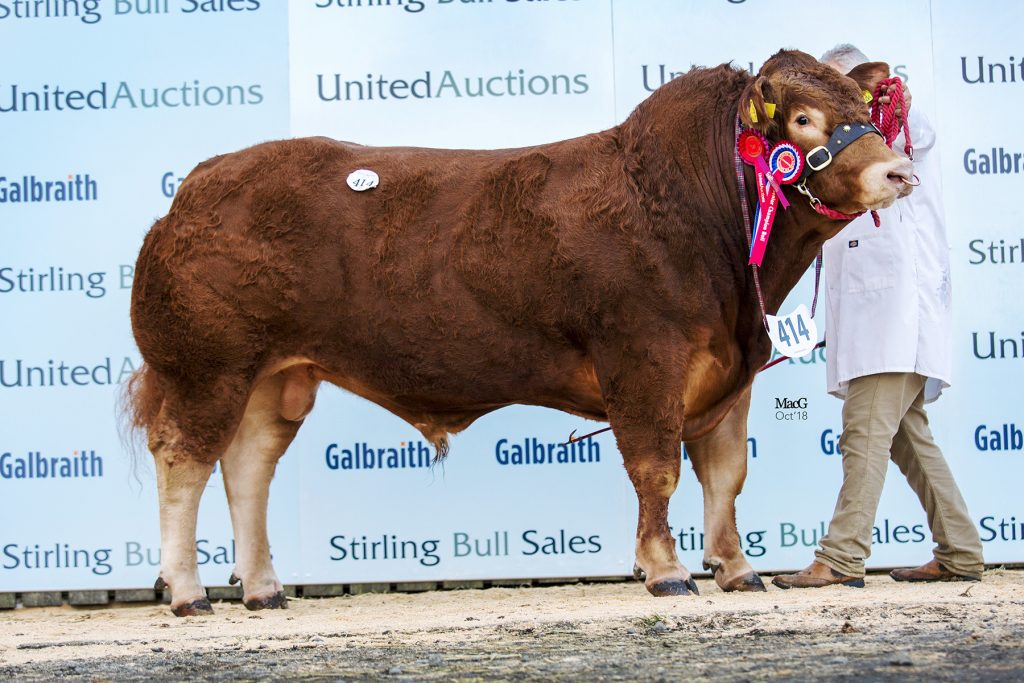 Continuing an excellent day, two lots previously Strawfrank Nero also from Allan Campbell, made 8000gns when selling to T Howden, Stanley Farm, Stanley, Perth. Another bull with good performance figures, Strawfrank Nero is by the 45,000gns AI sire Ampertaine Jamboree and is out of Siddall Harriet, an Ionesco daughter. In the second class of the day Strawfrank Nero had stood second to his stablemate the Senior Overall Champion. Late in the sale, and with another from the strong final class, Allan Campbell made 6,600gns when selling Strawfrank Nolan, a Homebyres Guthrie son to D A MacCormick, Balligarve, Lismore, Argyll.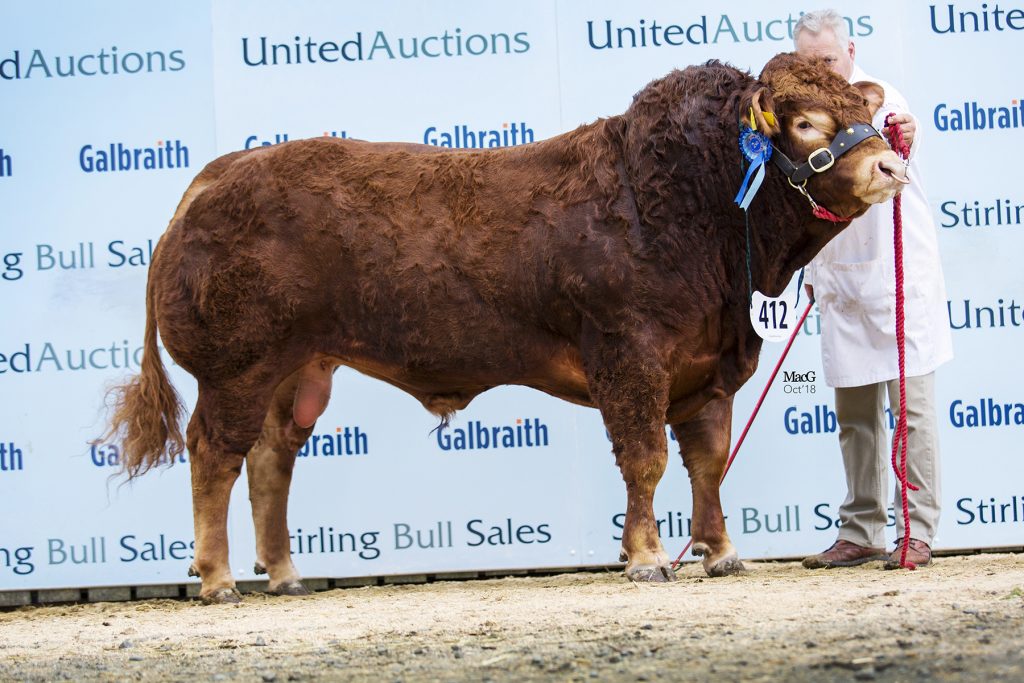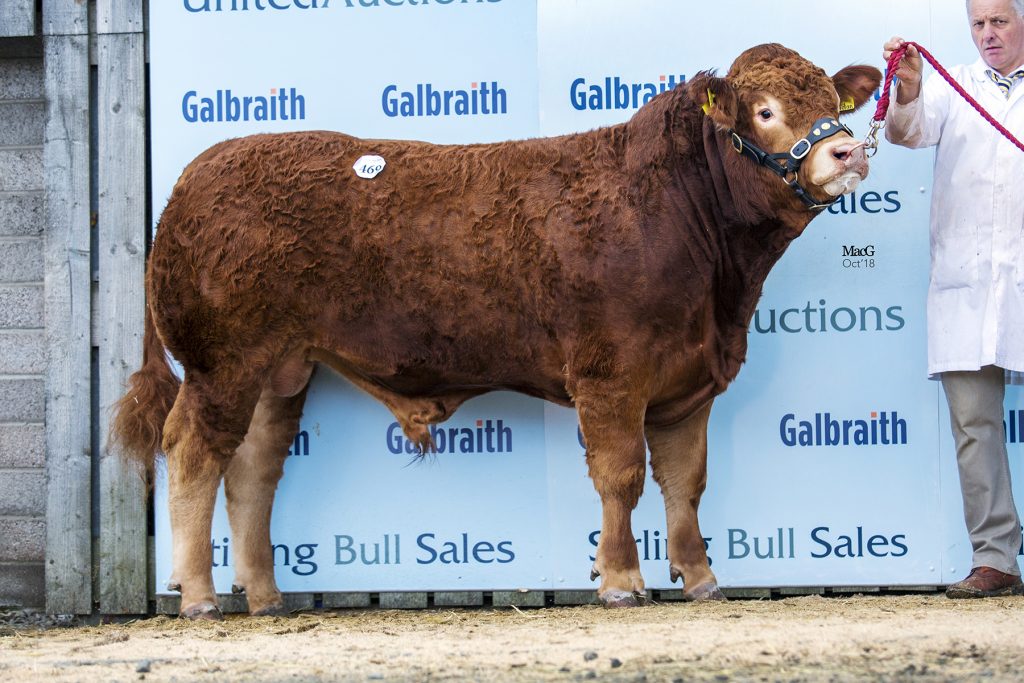 Regular Stirling vendor Mr J Nimmo, Bogside Farm, Newmains, Wishaw, Lanarkshire made 6,800gns with his April 2017 born Maraiscote Natural. April 2017 born this bull is one of the first sons sold at Stirling by the herd's 19,000gns stock sire Millgate Jukebox. Out of the Virginia Andy daughter, Maraiscote Fern, Maraiscote Natural was bought by J H Anderson, Cloy, Fortrose, Ross-shire.
Four bulls in all made 6,500gs. The first of these was the March 2017 Shannas Nifty from Mr and Mrs J Penny, Shannas, Mintlaw, Peterhead. This bull was sired by Goldies Emperor and is out of Shannas Hattie, a Craigatoke Bart daughter. Another bull carrying excellent performance figures, Shannas Nifty was snapped up by T E Hutchinson, Chapel Farm, Moffat, Dumfries-shire.
At the same 6,500gns price was Ringway Navajo from Mr P J Henshall, Sarkshields Farm, Eaglesfield, Lockerbie. By the popular AI sire Lodge Hamlet and out of the Bavardage daughter Ringway Joyaux, the May 2017 born Ringway Navajo was knocked down to John Paterson, Kiltersan Farm, Kirkcowan, Newton Stewart.
From the Ronick line-up of bulls from Mr R Dick, Mains of Throsk, Stirling, Ronick Novak sold for 6,500gns. A first prize winner in the second last class this May 2017 born bull was one of the first to be offered at sale by the herd's stock bull Lynderg James. Out of Ronick Evita, whose pedigree goes back to the herd's foundation cow, Ronick Nova was snapped up by B Keir and Son, Ladymill, Alford, Aberdeenshire.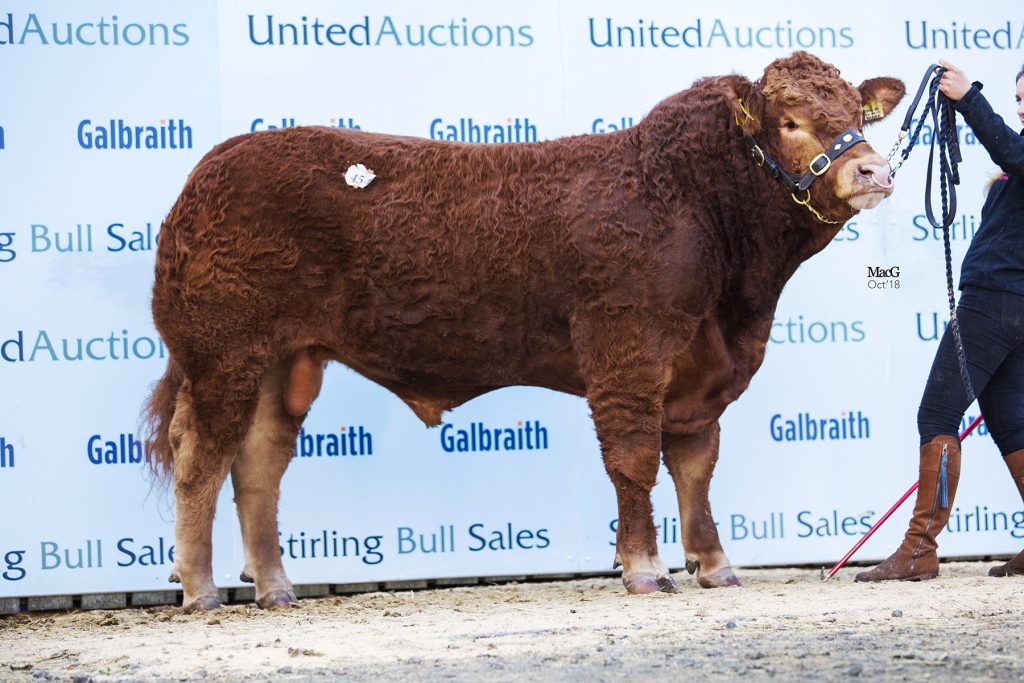 The final bull at 6,500gns, and another young bull from the last class was Spittalton Navigator from Mr J Burnett, Upper Spittalton Farm, Blairdrummond, Stirling. By Burnbank Judge and out of Spittalton Figolo, this May born bull went to the islands when selling to A J MacLean, Heylipol Farm, Scarinish, Isle of Tiree. Earlier in the day, the Spittalton herd sold Spittalton Nick, a Huntershall Jeronimo son, to the Scottish Government Bull Stud, Inverness for 6,000gns. Further Spittalton bulls sold for 5,500gns and 4,800gns respectively.
Other Leading Prices
6,000gns Shannas Mazurka, OFJ Wallace, Campbeltown, Argyle
6,000gns Newhouse Nash, J Fisher, Dunorennan, Kirkcudbright
6,000gns Lodge Nevada, James Hunter, Slamannan, Falkirk
6,000gns Maraiscote Nula, J Walker and Sons, Echt, Aberdeenshire