Northern Ireland Limousin Club chairman Cahir McAuley BVMS MRCVS was named Vet of the Year at the 2018 Farming Life Awards. He received the inaugural Vet of the Year Award at the prestigious 8th annual gala dinner in Belfast.
The Antrim vet was nominated for the award by local dairy farmers Alan and Julie Wallace from Ashdale Farm.
Cahir graduated from the University of Glasgow's School of Veterinary Medicine in 2009 and became an Associate at the Firmount Veterinary Clinic in Antrim. Four years later he invested in the partnership, and works alongside his father Brian, as a director of the highly successful mixed animal practice.
Cahir has played an influential role in the growth, development and diversification of the business which opened the Ballyharvey Nursing and Boarding Kennels in 2014. Further expansion plans are in place, with major renovation work on the practice offices and animal hospital due to start before the end of this year.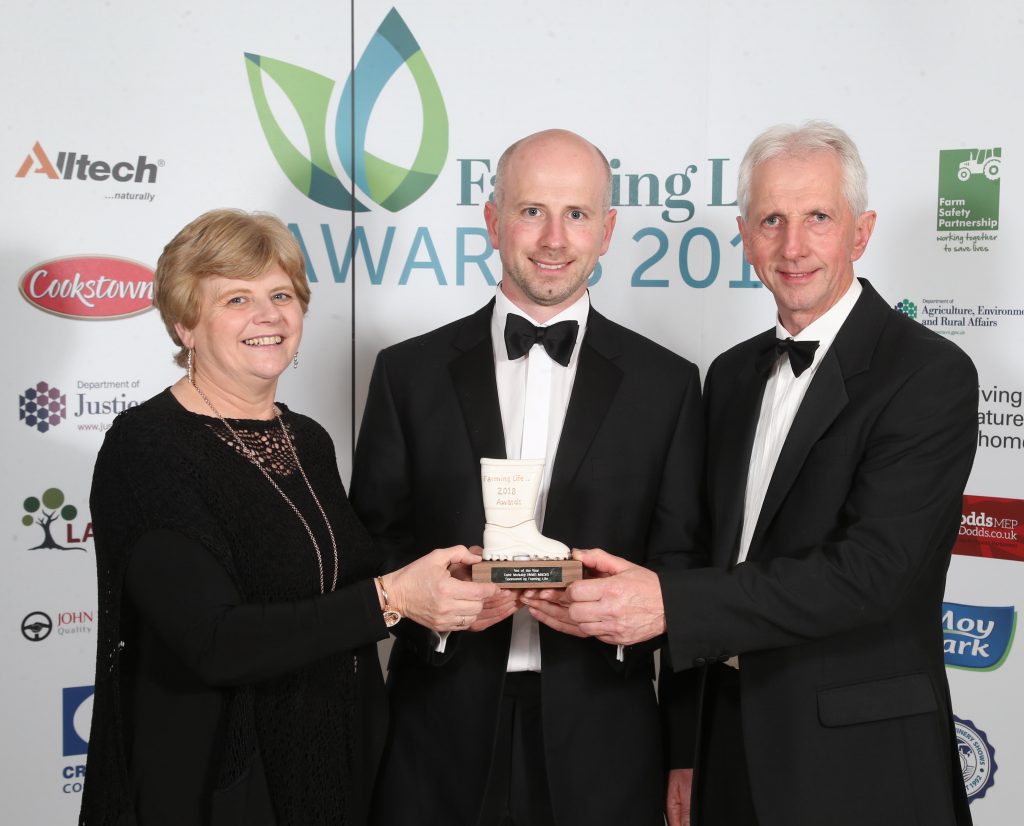 Ninety percent of Cahir's work is focused on farm animals, and he works closely with his clients to ensure a pro-active approach to the health and wellbeing of animals. As well as responding to emergency calls, Cahir makes regular routine health and fertility visits to numerous livestock farms on a weekly or fortnightly basis.
He has a practical approach to animal health and welfare, and disease eradication. Cahir has encouraged pedigree and commercial farmers to devise herd vaccination plans, and join a CHeCS (Cattle Health Certification Standards) herd health scheme.
He works closely with the Agri-Food and Biosciences Institute at Hillsborough, and the Scottish Agricultural College, annually testing cattle to control major endemic diseases including BVD, Johnes, IBR and Leptospirosis. Within the Firmount practice Cahir McAuley is responsible for the management of the health scheme/farmer partnership, co-ordinating results and organising necessary retests.
He has helped numerous clients to draw up herd health plans required by DAERA's Farm Business Development Groups, and has conducted informative on-farm workshops on a series of topics such as Calf Rearing.
Cahir also devotes his time to mentoring UK and international veterinary students. During 2018 Firmount Veterinary Clinic has provided practical on-farm experience for 20 students.
Away from the veterinary profession Cahir McAuley runs the 10 cow Larkill herd of pedigree Limousins. Successes include the sale of Larkhill Firmount for 22,000gns at Carlsile.
A former chairman of the Limousin Society's Young Breeders' Club for three years, Cahir was elected chairman of the Northern Ireland Limousin Club in March.
Cahir McAuley is also a 'local' TV personality, having appeared in UTV's popular Rare Breed programme earlier this year.
At the event, NI Limousin Young Breeders' Club member Andrew Hamill was highly commended in the category for Young Farmer/Student of the Year.