With a new venue, new date and new sponsors the Northern Ireland Limousin Club and NI Young Limousin Breeders are delighted to announce the date for this year's Calf Spectacular.
It will be held on Friday 28th December at Swatragh Livestock Mart. The show starts at 1pm.
Cahir McAuley Chairman of the Northern Ireland Limousin Cattle Club outlined the event.
"I met with Paul Coyle, Swatragh Mart's Manager and had a look around the premises, I was impressed with the excellent show ring and knew it would be ideal for the Calf Show."
Swatragh is centrally located on the main A29 just five miles from Maghera, with spacious parking.
Cahir explained "The Calf Spectacular is open to all commercial and pedigree Limousin cattle born on or after 1st January 2018" He said "Cattle will be weighed on the day and classed accordingly. We have been delighted to welcome new sponsors this year and have a large prize pot which is growing each year. We will be crowning a commercial and pedigree champion and then topping the day off with the selection of an overall show champion"
There will be a young breeder's competition running alongside the main show, about which Cahir said "We are very passionate about the development and growth of our young breeders and this year they will be judged while in the show ring alongside the older, wiser handlers and breeders. This is an excellent opportunity for them to gain experience and get a feel and understanding of showing in a real show ring when the pressure is on."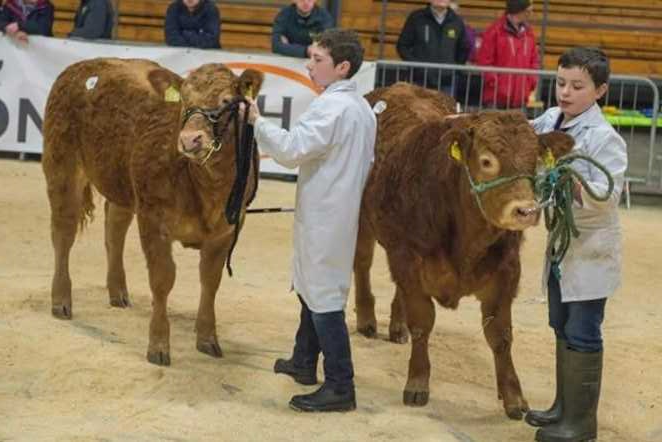 Any young breeder aged between 12-21 years of age, that has access to an animal entered for the show, and, is a member of the NIYLB can enter the contest. There are some great incentives too kindly donated by breeders across the province. If a young breeder enters and shows their own animal from their own family herd they will receive one straw of Ampertaine Metric semen, complements of W&J McKay, one straw of Telfers Munster, complements of Truman Limousin and partners Ardlea and Elite Limousin, plus a halter and nose lead from Bartley Finnegan of Elite Pedigree Genetics.
Cahir concluded "At this stage, I would like to thank the sponsors that have come on board this year, the list is long; HVS Animal Health, A&E Collingwood Mace, Alan Geary, Broad Hooks Cattle Co, Jenkins Butchers, Firmont Vet, Melbreak Limousin, Jalex, H&A Mechanical, Farlow Engineering, NI Commercial Club, Ian Davidson Fabrications, D G Green & Sons, Greenmount Country Stores, Andrew Hyde, Norbrook, Mark McKinstry and Corries Meats. Without their kindness and support the event could not take place"
So if you get fed up looking at turkey over the Christmas break head down to Swatragh mart to see the finest beef on show in action.
For full details and entry forms contact Shirley, NI Limousin Club Secretary:
Tele: 07881435042
Email: nilimousincattleclub@gmail.com
All entries & fees must be received by post on or before: 14th December 2018