Foxhillfarm Naomi secures another Supreme Limousin Championship
Mystyle Nandini take Reserve Female and Reserve Supreme honours
Breed is Reserve Continental Blythewood Pairs, Reserve Inter-breed Group of Four and 3rd Junior Inter-breed Group of Four
Limousin-sired cattle land top four commercial cattle tickets
A HEIFER with an already impressive show career rose to the top of the Limousin classes at the Great Yorkshire Show on Tuesday 7th July, when Mike and Melanie Alford's Foxhillfarm Naomi was crowned Supreme Champion having already claimed the Female Championship.
In charge of placing the classes was Steven Priestley, who runs a herd of 80 pedigree cows under the Brontemoor prefix as well as 30 Limousin and Blue cross cows to produce show calves alongside the family – wife Ruth, children Richard and Sarah, and dad Michael – near Brampton, Cumbria. Mr Priestley, who has celebrated success while showing at the Great Yorkshire Show, including a Male Championship, was looking for an animal that was correct and could walk well which also displayed a good topline, was square across the plates and had good width.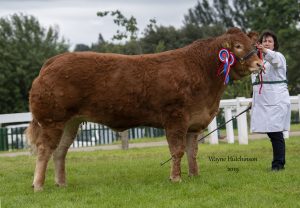 Fresh from her breed title and Reserve Inter-Breed honours at the Royal Highland Show just a couple of weeks previously, Foxhillfarm Naomi, a daughter of the 140,000gns Trueman Jagger, displayed all the characteristics Mr Priestley was looking for and claimed the Overall Championship. Naomi remains unbeaten in her class and marked an impressive fifth breed championship at Harrogate for the Alfords, and followed on from standing Inter-breed Champion at Devon and the Royal Cornwall shows. Her dam, Foxhillfarm Isla, has some impressive breeding too as the Wilodge Vantastic daughter is out of the prolific brood cow, Bankdale Alice.
"There was no getting past her – she's superior in length, width and style," said Mr Priestley of Foxhillfarm Naomi, which went on to be shortlisted in the Inter-breed Championship.
Females ruled supreme as the Reserve Female Champion, Mystyle Nandini from the Richardson family – John and Dawn together with son Ben, and paraded by Ben's girlfriend Hannah Brown – stepped forward to claim the Reserve Overall Championship. This 19-month-old daughter of Carnew Lionheart, which stood Champion at North Yorkshire County, was achieving a best ever result at the Yorkshire Show for the Richardsons, who were making just their third appearance in the pedigree ring having bred many commercial winners. Her dam is the Loosebeare Fantastic-sired Aultside Lambrini, which was bought at the 2016 National Sale for 9800gns. The prizes didn't stop there for Nandini as she also secured the Junior Championship and was the best animal under two years before 1st July 2019. For good measure the Richardsons later added first prize tickets in both the Limousin Pairs and Group of Three classes.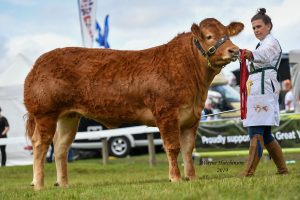 "The Reserve Champion is another fantastic heifer and in another 12 months or so could be knocking on the door for the championship. I've shown here for 35 years and I think this is the best show of Limmies there's been, with a great entry of females in particular," added Mr Priestley.
Among the males it was Barrons Oslo from second time exhibitor Willie Barron that claimed the Male Championship to follow on from his Supreme Championship at the Northern Extravaganza at Skipton, male honours at Northumberland, and Reserve Male title at Cumberland. The pedigree of this 16-month-old features Homebyres Jamie on to Barrons Icho, a Wilodge Cerberus daughter. Oslo was also the best animal exhibited by a member of the North Eastern Limousin Breeders' Club and best male bred by exhibitor born on or after 1st January 2018.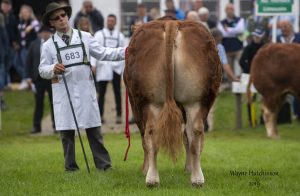 From the previous class, Ian Nimmo's Maraiscote Ocean, a second prize bull from the Royal Highland Show, was Reserve Male. Born just a month earlier than his rival, this son of the 23,000gns Goldies Comet, which has bred bulls in excess of 30,000gns, is out of the Macschoice Chris-sired Maraiscote Joline.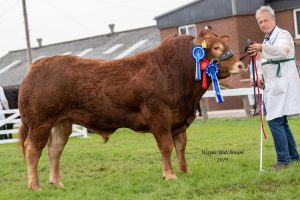 Reserve Junior Champion and best female bred by exhibitor born before or after 1st January 2018 was Whinfellpark Olga, a Gunnerfleet Lion daughter from AW Jenkinson Farms.
In the Inter-breed competitions, the Alfords' Foxhillfarm Naomi and Ian Nimmo's Maraiscote Ocean were reserve in the Continental Blythewood Pairs before joining up with AW Jenkinson's Whinfellpark Nerissa and WJM Mash's Brockhurst Littlegem to stand Reserve Group of Four. It was also a good result for the Junior Inter-breed Group of Four when W Richardson and Son's Mystyle Nandini and Mystyle Nikolia, AW Jenkinson Farms' Whinfellpark Olga and PR Dawes' Dinmore Opelle stood in third place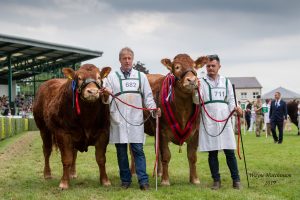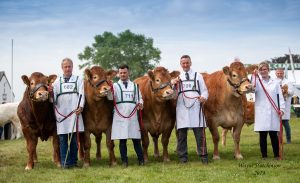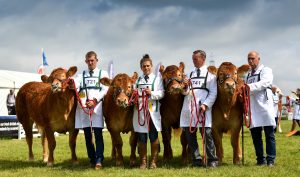 With Limousin-sired cattle securing all four of the top prizes in the commercial cattle ring, it was Jennifer Hyslop's Queen of Hearts that was awarded the Supreme Championship by judges, Brian and Angela Smith, of Leamington Spa, Warwickshire. Following on from her Reserve Heifer and Reserve Supreme titles at the Beef Expo, this 14-month-old is by Waindale UFO and out of a Charolais cross cow bought from David Henderson, Auchenrivoch.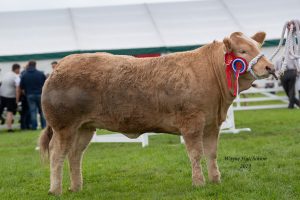 Following her all the way through from class to female to overall championship was the Reserve Overall, Blackbird which was securing a best commercial result for Jason and Sarah Wareham. Bought at the Welsh Winter Fair from Phil and Tracy Jones, she is by the Jones' Irish-bred stock bull and was born in February 2018 out of a Limmy cross cow.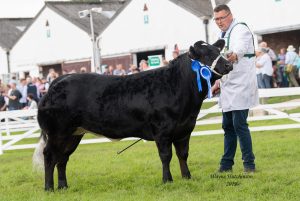 Among the steers it was Alister and Liz Vance's Keltic Storm which claimed the Steer Championship. Bought at Bernard Castle in March from Messrs Dent, this 13-month-old Naby Jaguar son, which was also landing a best result at the Yorkshire for the Vances, was second at both the Beef Expo and Royal Highland.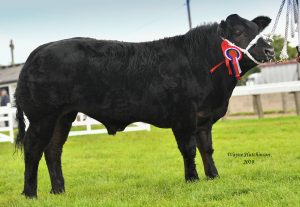 Prize List
 Bull born before 30 June 2017
1st           Woodroad James             McBeath & Jessop
2nd          Eaglerock Mickey             Mr D Stubbs
Bull born on or after 1 July 2017 and before 28 February 2018
1st           Maraisciote Ocean          Mr J Nimmo
2nd          Almande Nelson               Messrs Morgan & Johnson
3rd           Mayfields Nintendo        Mr AJ Clark
Bull born on or after 1 March 2018
1st           Barrons Oslo      Mr W Barron
2nd          Whinfellpark Oz                AW Jenkinson Farms
3rd           Westpit Orion    A & J Gammie
Cow in-calf or in-milk born on or before 31 December 2016
1st           Brockhurst Littlegem      WJM Mash
2nd          Whinfellpark Jeansjiggle               AW Jenkinson Farms
3rd           Stephick Mystique           Miss SJ Dick
Heifer born on or between 1 January and 30 June 2017
1st           Foxhillfarm Naomi           Mrs M Alford
2nd          Whinfellpark Nerissa      AW Jenkinson Farms
3rd           Tweeddale Nocomparison           Mr J Watson
Heifer born on or between 1 July and 31 December 2017
1st           Mystyle Nandini               W Richardson & Son
2nd          Springsett Nancy              McBeath & Jessop
3rd           Dinmore Noueuse           Mr PR Dawes
Heifer born on or after 1 January 2018 (A)
1st           Dinmore Opelle Mr PR Dawes
2nd          Springsett Orchid             McBeath & Jessop
3rd           Imande Ovett    Messrs Morgan & Johnson
Heifer born on or after 1 January 2018 (B)
1st           Whinfellpark Olga            AW Jenkinson Farms
2nd          Maraiscote Ohlala            Mr J Nimmo
3rd           Minster Olivia    Mr JE Weatherill
Group of Three
1st           W Richardson & Son
2nd          Mr J Watson
3rd           Messrs Morgan & Johnson
Pair of animals by the same sire
1st           W Richardson & Son       by Carnew Lionheart
2nd          A & J Gammie    by Jalex Itsallgood
3rd           AW Jenkinson Farms      by Gunnerfleet Lion
Junior Champion             Mystyle Nandini               W Richardson & Son
Reserve Junior  Whinfellpark Olga            AW Jenkinson Farms
Male Champion                Barrons Oslo      Mr W Barron
Reserve Male    Maraiscote Ocean            Mr J Nimmo
Female Champion           Foxhillfarm Naomi           Mrs M Alford
Reserve Female               Mystyle Nandini               W Richardson & Son
Supreme Champion        Foxhillfarm Naomi           Mrs M Alford
Reserve Champion          Mystyle Nandini               W Richardson & Son
Best animal under two-years-old on 1st July 2019             Mystyle Nandini               W Richardson & Son
Best animal exhibited by a North Eastern Limousin Breeders Club Member         Barrons Oslo      Mr W Barron
Best junior exhibitor-bred female born on or after 1st January 2018        Whinfellpark Olga            AW Jenkinson Farms
Best junior exhibitor-bred male born on or after 1st January 2018            Barrons Oslo      Mr W Barron