Kile Diamond wins his fourth 'major' Beef Young Handler Championship
With clear blue skies and the rolling green hills of Builth Wells, Powys as a backdrop, fourteen year old Kile Diamond of the Pointhouse Herd, Garvagh, N. Ireland, swept all before him to win the title of Champion Beef Young Handler at what was the 100th Royal Welsh Show held on the 22nd – 25th July.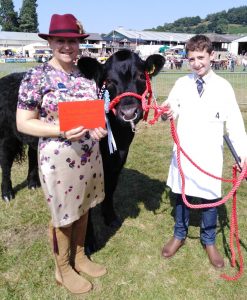 Under the watchful and knowledgeable eye of the judge Sarah Jane Jessop, Bannockburn, Stirling, the junior class of under 16 year olds entered the show ring, and in a class that didn't allow the use of show sticks.  Once all competitors had been put through their paces and showed off their handling skills, the judge selected Kile as the Junior Beef Young Handler.
The next two classes, intermediate and seniors aged up to twenty six years old were judged, as Kile and his Limousin waited patiently in the wings.
Finally, the three first class winners were called back into the ring to compete for the Overall Champion Beef Young Handler title.  Sarah Jane Jessop took her time to carefully watch and question each of the top three young handlers, lining them up side by side.  With each showing their animal to best of their skill and ability, Sarah Jane stepped forward and tapped Kile out as the Overall Beef Young Handler Champion of the 100th Royal Welsh Show 2019.
In what is a fantastic achievement, this is the fourth major Overall Beef Young Handler Championship that Kile has won outright within the last twenty four months. In July 2017 he achieved his first Overall Champion title at the Great Yorkshire Show, at the eligible age of twelve years old.  Then, the following year, at the 150th Royal Ulster Balmoral show, where for the first time the show presented an Overall Champion Young Handler he once again prevailed. Four weeks later he travelled to the Royal Highland Show, Ingliston, Edinburgh to add further silverware.   In each instance he was competing at each of these shows for the first time and in the case of the Royal Welsh, fourteen years old was the eligible age before he was able to compete.
Commenting, the BLCS Chief Executive Iain Kerr said: "Many congratulations to Kile.  To win all four Young Handler Championships by the age of fourteen is a terrific achievement and amidst strong competition from around the UK.  Kile is such an enthusiast about handling pedigree cattle which is great to see and he does so with great skill, calmness and control."