The multi title winning heifer Foxhillfarm Naomi, from Mike & Melanie Alford, Blackborough, Cullompton, Devon, made it a 'Grand Slam' of Limousin majors when winning the Scottish Limousin Grand Prix held within Kelso's Border Union Show on Saturday 27th July 2019.  For good measure, this remarkable two-year-old heifer then went on to win the show's Overall Individual Interbreed title.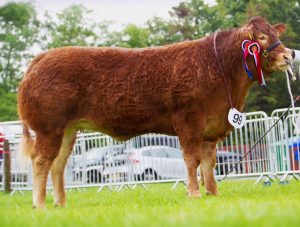 Having travelled up from the Royal Welsh Show through early Friday morning, Foxhillfarm Naomi looked as fresh as ever as she powered to the title against some terrific competition and in the difficult wet conditions. Judging the Limousin Grand Prix was Mark Quick from the well-known Loosebeare herd based at Crediton, Devon.  Commenting on his Champion the judge said: "this heifer is just a standout animal and really carries the x-factor.  She has power and style, tremendous width and conformation for her age, and has a lovely balance".
The victory at Kelso added to this Trueman Jagger daughters haul of 2019 titles that included Overall Limousin Supremes at the Royal Highland, Great Yorkshire, and Royal Welsh Shows respectively.  Adding the Limousin Grand Prix mirrored the achievements of the herd's Foxhillfarm Gracie in 2013.  With a family connection, Bankdale Alice is the mother of Foxhillfarm Gracie and the grand mother of Foxhillfarm Naomi who is out of Foxhillfarm Isla.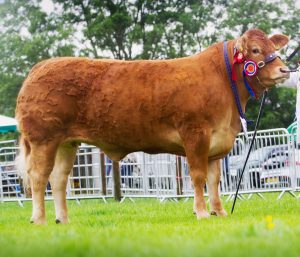 Lifting the Reserve Supreme, Reserve Female, and Overall Junior titles was the classy Springsett Nancy from Dougie McBeath & Sarah Jane Jessop, Lower Greenyards Farm, Bannockburn, Stirling.  This October 2017 born heifer is by the herd's stockbull Woodroad James, and is out of the homebred Springsett Fancy, a Culnagechan Condor daughter.  On his Reserve Champion, Mark Quick commented: "This is a beautiful heifer with a tremendous character and presence, and a real cow maker".  With a fine track record in the summer, Springsett Nancy was a class winner at the Royal Highland Show where she was also part of the winning Limousin Interbreed Team of Four.  Later in the day at Kelso, Springsett Nancy teamed up with Springsett Orchid to place Reserve in the Interbreed Pairs.
The Springsett herd have been strong supporters and multi title winners at the Scottish Limousin Grand Prix and, in what was the seventh staging of the event, they met with further success when their aforementioned stock bull Woodroad James won his class before taking the Senior Male Championship and the Overall Reserve Male titles.   In 2018 Woodroad James had placed Reserve Supreme Champion at the Scottish Limousin Grand Prix when it was held within Echt Show.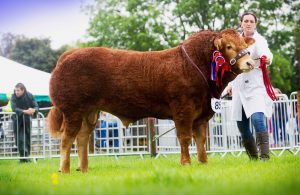 Lifting the Overall Male Championship was the stylish March 2018 born Reids Orion from Malcolm & Marianna Reid, Grassmainston Farm, Alloa, Clackmannanshire.  This young bull is by the homebred Reids Galaxy, a Wilodge Cerberus son, and is out of Littlewood Ginger, a Fieldson Alfy daughter. Commenting on his Male Champion, the judge Mark Quick said: "The Male Champion is a long, clean, easy fleshed bull with tremendous power.  He has a sweet head and is very much a modern Limousin bull."
RESULTS:
Overall Champion & Female Champion:  Foxhillfarm Naomi, Mr & Mrs MJ Alford
s:Trueman Jagger d: Foxhillfarm Isla
Senior Male Champion: Woodroad James, D McBeath & SJ Jessop
s: Woodroad Harvey  d: Woodroad Heather
Reserve Senior Male Champion: Redpaths Nobleman, Redpath Farms
s: Dinmore Jollygood d: Redpaths Hilary
Reserve Senior Female: Ritchies Meryl, Aileen Ritchie
s: Sympa d: Emslies Ieryl
Overall Male & Junior Male: Reids Orion, Malcolm Reid
s: Reids Galaxy  d: Littlewood Ginger
Reserve Junior Male: Homebyres Onedin, Messrs J Logan
s: Loosebeare Fantastic d: Homebyres Hobbie
Overall Junior, Overall Reserve, & Junior Female: Springsett Nancy, D McBeath & SJ Jessop
s: Woodroad James  d: Springsett Fancy
Reserve Junior Female:  Homebyres Oddyssey, Messrs J Logan
s: Lowerfrydd Empire  d: Homebyres Lovely