Supreme & Reserve Overall Champion
Heifer Champion & Reserve
Steer Champion & Reserve
Baby Beef Champion & Reserve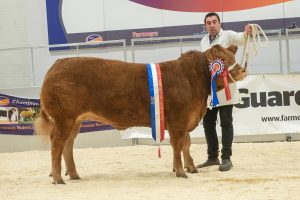 Limousin cattle once again dominated the commercial classes at the 2019 Agri Expo held at H&H's Borderway Mart, Carlisle on Friday 1st November, and it was a Ladies Day with heifers picking up the top spots for judges Wilson Peters (Commercial Calves) and Paul Tippetts (Baby Beef).
Supreme Overall & Heifer Champion was 'One and Only' from John Williams, Blaenau Ffestiniog with his home-bred April 2018-born heifer by the Limousin sire Waindale UFO out of a Limousin-bred dam.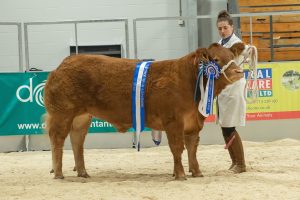 Reserve Overall & Reserve Heifer Champion came in the shape of 'Orihana' from Messrs LT & SE Sellers, Thorpe Tilney, Lincs. A February 2018-born heifer which had followed the Champion right through from the same class, was bred by Doug Mash of the Brockhurst Limousin herd, Chesham, Bucks.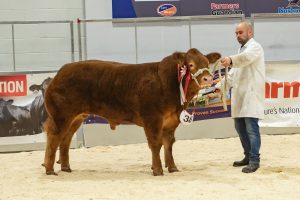 The day's Steer Championship was awarded to Blair Duffton & Rebecca Stuart from Huntly, Aberdeenshire with their Limousin-bred bullock 'Dirty Dancer', a July-2018 born calf bred by Emily Jones, Lampeter, Ceredigion.
Reserve Champion Steer went to Messrs A & A Vance with their June 2018-born calf 'Keltic Storm' by Limousin bull Naby Jaguar, out of a Limousin-bred cow. This was bred by JW Dent & Son of the Naby Limousin herd, Co Durham.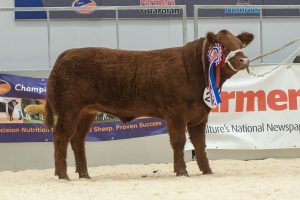 Judge Paul Tippetts' Baby Beef Champion was 'Tabasco', a March-born heifer from JCB Commercials, County Down, N Ireland. By Limousin sire Trueman Idol and out of a Limousin-bred cow, this calf was bred by Mr J Smyth, Newton Stewart.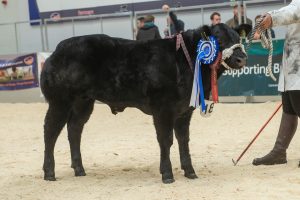 Standing Reserve Baby Beef Champion was 'Loveable Rogue' from Sandy Hunter, Huntly, Aberdeenshire. Bred by L & E Fowlie, Alford, Aberdeenshire, this was a June-born steer calf by Limousin sire Rossignol out of a Limousin-bred dam.
In the Young Farmers steer class, Hannah Donaldson, York had a successful day out with her Limousin-bred steer 'Haribo', an August 2018 calf bred by B Harper, Maddiston, Falkirk.
In a split class in the Young Farmers heifer section, the first honour went to Ifan Phillips of Newcastle Emlyn, Carmarthenshire with his May 2018-born calf 'Ottie'. By Limousin sire Gunnerfleet Hicks and out of a Limousin-bred dam, this calf was bred by Messrs Price of the Beulah Limousin herd, Builth Wells. Ian & Nathan Grainger, Glasson, Wigton took the top spot in the second with their Limousin-bred 'Montana'. Born December 2017, this calf this was bred by WM & C Wallace, Brampton, Cumbria.
Young Handlers had a busy day out, too, with both age groups well contested. In the Junior section, Amy Vance, Bridgehouse Farm, Whithorn took the top ticket and in the Seniors it was the turn of Rachael Graham, Miller Hill Farm, Brampton.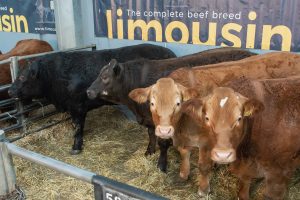 The Limousin Breed Society stand was well visited throughout the day thanks to the efforts of the NW Limousin Club. A big thankyou to all volunteers and in particular Messrs Jenkinson, Whinfellpark & Messrs Bell, Farbroom for fantastic cattle that stood out a mile and demonstrated so well what Limousin genetics are all about. Finally, thank you to all who visited the stand; we enjoyed meeting you and look forward to the next event at Borderway – our Red Ladies sale on 13th December with the Young Limousin Breeders Club cometitions along with the NW Club's Borderway Babes Calf Show which take place on the evening of the 12th.