Exhibitors of Limousin-sired cattle put on a strong show at LiveScot on Saturday, 23 November.
Just pipped to the post for the Supreme Champion honours, taking the Reserve Overall title was Wilson Peters' Reserve Bullock, Mr Boombastic, a 20-month-old home-bred entry which picked up a number of red tickets on the summer show circuit but was ultimately aimed for the Scottish National Fat Stock Club event. His sire is the privately purchased Limousin bull, Andside Hawkeye, while his dam is a Limousin cross cow. Mr Boombastic later went under the hammer at £2500 selling to High Black Butchers, Lanark, having tipped the scales at 686kg.
"I was looking for an animal with style, panache, flash and most importantly, flesh," said the judge, Dougie McBeath, of Lower Greenyards, Stirling, adding his top animals all displayed the characteristics he was looking for.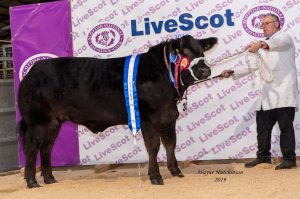 In the heifer section it was Stewart and Lynsey Bett's Queen Bee which stood Heifer Champion. Bought privately at the Welsh Winter Fair last year, where she won the Calf Championship, this 18-month-old has since claimed the Scottish Champion of Champions ticket at Keith Show as well as championship tickets on the Central Scotland circuit, including Stirling, Gargunnock and Drymen. Bred by Llyr Hughes, Fferam Gyd, her pedigree features Derryguillinane Kingbull on to a Limousin cross cow.
Queen Bee later teamed up with the Betts' 18-month-old pedigree bullock, the Gascoines Lumberjack-sired Guards Original, to take the pairs title, with Guards Original having already won the best non-indigenous pure-bred honours.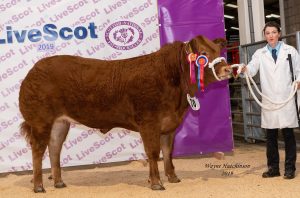 The second prize heifer from the same class, Messrs Renton and Redden's Havana was Reserve Heifer. Brought out by Alasdair Cormack and bought from Messrs Telfer, Newton High House, when she stood champion at the September suckled calf show and sale at Carlisle last year, she is by Mereside Godolphin and out of a British Blue. The two-year-old was Heifer Champion and Reserve Commercial at both Northumberland and Haddington shows.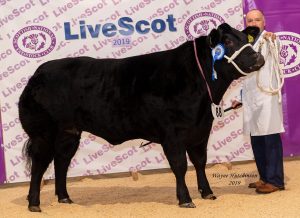 Also surpassing the £2000 mark at the auction was Archie and John MacGregor's Scappa Flo, which sold to Kitson Butchers, North Yorkshire, for £2333.12 at a weight of 634kg. Bred by Liam Muir, Upper Onston, this 20-month-old Powerhouse Italic daughter stood first in the mediumweight heifer class before selling.
In the commercial calf section it was Neil Slack's March-born Tokyo which picked up the Supreme Championship as well as the award for best bred by exhibitor. Sired by Lodge Hamlet and out of Sassy's Lassie, a former show heifer and half-sister to Rio which stood reserve in this section three years ago, Tokyo was first at Stokesleigh Show and third at the Agri-Expo.
"She was a very correct heifer with lovely style and a lot of potential for the future," said the judge of the calf section, Craig Robertson, from Newton of Logierait, Pitlochry.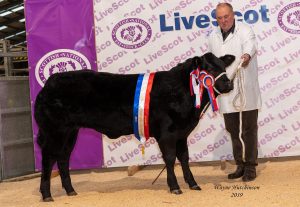 PRIZE LIST
Cattle
Class 5                  Lightweight steer sired by any continental breed (up to 560kg)
2              15           H Dunlop             Bobbi Brown      (by Gunnerfleet Lion)
3              28           A Ewing Capaldi (by Noble Freddy)
Class 7A               Steer sired by a Limousin (560kg to 655kg)
1              40           A & E Vance       Keltic Storm        (by Naby Jaguar)
2              14           D & P Blair           Wonky  (by Netherhall Doubleoseven)
3              27           Dufton & Stuart Dirty Dancer       (by Haltcliffe Chico)
Class 7B                Steer sired by a Limousin (656kg upwards)
1              37           W Peters             Mr Boombastic (by Anside Hawkeye)
2              39           A & E Vance       Doodlebug          (by Lodge Hamlet)
3              23           L & A Allan          Game Changer  (by Swarland Larry)
Class 10                Lightweight heifer sired by any continental breed (up to 560kg)
1              51           A Ewing Ginger Spice
2              55           McIntosh & Wallace        Crunchie              (by Lodge Hamlet)
3              48           D & P Blair           Panda   (by Goldie Ideal)
Class 12A             Heifer sired by a Limousin (562kg to 600kg)
1              61           A & E Vance       The Governess  (by Fieldson Mahrez)
2              84           W Peters             The Wee Hoosewife       (by Anside Hawkeye)
3              57           W Peters             Wotcha Ma Booty            (by Carmorn Lionbar)
Class 12B             Heifer sired by a Limousin (601kg to 645kg)
1              78           A MacGregor     Scappa Flo           (by Powerhouse Italic)
2              73           Dufton & Stuart Cinamon              (by Maraiscote Lothario)
3              71           P & K Brannen   Matilda (by Muirhouse Lagonda)
Class 12C             Heifer sired by a Limousin (646kg and above)
1              70           S & L Bett            Queen Bee         (by Deryguillinane Kingbull)
2              88           Renton & Redden            Havana (by Mereside Godolphin)
3              80           C & K Malone     She's a Belter     (by Connon)
Reserve light steer           15           H Dunlop             Bobbi Brown
Champion heavy steer   37           W Peters             Mr Boombastic
Reserve heavy steer       39           Doodlebug
Reserve steer    37           W Peters             Mr Boombastic
Reserve light heifer         51           A Ewing Ginger Spice
Champion heavy heifer 70           S & L Bett            Queen Bee
Reserve heavy heifer     88           Renton & Redden            Havana
Champion heifer              70           S & L Bett            Queen Bee
Reserve heifer  88           Renton & Redden            Havana
Champion heavy              37           W Peters             Mr Boombastic
Reserve heavy  70           S & L Bett            Queen Bee
Reserve Supreme            37           W Peters             Mr Boombastic
Best pure non-indigenous            25           S & L Bett            Guards Original
Best pair               25 & 70 S & L Bett            Guards Original & Queen Bee
Commercial calf
Class 17A             Heifer calf born in 2019 (up to 350kg)
2              125         Jackson & Sloan She is a Belter    (by Ickle Joker)
Class 17B             Heifer calf born in 2019 (351kg to 430kg)
1              137         N Slack  Tokyo    (by Lodge Hamlet)
3              133         J Mackay Parker                Peony   (by Ballinloan Millionaire)
Class 18                Steer calf born in 2019 (up to 430kg)
2              148         N Slack  Firmino (by Lodge Hamlet)
3              143         S Hunter              Loveable Rogue (by Rossignol)
Class 19                YF heifer calf born in 2019
1              150         Lois Milne            The Peaky Blinder            (by Huntershall Monsoon)
2              151         A Weir  Dunashery Dime
Calf Champion   137         N Slack  Tokyo
Best calf bred by exhibitor           137         N Slack  Tokyo